8 New K-Beauty Launches We Can't Stop Raving About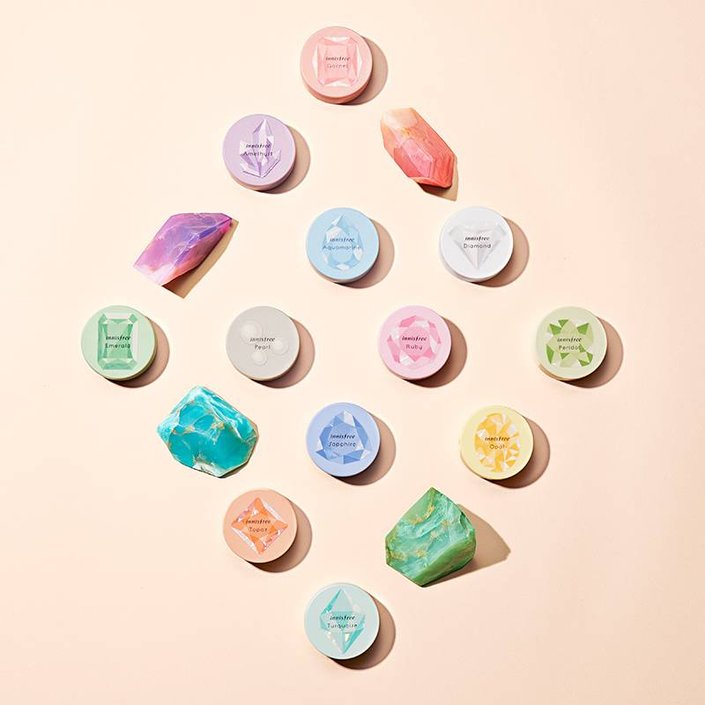 Korean beauty products are full of surprises. In recent weeks and months, we've seen (and tried) a peel-off mask that transforms our face into a disco ball, a hand cream in banana-shaped packaging and a honey lip balm that comes in a honey pot, because why not? Surely, the K-beauty world is a playful one with a mission to make us even more excited about makeup — and that's definitely something we can get behind.
To celebrate some K-Beauty newness for the summer, we rounded up some of our favorites that are definitely worth splurging on. Check out all eight, ahead.
1. InnisFree Birthstone Setting Powder, $8
Horoscope fanatics, listen up: The packaging of Innisfree's top-selling setting powder has been redesigned to match each birthstone. For under $10, get your personalized, limited-edition powder before it sells out.
2. Touch in Sol No Poreblem Primer Eraser, $14
For the most convenient way to conceal pores or wrinkles, check out the Touch in Sol No Poreblem Priming Eraser. As the final step in your skincare routine, apply to problem areas, and then spread the product using the smudging cushion on the other end.
3. Banila Co Lipdraw Matte Blast Stick, $14
We guarantee this lipstick from K-Beauty brand Banila Co is unlike any other matte lipstick you've tried before. The formula feels like your smoothest lip balm with the pigment of your richest lipstick. Lipdraw Matte Blast Stick is currently available in three shades: neutral deep pink, warm pink and cosmic red.
4. I Dew Care Double Down 2-Step Brightening Mask, $25
Dedicated skin care lovers need to try this new two-step brightening mask. The first step is to rub a micro peel over your face to promote mild chemical peeling and to deep clean your skin. The second step is to apply a brightening sheet mask for 10 minutes.
5. TPSY Two Drink Minimum Dual Tip Eyeshadow, $26
If this dual eyeshadow didn't already win you over with its name — Two Drink Minimum — the product's color combos will surely steal your heart. Two of our favorites are City Tan & Beach Tan, a light and dark shade of brown and Fairydust and Happy Ending, a brown and pink.
6. Cle Cosmetics CCC Cream, $31
For those of you searching for the perfect complexion-perfecting product, this one's for you. Every time we wear it, strangers ask us what we're using because it leaves skin looking glowy, healthy and natural. This is a must-have for tinted moisturizer or no makeup-makeup enthusiasts.
7. Laneige BB Cushion Hydra Radiance SPF 50, $38
Perfect for all skin types, Laneige BB Cushion Hydra Radiance with SPF 50 will protect, hydrate and moisturize your skin. Its luminous finish makes it ideal for summer months when you're craving that luminous skin look.
8.The Case Full of Seoul, $149.99
You're looking at a dream come true for skincare lovers. This curated box of Korean skin care products contains everything you need to complete your daily regimen, be it in the morning, at night, for a weekend spa sesh or to prep for a night out. The products are ideal for all skin types and also work well together.
Hero Image Courtesy Innisfree
Read more
Back to top