6 Male Makeup YouTubers You Should be Watching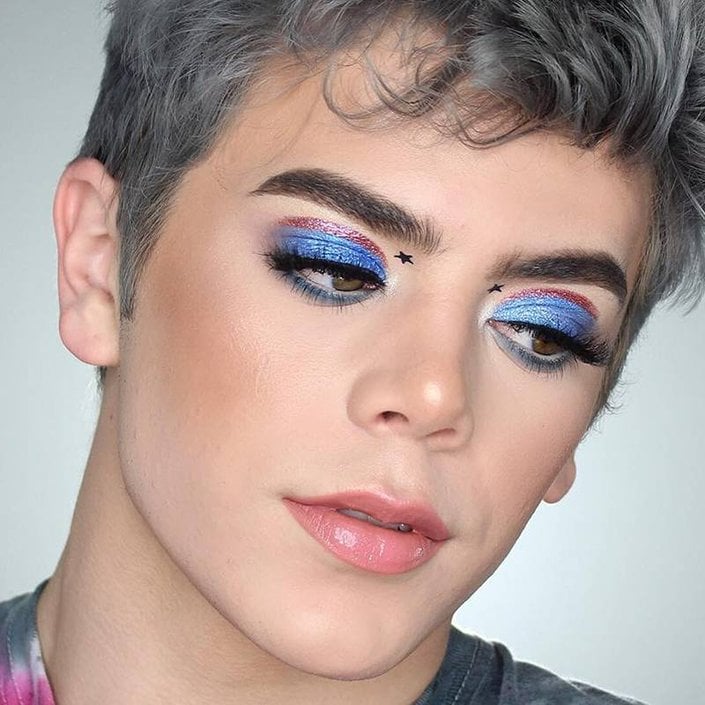 If you know anything about me, you know I love a good makeup tutorial. I watch GRWMs whenever I'm laying in bed, and I turn to a makeup artist tutorial whenever I need to master a new technique. I've been into YouTube since the Macbook webcam days, and as the years have passed ( and I've gotten better at my eyeshadow), I've seen the YouTube space grow and change into a completely different landscape. Things have gotten glossier, more produced, but most importantly, more diverse. Lately, I've been noticing more male beauty bloggers than ever before, and I think it's a healthy reminder that beauty has no gender, and that a cut crease is a cut crease, no matter who wears it. While I have my favorites, I also tapped the M Crowd (our insanely talented group of influencers) for the male beauty bloggers they're watching right now.
Peep our favorites, ahead:
Lonyea's Pick: Garret Hahn
The cheekbones! The chin! The makeup! Here's why Lonyea is obsessed: "He is so beautiful and has good, high quality images! He's definitely on the come up to become the next big male vlogger."
Madison and Ashley's Pick: Patrick Starrr
If you love all things over the top, then you should be following Patrick Starr. A makeup superstar, he's taken over the beauty world with his infectious personality and amazing makeup skills. "I love his creativity and his story; he's really inspiring," says Ashley, who has met the influencer twice. Madison's obsessed too: "He is hilarious and I love his makeup looks."
Heidi and Miranda's Pick: GossMakeupArtist
"Wayne Goss will forever be one of my favorite YouTubers. He's one of the OGs on YouTube, and the first male makeup YouTuber I even remember being on the platform." Miranda says. Wayne Goss is a makeup artist who teaches his viewers how to do everything from contouring to perfectly matching your foundation to your skin. He's not one for the chit chat GRWM, so he's a perfect guru for the babe who prefers expert tips and tricks from one of the best in the game. "His makeup looks are very natural and elegant," Heidi says. "And he comes through as very approachable too."
My Picks:
If you love a good GRWM and can't get enough of product reviews, MannyMUA is one to watch.
If you're drag race obsessed, Miss Fame is a must follow. After a standout competitor on season seven of RuPaul's Drag Race, Miss Fame has parlayed his drag race run into a successful modeling career with a side of Youtube tutorials.
If my makeup was half as good as Jake's when I was a kid, I would probably have taken over the world by now — but instead here we are, admiring his amazing work. Whether he's killing a cut crease or doing a challenge with his friends, you're sure to enjoy.
Read more
Back to top