4 Glitter Eyeshadow Tutorials That Are So Good They'll Blind You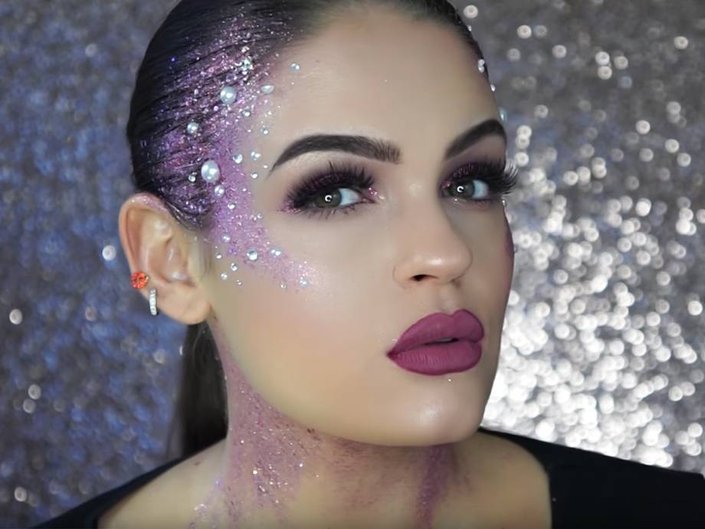 We'll be the first to admit that glitter makeup is not for everyone. But for those of you makeup gurus who are unafraid to pack a ton of sparkles into your makeup routine — whether that be daily or occasionally — you're going to want to check out these glitter eyeshadow tutorials before you attempt your next fleck-full lewk. Ahead, we rounded up our favorite glitter eyeshadow tutorials on the internet, and we guarantee you'll find yourself totally mesmerized with every sparkle.
Go Firey Gold With Your Glitter
This cool gold cut crease by MakeupTiffanyJ changes the definition of fire-inspired — it's so good. Starting off with a killer hot pink shadow, she blends it into her crease and highlights her brow bone with a stunning yellow. Next, she adds a dark purple shadow onto her outer V and into her crease. Next, she primes her lid for her cut crease with a primer and adds a gold shadow over top. Finally, she applies NYX Professional Makeup Glitter Primer all over her eyelid, and packs on a layer of gorgeous, chunky gold flecks.
All Hail Holographic
After creating a natural cut crease with deep brown and black pigments, Bella Fiori swipes on glitter primer on her lid. Next, she adds a few layers of NYX Professional Makeup Glitter in Crystal overtop with a flat shader brush, creating the prettiest iridescent finish that seriously glows.
Ravishing Rose Gold Glitter Eyeshadow
Gee Box begins her glitter eyeshadow take with a beautiful smoked out rose-gold eye look, complete with a coppery brown in in her outer V. Next, she goes in with a liquid glitter shadow and places is onto the center of the lid lightly. Next, she finishes the look off with a sleek cat eye and some voluminous falsies.
Pink Glittah Fam For The Win
Julia Salvia seriously changes the glitter makeup landscape with this all out pink glitter tutorial. After applying some neutral pink eyeshadow, Salvia goes overtop with actual pink craft glitter mixed with regular makeup glitter using NYX Professional Makeup Mixing Medium, and applies it all over the lid. To take the look the the next level, she uses the same glitter formula to paint back the sides of her hair by her temples, and also creates a few patches on her neck. To finish off the look, she adds a few pearl appliques overtop. We think we've been blinded by this pink sparkle beauty.
How To Remove Glitter Makeup
Now that we've got you psyched to wear glitter, how in the world do you get it off at the end of the day?! Glitter has a way of sticking around on your skin forever, and even transferring itself to your loved ones (you know your significant other wasn't wearing that sparkle yesterday), but getting it off can be tricky. Here's what you need to know.
RULE 1: Be Gentle
When it comes to removing the glitter makeup around your eyes, you don't want to push into your lashes or cause irritation to your skin. So dampen a cotton pad with eye makeup remover, then place it directly on top of your lid for a second or two. Begin to rub in circular motions, being cautious not to press too hard. Repeat until the glitter is gone or nearly gone.
RULE 2: Follow With Cleanser
Avoid using scrubs, which can cause the glitter to scrape your skin, and instead use a clear or creamy cleanser to wash the rest of your face. Apply to a warm wash cloth and rub over your skin in circular motions. Pat skin dry, and follow with moisturizer.
Read More
The Perfect 3-Step Makeup Look For Beginners
4 Products Our Editors Love So Much They Don't Use
Read more
Back to top