Orange Makeup | Having A Moment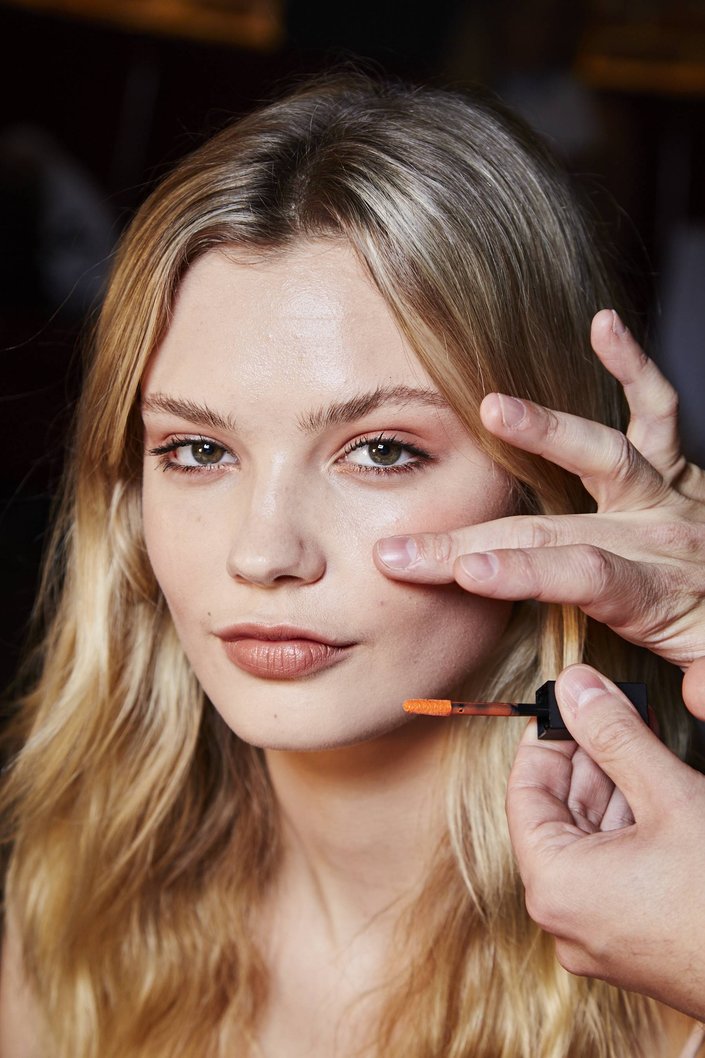 When choosing makeup colors, most of us don't think about orange. And if we did, we'd probably dismiss it as something hard to pull off, like cropped tops and pixie cuts. But experts say orange makeup is surprisingly versatile and incredibly flattering. "It looks good on every skin tone," says makeup artist Andrew Sotomayor. "When worn at full strength, it creates a vibrant pop of color. When worn subtly—think a sheer wash of orange applied to the lips or cheeks—it wakes up your whole face, giving you a fresh look." It can even minimize skin imperfections by warming your complexion—when your skin tone is warmer, blemishes and dark circles are less noticeable. Neon and other shocking shades of orange dominated the spring runways, but orange can work for everyday too.
At Derek Lam (model shot above), Maybelline New York Color Sensational Vivid Matte Liquid lip color in Orange Shot (see image below) was painted on the models' lids and then blended in to create a bold eyeshadow look. "For real life, keep orange lipstick on the lips and compliment it with an orange or peach eyeshadow, and anchor the shadow with a dark liner, like black," says makeup artist Gabriel Almodovar. Try L'Oréal Paris Infallible Eye Paints in Sunset Fire (see image below) and L'Oréal Paris Infallible Never Fail Eyeliner.
 How to Pick Your Oranges
1. Choose two (and only two)
Pairing orange lips with orange cheeks or lids gives you a pretty, monochromatic look. (Orange lipstick, for example, goes especially well with orange or coral blush, says Sotomayor.) But don't go for orange lips and cheeks and lids. "That can start to look a little clownish," says Almodovar.
2. Mix wisely
When pairing orange with other shades, stick to warm colors like bronze, gold, brown, copper, green, and nude, which compliment—instead of clash with—traditional orange hues. The exception: If you happen to be wearing an orange lipstick that has a lot of blue in it (referred to as a "cool" shade of orange), you can pair it with cool colors like blue and purple, in addition to any of the neutrals mentioned above.
3. Find one that flatters
Since orange looks good on everyone and is more forgiving then red, you don't have to worry too much about choosing the "right" one, says Almodovar. But to find an especially flattering orange, follow the same guidelines for choosing a red. In other words, fair skin tones should stick to a blue-orange; medium tones should use a true orange; and darker skin tones should go for a red-orange. If you have trouble identifying these orange undertones, simply stick to a lighter orange for fair skin; a medium orange for medium skin; and a deep orange for dark skin, he says.
How to Apply It
1. Go bright or sheer on your lips—but not in between
"Like with any vibrant shade, you either want to use a hint of color, which will mix with your natural lip color and add a bit of warmth, or go full on with the color so your mouth really pops," says Sotomayor. A middle ground approach can fall flat. Try Maybelline New York Color Sensational Vivids Lipcolor in Electric Orange or L'Oréal Paris Infallible Lip Paints in Orange Envy (see image above)
2. Add highlight
Here's the secret to making orange lips look ripe and full: After you apply your lipstick, either dab a lighter shade of orange lipstick on the center of your bottom lip, or dust a little white eyeshadow or a shimmery powder along your cupid's bow. "Both change the way light bounces off the lips, creating a more dimensional appearance," says Almodovar. Try NYX Pigment in Luna or Brighten Up.
3. Be strategic with placement
Since no one blushes orange, you need to be strategic when applying a citrus shade on your cheeks. Almodovar suggests dusting a blush that matches your skin color along your cheekbones and then layering a pop of orange right on the apples of your cheeks for a natural, fresh-faced look. Try NYX High Definition Blush in Double Dare(see image above).
4. Dare to line
Orange liner is something usually best left on the runway. But if you have the guts to give it a go, it can be really striking. Take a tiny brush and run it back and forth over an orange lip liner (you can use an orange eyeliner, but orange lip liners tend to be easier to find) until the color warms up and transfers onto the brush. Try Urban Decay 24/7 Lip Liner. Then, starting at the center of your upper lid, glide the brush along your lash line. When you get to the outer corner of your eye, wing the color up and out. Next, place the brush at the inner corner of your upper lid, and run it across your lash line until it meets the point in the middle where you started; connect the two lines. Finish by applying a more natural shade of liner (like brown, gray, or black) along your bottom lashes to "root the look in reality," says Almodovar.
5. Set the shade in place
Bright colors tend to migrate, so mist makeup with a setting spray to keep it in place, help it last longer, and give skin a dewy glow, says Sotomayor. Try Urban Decay De-Slick Makeup Setting Spray. Spritz it on before you smooth on your foundation to control oil and then again when you've finished applying all of your makeup. To prevent orange lipstick from bleeding or feathering, line your lips with lip liner in a color that matches your lipstick after you swipe on your lipstick. "Applying liner after lipstick creates a matte border that locks the lipstick in place and makes it harder for the lipstick to jump over the border onto your skin," says Almodovar. As an extra barrier, Almodovar recommends running a clear lip liner right outside of the orange liner. (If you have wrinkling around your lips, layer the liner directly over the orange liner, as the clear liner can draw attention to fine lines.)
Read more
Back to top