Try This Hack for a Perfect Cupid's Bow Every Time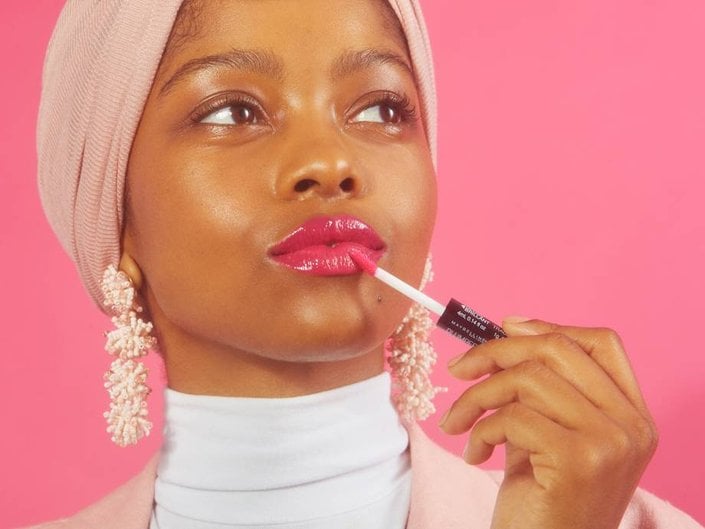 Achieving the perfect cupid's bow starts with a solid lip liner. From vampy red lips to a bright pink pout, lip liner lays the groundwork for whatever look you're trying to achieve. You may think applying lip liner is a no-brainer, but if you haven't tried our foolproof, expert-approved method, you've been missing out. With this beauty hack, you'll have undeniably even application and a perfect cupid's bow every time.
For this quick tutorial, you only need two items: lip liner and your lipstick of choice. We like Maybelline New York Lip Studio Plumper Please Lipstick in All Access and NYX Professional Suede Matte Lip Liner in Clinger. 
STEP 1: Make an X
Once you locate your cupid's bow, start at the highest point of your natural lip and draw a straight line extending down from that point. Repeat on the other side of your top lip to make an X.
STEP 2: Define the Bottom Lip
You'll find the exact center of your bottom lip directly below the X you just created. Make the next line across that point to define your bottom lip. Starting here will ensure evenness across your lip.
STEP 3: Make Two Vs
Part your lips slightly and draw a sideways V connecting your top and bottom lip at both corners of your mouth. This will ensure that your lipstick doesn't move past this point.
STEP 4: Connect the Lines
Use short strokes of the pencil to connect the lines you've made in steps one through three. For the cleanest application, angle the pencil by holding it vertically, flat against the lip, with the tip of the liner pointing upward.
STEP 5: Finish It Off and Apply Your Lipstick
Top off your perfect cupid's bow with a swipe of lipstick or a dab of lip gloss. You'll instantly be able to see how precise the lip color is. 
Read More:
Makeup.com's 2019 Lipstick Award Results Are In! See Which Lip Colors Made the List
The Best Kiss-Proof Lipsticks, According to Beauty Editors
This Hack for Fixing Dry Lipstick Is a Game-Changer
Read more
Back to top