3 Simple Nail Art Ideas to Try Right Now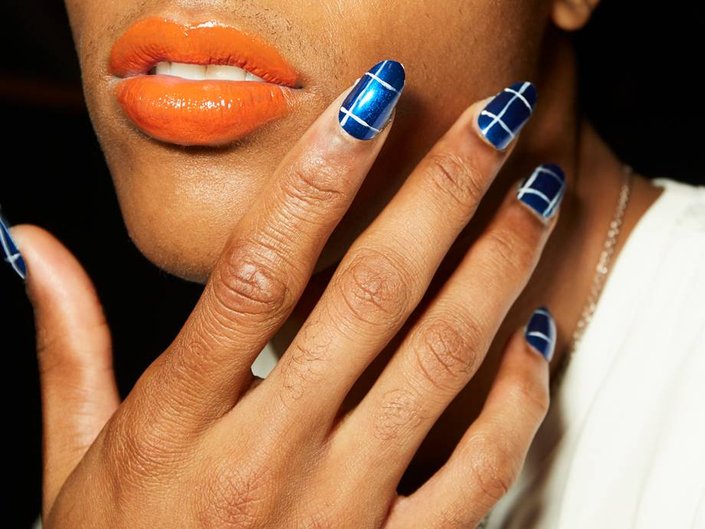 For those of us who aren't exactly *blessed* with nail art talent, the more user friendly the tutorial, the better. Fortunately, there are step by steps out there that give you kickass looks without the commitment of needing an art degree. Ahead, find three tutorials that are super user-friendly, easy to master and will become your new favorite go-to polish situations in just a few minutes each.
Line Art That's Easy As 1, 2, 3
While this video is chock full of 10 (!!) easy nail art ideas, Gabby Morris has us hooked with her simple line designs. At the :50 mark, she places two tiny pieces of tape along the middle of her nail and paints white polish down the center overtop a bubblegum-pink nail. Not only does this look literally take less than two minutes, it looks a lot more complicated and comes out super pretty.
Mermaid Scales For Your Sea-Needs
Everyone loves some good scale art, and this tutorial by Simply Nailogical makes it extremely easy to achieve this look on your fingertips. After painting your nails white, apply a mermaid scale stencil sticker overtop, and paint in the scales with a color of your choice. Feel free to dilute your polishes a bit to create a watercolor like effect.
Gradient Nail Art With A Holo Twist
This ombre tutorial also by Simply Nailogical is another easy go-to because it literally takes three steps. Start by painting your nails any color of your choice — here, we have a pretty light turquoise. Next, grab a makeup sponge and apply a darker blue to one side and a lighter blue on top. Dab on the gradient to your desired effect, and once dry, add some iridescent glitter polish overtop to complete the look.
Read more
Back to top