Mani Monday: How to Find the Perfect Nail File for Your Nail Type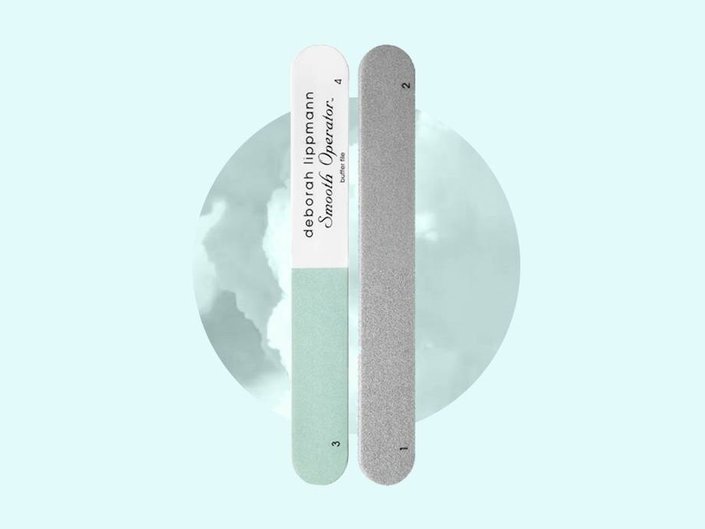 We have a love-hate relationship with nail files. When we're not searching for them, it seems like there are suddenly emery boards everywhere: our bathroom, bedside table, makeup bag, purse, you name it. But besides the classic emery board we can't seem to escape, there are other options ideal for different types of manicures and nail strengths. With that being said, let us welcome you to our introductory class, Nail Filing 101.
For starters, there are several different types of nail files: the most common being emery boards, glass nail files, metal files and nail buffing blocks. When searching for a new nail file, pay careful attention to the grit number you're choosing, as it should be based on your specific nail. The lower the grit number, the coarser the nail file. Therefore, lower numbers starting around 80 are ideal for strong, acrylic nails, but never your natural nails! For natural nails, choose a higher grit count (ideally around 180). And if you have weak nails, we recommend looking for a grit level around 240.
Now that you've got the basics down, check out five different nail files to find the perfect one for you:
The Cute Emery Board You Probably Need in Your Life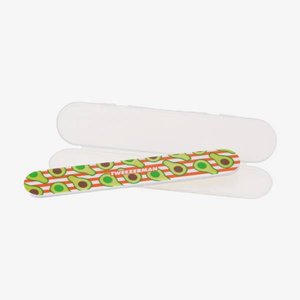 1 / 4
The Cute Emery Board You Probably Need in Your Life
Tweezerman Avocado Filemate, $5
If you just can't live without an emery board in your life, let us introduce you to this avocado patterned (and avocado oil-infused to nourish your nails!) one from Tweezerman. This board features 100/180 grits, making it a great option for both natural and strong nails. Store it inside a lightweight travel case to keep it clean.
The Top-Rated Glass Nail File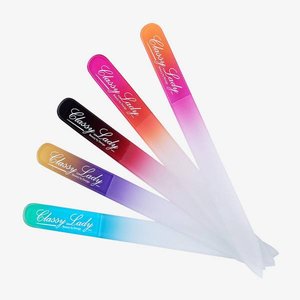 2 / 4
The Top-Rated Glass Nail File
ClassyLady Professional Glass Nail File, $9.43
A glass nail file is a tool that'll last for years. It's affordable, easy-to-clean and lightweight enough to keep with you at all times. Glass nail files are ideal for weaker nails because they generally have a lower grit, which might prevent splitting. Choose from an array of quantity options, like a three pack for $13.87, a two pack for $8.87 or one for $9.43 — clearly, you might as well get more than one. The reviews are so good, you'll wonder why you didn't discover them sooner.
The Multitasker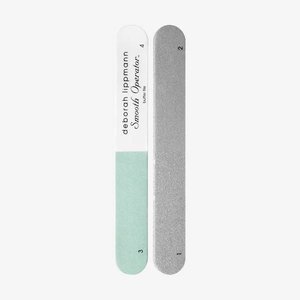 3 / 4
The Multitasker
Deborah Lippmann Smooth Operator, $12
This multitasking nail tool has four numbered sides to prepare your nails for a DIY manicure or to touch up your nails when needed. The four sides are as follows: Side 1 is for gently shaping your nail tip, side 2 gently buffs any ridges on the top of your nail, side 3 smooths the surface of your nail before applying a base coat and side 4 is to buff for high-shine if you're not wearing nail polish.
The Perfect Metal Nail File for Acrylics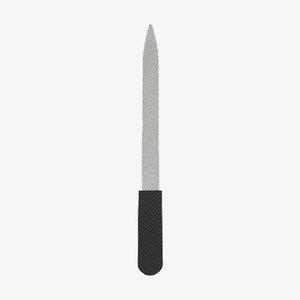 4 / 4
The Perfect Metal Nail File for Acrylics
Ulta Sapphire Nail File, $6.50
So yes, we agree, this does, in fact, resemble a weapon straight out of a horror movie. We warn you now, you probably won't be able to make it on an airplane with it, but you'll be able to get your acrylics or gel-nails in tip-top shape.
Read more
Back to top