This Editorial Nail Artist Is Taking Over Instagram Feeds Everywhere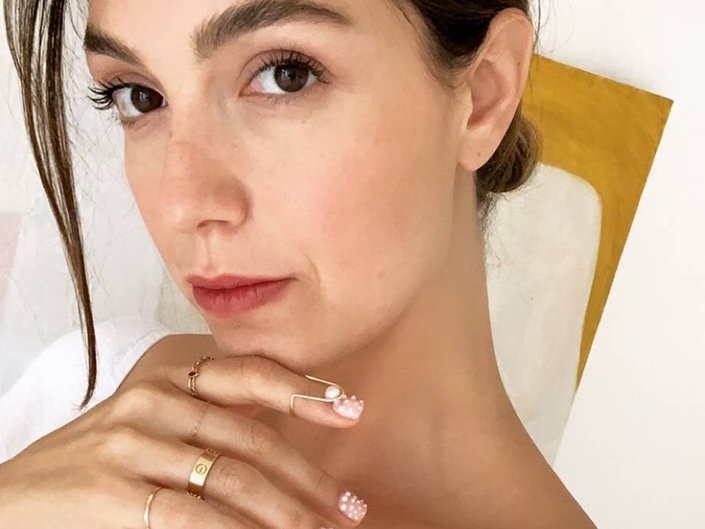 If you aren't already following editorial nail artist Betina Goldstein on the 'gram, get ready for your life to change. And by that, we mean that the "saved" section of your Insta feed is going to be full of just about every single one of her nail looks. When she's not creating original looks for her personal Instagram or on set creating looks for editorial, she's coming up with designs for her fine jewelry line Doublemoss Jewelry.  
Ahead, Goldstein shares her favorite nail polish color of the moment, how to capture the perfect mani Instagram and where her nail art inspo comes from.
How and when did you first get into nail art?
At the start of my career, I was frequently working on editorial and commercial campaigns where the trend was a buffed or nude nail. That left me aspiring to do more creatively. I began experimenting with nail art when I wasn't on set. Oil painting has been a hobby of mine, so I taught myself how to translate the techniques of light and color to this new tiny canvas. My design aesthetic and taste in art influenced the type of nail art I create. I tend to focus on designs that are contemporary and have intricate detail and dimension.
Where do you draw inspiration for your nail looks?
One of my favorite things to take inspiration from is nature. I sometimes spend hours at local craft stores and flea markets checking out vintage textiles and trinkets. Inspiration is everywhere you need to open your mind and absorb even the smallest of details in your surroundings.
Your Instagram is so, so good. What tips do you have to capture the perfect mani shot?
It's all about the natural light! Lighting is the key element to a great photo. Find a soft natural light by standing near a window and use your walls to create what is called a "bounce:" a reflection and ultimately a super soft light with minimal reflections. It will make the skin look softer and provide a nice even light to the surface of your nail.
What are the nail polish color(s) you're loving right now?
My favorites of the moment are Sheer Fantasy by Essie and Ballerina by Chanel. A clean slate allows me to be creative. If I choose to do color for an event or wedding, it is always a bright red like Chanel "Espadrilles" or a deep burgundy like Oribe "Bloodstone."
Tell us about Doublemoss Jewelry. How does it align with your passion for nails? While trying to push the boundaries of my nail art, I started toying around with gold wire, precious gems and other materials found in jewelry design to bring my painted art to life. Similar to jewelry, nail art is a way for someone to express themself. So I figured why not combine two of my favorite things? It's not reasonable for most people to go to work with elaborate nail art, so I developed the concept of the "Mani Ring." The idea originated while I was experimenting with large freshwater pearls, which I glued onto my fingers. I used gold wire to wrap the pearl into the form of a birds nest. I wore it to an event and received multiple comments from people. Everybody wanted to try it on, but the problem was the pearl was glued to my fingernail! The next day I went into my studio to turn this nail art into a standalone ring.  I posted my first Mani Ring (which I hand made) on Instagram, and it received a tremendous response — that was the birth of Doublemoss.
What's the biggest "pinch me" moment of your career, thus far?
That's a hard one. I've had to pinch myself a lot lately. The most recent was when Rosamund Pike chose to wear our Doublemoss 'La Perla' and 'Clair De Lune' rings on the cover of Stylist Magazine. Watching these designs come from an idea in my head to a prototype and then on the cover of a magazine being worn by such a style icon was a surreal and very emotional moment for me.
What's a day in your life like?
Well, if its a day where I have a photoshoot, my call times are typically very early in the morning and can last 10-12 hours. When I'm not on set, I'm either working on Doublemoss or creating new nail art designs. I usually spend the first part of the morning on nail art by creating one or two designs. I immediately photograph them — because I work with natural light, the time of day is essential. I will either build out the posts for Instagram or reserve them for another day. After nail art is done, I will move onto the design of Doublemoss, from creative to the logistics of manufacturing my designs.
What's your favorite nail look you've ever created?
My favorite one on a technical level is my miniature recreation of Diego Rivera's 'Desnuda con Alcatraces.' It is a painting that has a lot of meaning in my life. I used different techniques with shading and building definition — it was challenging and took a lot of patience. Although I love designs that push me technically, I'm fascinated with simple designs as well. Art doesn't have to be technically challenging for it to be impactful. That's why I love designs like my pearl nail art, where I glued three different sizes of pearls on my nails or my velvet red circle design.
What's your best piece of advice for aspiring nail artists?
It is essential to find your unique design language and stick to it. Don't try and imitate what others are doing, that's a sure way to get lost in the crowd. Don't underestimate that it takes a lot of practice and dedication to breakthrough as a nail artist. Be confident in your work and style and your audience will find you. This industry has its ups and downs, a good friend once said, "Don't let them steal your magic." That has always helped remind me to stay focused and keep going even when times are tough.
Read More:
This Celebrity Hairstylist Is Changing the Way We Think About Our Scalp
Model Iesha Hodges Told Us Her Beauty Secrets — And We're Still Recovering
Read more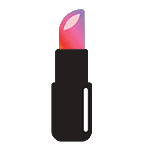 Back to top