Elle Fanning's Met Gala Manicure Deserves an Award — Like Now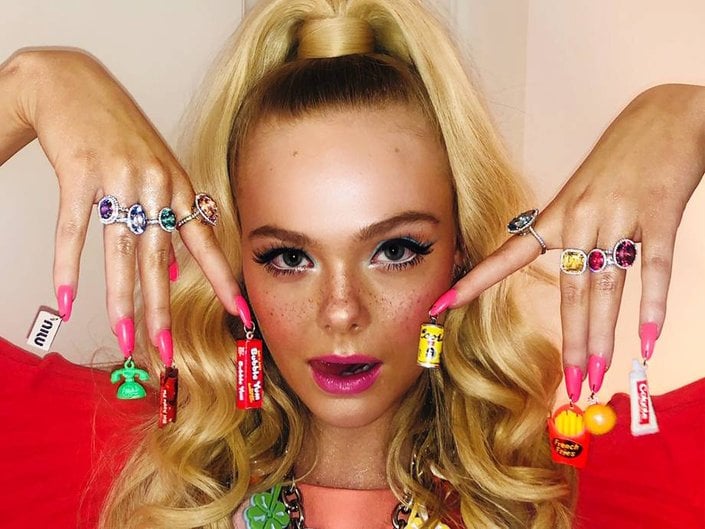 There were a major amount of standout moments on last night's red carpet at the 2019 Met Gala (did you see Ashley Graham's long rhinestone ponytail?), but one of our favorites was an unexpected nail moment from 21-year-old actress Elle Fanning. The theme of the night was "Camp," and Fanning nailed it. If you didn't experience the moment that took our breath away, let us explain: She wore the brand new (so new, it's not yet launched) Essie shade named Strike a Rose, a hot neon pink nail polish shade perfect for summer, and well, all year, really. Not only did the actress rock the shade, but her manicurist Mar y Sol Inzerillo attached vintage charms from East Vintage Village Collective in NYC to every single nail. Obviously, this manicure is the kind of thing you need to pair with your most comfortable slip-on leggings because buttoning jeans is so out of the equation — but it's worth it.
"Elle is the definition of camp," explains Inzerillo. "She wanted an expressive, bold look and we went for it! We started with Essie's Strike a Rose....Then, each almond-shaped nail was pierced and adorned with fun vintage charms, from French fries to Bubble Yum and more! The end result was a show-stopping."
Essie Strike a Rose will be available at the end of May on Essie.ca. In the meantime, go pick up some cute lil charms to call your own.
Read More:
The Essie Glazed Days Collection Is Here — Check Out All Six Bright Shades
5 Bad Nail Polish Habits that Could Ruin Your Nails — And How to Avoid Them
Read more
Back to top