Essie's Top Bridal Shades Are Available at CVS — And Now We Need to Get Married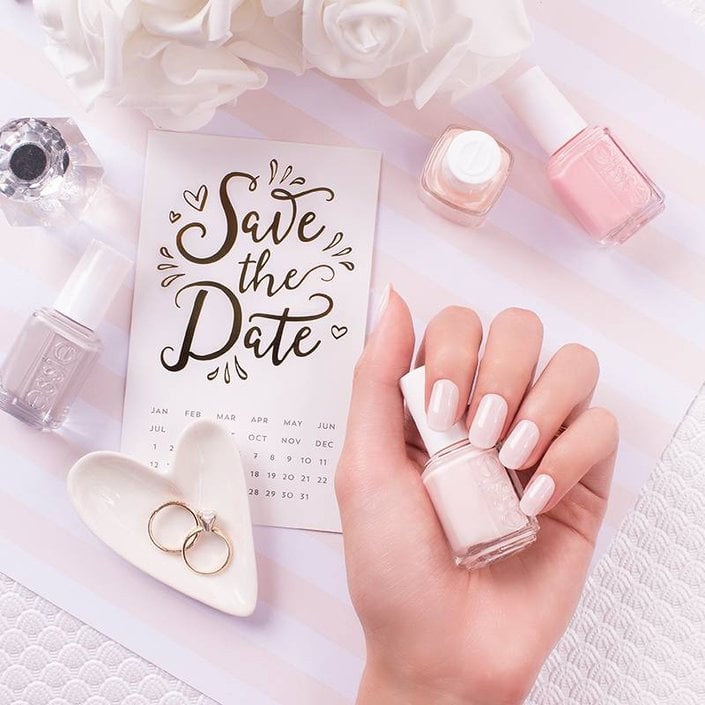 Wedding season is approaching (there's even a royal one in a couple weeks!), and needless to say we're excited. When else can you have an absurdly expensive party where you lovingly obsess over every detail for months (or even years) and friends and family brings you presents for all your hard work? We can't think of many. And one of those super-important "tiny" details is the nail color you'll wear on your big day. It might seem like a small thing, but your nail color really should be considered when planning your overall look.
Essie, the queen of all nail polish brands, totally gets it, and has partnered up with CVS to launch a collection of their 10 most "wedding-worthy" hues. The curated bundle includes some of their best-selling shades, including the iconic Topless and Barefoot, and will be available starting May 4th — just in time for wedding season. To coincide with this epic partnership, Essie is also launching their super-exclusive "Obsessie" loyalty program with CVS, where you can buy four Essie polishes and get the fifth bottle free! It's basically a dream for brides, especially ones who want to mix and match their Essie shades to get a customized shade or create custom looks for their entourage.
See the shades, ahead:
White polish is iconic and makes for a great pedicure shade for your big day. You can opt to wear it on your hands too, but be careful — it might just give your dress some competition.
Did you know a bottle of Ballet Slippers is sold every 90 seconds? We're willing to bet quite a few of those are to blushing brides preparing for their wedding day. This sheer shade is also a favorite of the royal family and looks great on virtually everyone.
Mademoiselle, a classic "grown up pink", is a sheer shade that's basically your nails, but better. We love it for wedding season, or all year round.
This sweet pink shade is the perfect base for a french manicure or stands alone for a barely-there look.
If you're looking for a light pink shade that feels elegant, then this is a good pick for you. Our favorite thing about this shade is its versatility: Swipe on two coats for a sheer wash of color or try four coats for a truly opaque look.
This creamy light pink with a hint of mauve is great for brides with darker skin tones — it's soft but bright and takes your nail a step past neutral.
While there's no such thing as a universal nude, there is such thing as a color that looks good on damn near everybody. This taupey-beige shade gives nails a sheer wash of color that looks elegant but relaxed — perfect for the beachy bride.
This sienna brown shade is from Essie's 2017 Wild Nude collection, and we've been in love ever since its release. This rich brown adds dimension to the classic wedding nail look and works well on a wide variety of brides.
This spiced tea rose shade is somewhere in between a pink and a nude, and that's why we're obsessed. Try it, you will be too.
It's all in the name — this shade really is "lady like" and will have you feeling royal on your big day.
And don't forget All in one Base Coat and Speed.Setter Top Coat, so you can rock Essie from start to finish.
Want to win the entire collection AND a diamond bracelet? Check out our
Essie bridal sweepstakes here
.
Read more
Back to top