5 Simple Pedicure Designs You'll Actually Want to Try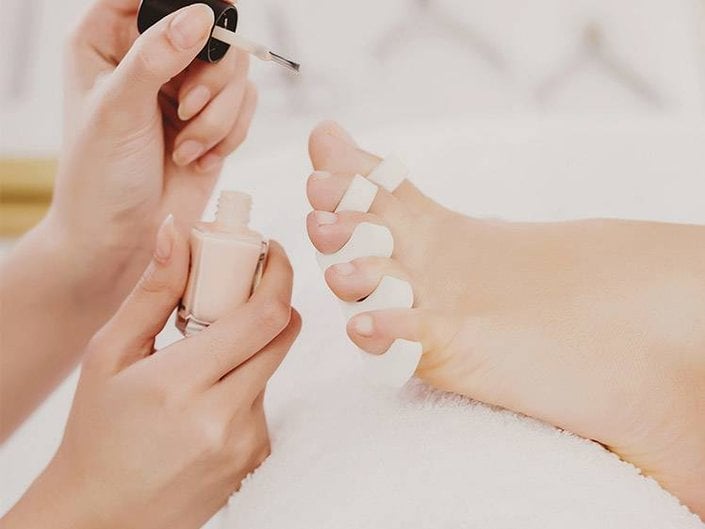 If you have DIY pedicures ranked high up on your list of things that intimidate you, you're not the only one. And while accomplishing a salon-quality pedi at home isn't the easiest thing in the world, it is, in fact, very doable with the right products and a lot of patience. And if you want to take it to the next level and upgrade your pedicure with a unique design, we've got you covered.
So next time you want to spice up your at-home pedicure with more than just a couple coats of nail polish, we encourage you to check out these 10 simple, no stress nail designs, including everything as simple as a colored French pedicure to channeling (but not overly challenging) your inner artist.
Ahead, discover the looks you can DIY at home in no-time.
The Easiest Way to Glam Up Your Pedi
Even though we're particularly in love with this pedi for fall and winter, you can easily swap out your nail polish to make it work with the season. For a shade that's similar to this pedicure, we recommend Essie Making Harmony. Simply paint your nails and then apply your favorite gem-like nail stickers to recreate the look.
An Elegant, Fall-Ready Design
Perfect for a fancy night out or if you're feeling up for a special design, this leaf motif is the fall pedi inspiration of our dreams. To DIY the look at home, paint your toenails with Essie Licorice followed by Romper Room for your big toe. Bring the look to life with a leaf-shaped nail stencil (Etsy's your best bet) and a few glitter decals.
A Way to Easily Upgrade Your French Pedi
A French pedicure is a classic toe nail design that you can never really go wrong with, but if you're looking for a way to upgrade it in little time, consider adding on some polka dots. Simply use the same shade of nail polish you did to construct your fresh tip and using a dotting tool — dot your heart out.
When It Doubt, Stripe It
If you're feeling unsure about what direction to take your toe nail design, you can't go wrong by adding a minimalist (or in this case, glam) stripe down the center of your nail. Paint on your desired nail polish shade and then, using your favorite nail gem stickers, apply a line down the center of your toenail. If you're feeling like keeping the look simpler, consider just using a dotting tool to make a line down your nail with nail polish. For extra flair, do so on all of your toe nails.
Polka-Dot Inspired Pedi
We love this pedi because you can personalize it using your favorite nail polish shades and by placing your polka dots in different patterns. We're currently daydreaming a look like this featuring two shades from the new Essie 2018 collection, i.e., Empire State of Mind and Booties on Broadway, anyone? Complete the look using some tape to make clean lines, a dotting tool to perfect your polka dots and white nail polish to create the dual-colored effect.
Read More:
Current Obsession: All 6 Nail Polish Shades from the New Essie Fall Collection
3 Negative Space Nail Art Tutorials That Have Us Totally Mesmerized
The Acrylic Nail Art Looks You'll Want to Copy ASAP
Read more
Back to top