BB Cream vs. Foundation: Which One Is Best for Your Skin?
If you take a walk down any makeup aisle, it's clear we're living in the golden age of base makeup. There's a product for every skin type, from oily to dry to mature, not to mention finish options — matte, dewy, shimmery — galore. In fact, the variety available is so vast, it can be a bit overwhelming. But don't worry, we've got you covered (pun intended).   
Let's break it down into the three most popular categories: BB creams, CC creams and foundations. To help you find your perfect match, we spoke to two professionals, Marina Peredo, MD, a dermatologist in Smithtown, NY, and celebrity makeup artist Stephanie Flor. Ahead, learn the difference between these all-star base makeup products, plus how to apply them.
What Is BB Cream?
No longer the beauty counter newbie, BB cream has proved it's a serious contender in the base coverage category. The all-in-one makeup, skin-care cream and SPF product claims to have all your beauty needs — evening out redness, hydrating, creating a natural texture, protecting your skin — covered. BB creams range anywhere from a barely-there tint to medium coverage and some even contain ultra-high SPFs, like Kiehl's BB Cream Skin Tone Correcting and Beautifying BB Cream, which has a whopping SPF 50 to keep your complexion safe from UV damage and the aging effects of the sun.
BB creams also have the added benefit of helping breakout-prone skin — after all, they don't call it a blemish balm for nothing. "If you're acne-prone, using a BB cream that's oil-free is a good way to go," says Flor. We recommend Maybelline Dream Pure BB Cream Skin Clearing Perfector, Garnier SkinActive BB Cream 5-in-1 Miracle Skin Perfector or L'Oréal Luminous Serum Tint Tinted Moisturizer.
One potential issue with BBs: Most come in a range of light, medium and dark, so they lack a lot of shade diversity. If you can't find an exact match to your skin tone, best to stick to those with a sheer finish.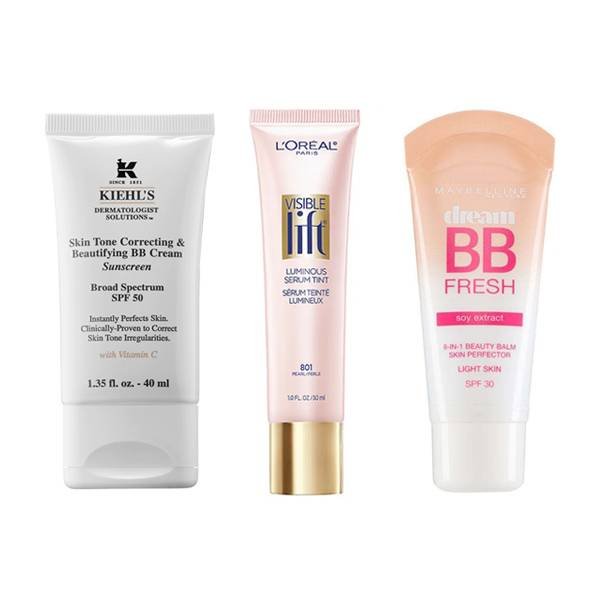 What Is Foundation?
Comparatively, foundation is a classic go-to option for makeup artists and beauty mavens who want to create a flawless canvas and have superior skin coverage. If you want something that's going to last all day and give you flawless skin, foundation is the right choice, says Flor.
Then, of course, there is the shade range. Unlike BB creams, it's not uncommon for foundations to come in a rainbow of skin tones. And if you're using a full- or medium-coverage foundation, you absolutely need it to match your skin perfectly. Urban Decay Naked Skin Weightless Ultra Definition Liquid Makeup, for example, comes in 26 shades while Giorgio Armani Power Fabric Full Coverage Foundation comes in 31, and Pacifica Beauty Alight Clean Foundation has 30. It's the epitome of your-skin-but-better.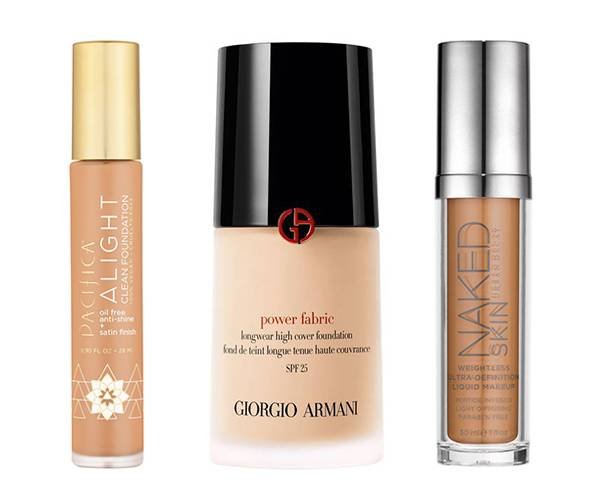 What Is CC Cream?
Cut from the same cloth as a BB, a CC — or "color correcting" cream — is another all-in-one product intended to help reduce redness, darkness and sallowness. It blends skin care with light-diffusing properties to give you a smoother complexion, but it doesn't give the same amount of coverage as a BB. Try IT Cosmetics Your Skin But Better CC+ Cream Oil-Free Matte with SPF 40 or Supergoop Daily Correct CC Cream for that barely there, all-natural look.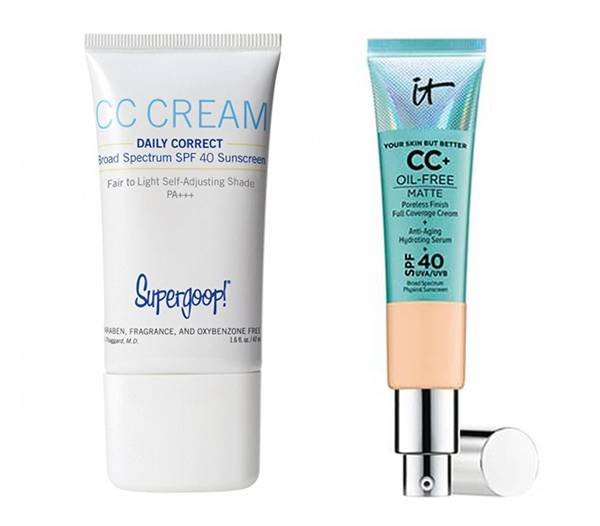 How to Apply BB Cream and CC Cream
BB creams and CC creams are a true time-saver in the morning and impossible to mess up. Because it takes the place of three different steps, you don't need to worry about piling products on. "Anything that combines sunscreen, skin-care ingredients, antioxidants and light coverage is ideal for the busy woman who doesn't have time for a more in-depth regimen," says Dr. Peredo.
Just rub a pea- to dime-size amount between your hands to warm it up and apply to bare, freshly cleansed skin — that's it. You can get fancy and use a sponge or brush for application, but we recommend keeping things simple and fuss-free. Just note, if you have extra dry skin, you can benefit from applying a moisturizer underneath your BB or CC to give your skin an added boost of hydration.  
How to Apply Foundation
Considering most women use foundation to cover up things like under-eye circles, pimples, uneven skin tone and other imperfections, the application needs to be a bit more precise. You can use your hands, however, you'll get the most even coverage using a sponge or brush.
Sponges tend to be a bit more intuitive than brushes and you'll achieve a more airbrushed finish, while makeup artists swear by a brush for its ability to effortlessly blend and smooth product evenly. Depending on your preference, try IT Cosmetics Complexion Perfection Airbrush Makeup Sponge or IT Cosmetics Heavenly Luxe Complexion Perfection Brush #7.
Start by dabbing dots of foundation down the center of your face — forehead, nose, upper lip, and chin — and blend your foundation outwards using your tool of choice. Be sure to pay extra attention to your hairline and chin as you want to blend those areas out the most for a seamless and invisible foundation line.
Another trick: You can use your foundation as concealer by applying an extra sheer layer to those areas in need a little more help, such as under-eye circles, blemishes and pigmentation.
Read More:
The Best Concealers for Every Budget
How to Speed Up Your Makeup Routine Like a Pro
Read more
Back to top