Beauty Q&A: How Do I Set Dewy Makeup Without Taking Away the Dewiness?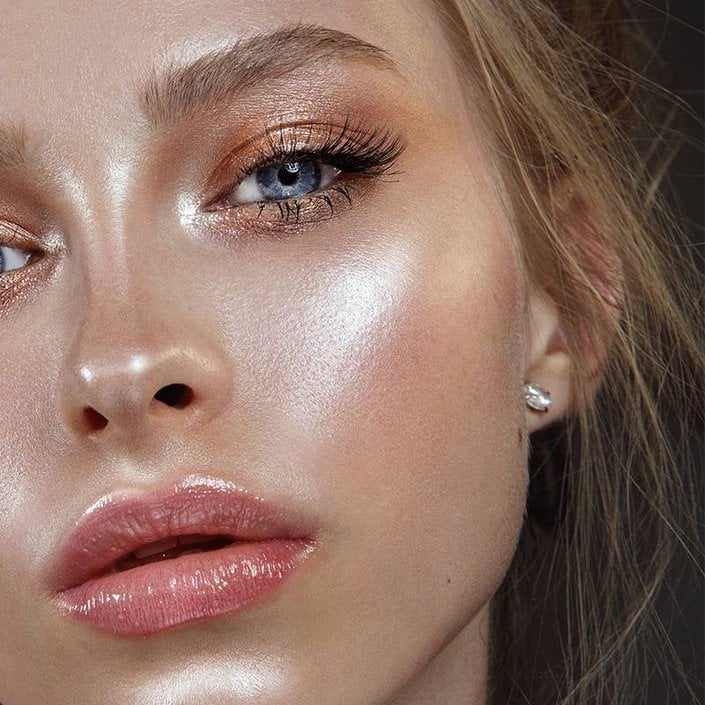 Dewy makeup is a trend we'd like to see stick around for eons to come. If you're new to the look, it's beloved for the way it celebrates healthy, hydrated skin. It's one that surely leans towards the no makeup-makeup fad in favor of natural, radiant skin that's your own — with just a touch of a dew-enhancing product like Maybelline Fit Me Dewy + Smooth Foundation. In the same way that you religiously apply a top coat to lock in your at-home mani, you should always set your makeup to ensure that it doesn't fade or melt off your face. But setting dewy makeup feels counterintuitive.
We sat down with Maybelline Global Makeup Artist and Gigi Hadid's go-to Erin Parsons in between NYFW shows to find out her secret to voluminous lashes, her fave Maybelline products of the moment and to get the answer to one of our readers' most frequent makeup questions: How do you set dewy makeup without taking away the dewiness?
Focus on Your T-Zone
"I usually will just powder under the eye and in the inside of the face — specifically your T-zone," explains Parsons. Since your T-zone is a spot that tends to accumulate excess oil, this tip will ensure that you're mattified and dewy in all the right places.
Don't Go Overboard With Product
"Don't overload the skin. When I'm working with foundations, I massage them into skin. When I contour, I don't contour heavily, and I use cream products to keep the skin dewy so you only have to powder where the light hits you," says Parsons. "Less product is better — more youthful — for the skin."
Incorporate the Right Products Into Your Routine
"Put a bit of moisturizer back on top of your cheekbones, and put Maybelline FaceStudio Master Chrome Highlighter on top so it's even more reflective. For setting sprays, the FaceStudio Master Fix Setting Spray really helps," Parsons explains. "It sets, but you're still going to add that luminosity back in sits it's a wet product."
Read More:
How To Apply Eyeliner With Lash Extensions — Experts Weigh In
Why Should I Use a Lip Scrub Before Applying Lipstick?
Help! I have Oily Eyelids and My Makeup Doesn't Last
Hero Image: Shutterstock
Read more
Back to top