6 Best Bronzers for Maximum Glow at Every Budget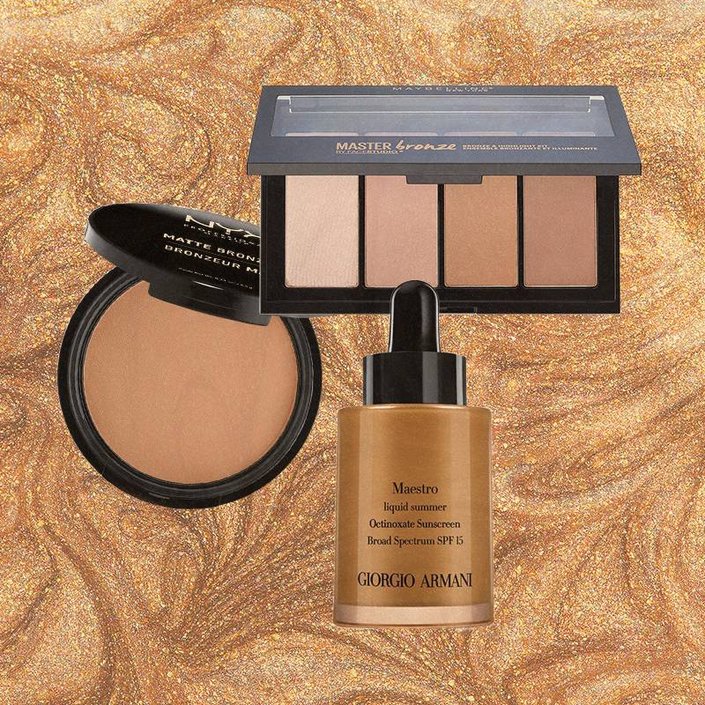 Like many other makeup products, not all bronzers are created equal. And it's not always clear if you're getting the most bronze for your buck. Truth be told though, drugstore bronzers can be comparable to their higher-end alternatives, and sometimes the high-end options are worth the splurge. Ahead, find the best six bronzers for every budget, both affordable and high end.
NYX Professional Makeup Matte Bronzer— 11$
The most pigmented and the most affordable of the bunch, this NYX Matte Bronzer will change your bronzing routine for seasons to come. At $11 a pop, this matte bronzer is great for sculpting out a contour or simply dusting along your temples and cheekbones for a little bronze glow.
Maybelline Face Studio Master Bronze Kit — 15.99$
Bronzing is a whole lot easier when you have a palette to work with, and this Maybelline Master Bronze Kit is the perfect example. Complete with two additional highlight shades, this bronzing kit is super dimensional and creates the softest sun-kissed glow. Even better? It's only $15.99.
Urban Decay NAKED Flushed— 35$
If you're searching for a bronzer kit with a little more bang for your buck, look no further than the Urban Decay Naked Flushed. This trio is an all in one bronzer, highlight and blush. The palettes also come in various shades and bronzing tones, perfect to enhance any look you're going for and worth the $35.
Lancôme Star Bronzer — 36$
Apropos for it's stellar-themed name, this Lancôme Star Bronzer is excellent for adding some soft-glowy dimension to your face. Its smooth texture feels super lightweight and blends out really nicely — juxtapose it with a complementary highlight.
YSL Les Sahariennes Bronzing Stones — 64$
To add a little more je ne sais quois to your everyday bronzer, the YSL Les Sahariennes Bronzing Stone compact will give you the luxe glow you've always wished for. This bronzer is for the higher-budget makeup fiend, but it's definitely worth every penny.
Giorgio Armani Maestro Liquid Bronzer— 68$
For the most splurge-worthy bronze in the book, this Giorgio Armani Liquid Bronzer is makeup-artist approved and the most pigmented, creamy and luxe option out there. For the ultimate glow, apply this in dots along the contour of your face and blend it in softly with a tapered brush. The price tag may intimidate, but it is the most application-friendly bronzer in your collection, we guarantee it.
Read more
Back to top