8 Highlighters Perfect for Strobing (Which You Should Definitely be Doing)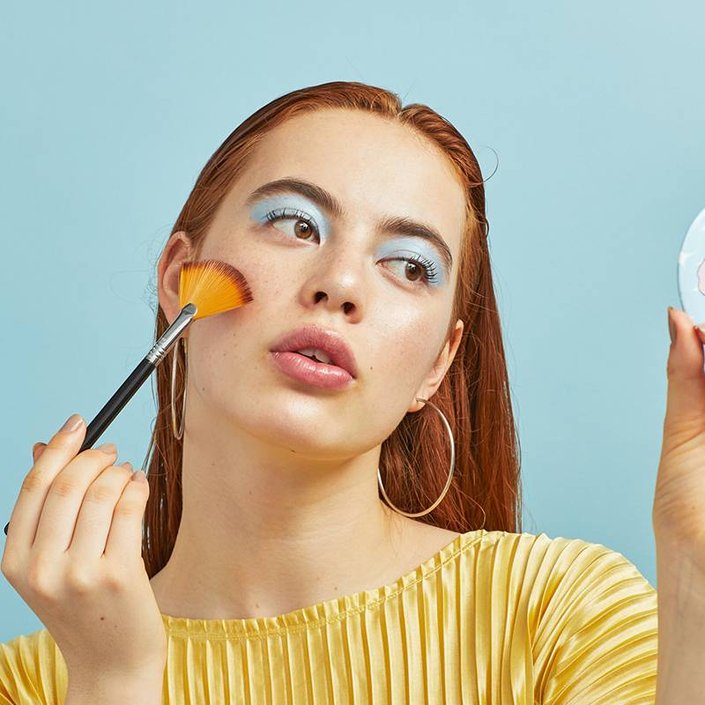 Strobing is one of those other-worldly makeup trends that has us feeling some type of way. But in order to master the technique correctly, picking the right products is more than half the battle. Ahead, find the best eight highlighters to fulfill your strobing dreams — powder, cream, liquid and everything in between.
YSL Touche Eclat Strobing Light
This gold highlighting wand has magical powers like easy application and super precise coverage. Just click the black button at the base until liquid hits the applicator brush, then strobe your cheekbones, the bridge of the nose and brow bones. It goes on silky and smooth, but make sure you don't get too click-happy, because trust: pressing that button is satisfying.
NYX Professional Makeup Born To Glow! Liquid Illuminator
If you've always felt more comfortable using powders, but you're toying with the idea of testing a liquid highlighter, the Born to Glow Liquid Illuminator is the one to try. It's lightweight, sheer and super easy to blend with a brush or your finger. Try this formula for a soft, subtle look that catches the light (and directs eyeballs) in all the right places.
Lancôme Eclat Miracle Highlighter
This highlighter has tiny "liquid mirror" particles that illuminate your skin so perfectly you'll want to stare at your glowing reflection every chance you get. You can use the liquid on its own for touches of light on specific areas or mixed with foundation for an overall glow. It's also so sheer and light and won't settle into lines. Apply using a brush or your fingers, then indulge in a little vanity.
NYX Professional Makeup Away We Glow Liquid Boosters
These babies are the holographic highlighting drops of every beauty guru's dreams — and we love how easy they are to work with. Whether you want a rosey, purple or bluish glow, these illuminators have you covered and will make your strobing visible enough for the makeup gods up above.
Maybelline Master Strobing Stick
This one has strobing right in the name, so you know you can't go wrong here. This is a creamy highlighter that dries matte so there's no hint of shine — only glow. It blends easily with no harsh lines, and the best part? It's suitable for all skin types, including sensitive skin.
L'Oréal Paris True Match Lumi Liquid Glow Illuminator
If you're on the hunt for the highlighter that can do it all, this little gem is The One. The liquid formula is available in three different shades — Golden, Rose and Ice — so it will work for most skin undertones from warm to neutral to cool. Even better, it's on our list of

top drugstore picks

, so you know you're getting the best bang for your buck.
Urban Decay Afterglow Highlighter
They say you're not to judge a book by its cover, but with beautiful packaging and a double-chrome aura, you'll be obsessed with how cute this highlighter looks in your makeup bag. Luckily, the product inside is just as eye-catching. This powder is specially formulated to spread evenly, so you don't have to worry about the product getting cakey as you build. Plus, it comes in a range of shades for literally every skin tone.
Giorgio Armani Fluid Sheer Highlighter
Say hello to long-lasting radiance. This is the highlighter for those long days in the office when you're too on your grind to touch up your glow throughout the day. It goes on subtle, and with 14 shades to choose from, you're sure to get just the perfect match for your skin tone (and if you need a primer on that, look no further). Try using a blender brush to apply, and you can even mix with foundation if you're looking for a little more glow up.

Photo: Chaunte Vaughn 
Makeup: Justine Sweetman 
Hair: Johnny Rackleff
Read more
Back to top