5 Best Holographic Highlighting Powders That Will Transport You to Outer Space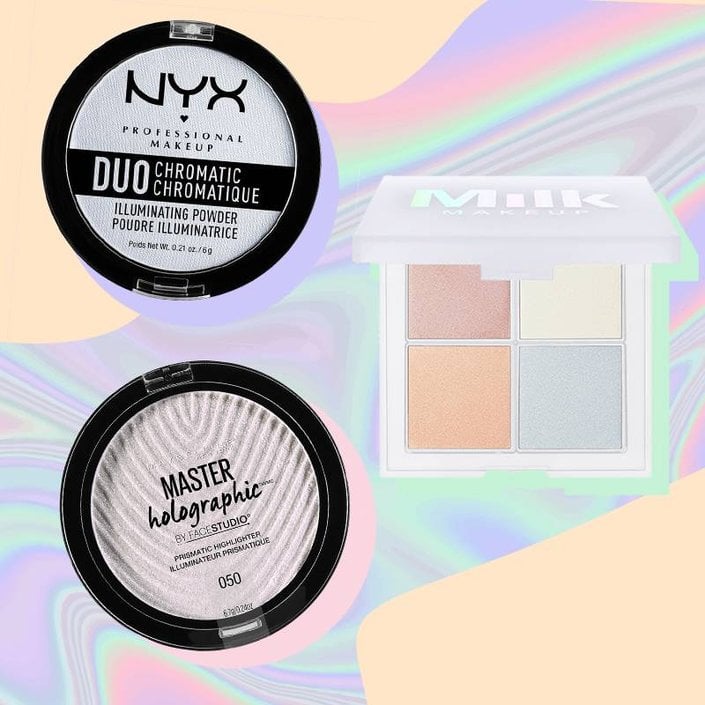 Holo highlighters — especially in stick form — are some of our all time favorite makeup products. But while we love these creamy and compact versions, we have to say, iridescent highlightingpowders sometimes don't get enough love. They're not only stellar for setting your cream highlight, they also look just as gorgeously glowy and out of this world on their own. Ahead, find our favorite holo highlighters in powder form — so good that once you start using them you may never return back to earth.
Maybelline Master Prismatic Holographic Highlighting Powder
For the holo-highlighter rookie, we recommend the most user friendly powder of the bunch: Maybelline Master Prismatic Holographic Highlighter. We love this powder because it's super buildable but still really pigmented — tap it lightly for a little color or swipe it on with a brush for a lot more hue.
Milk Makeup Holographic Highlighter Quad
If you're looking to do a little more mix and match with your holo highlight, the Milk Makeup Holo Highlighter is the spot-on quad you need. This comes with four different holo highlighting shades: an icey blue, pretty peach, a nice rose gold and white iridescence — all of which you can layer or combine for some major rainbow sparkle.
NYX Professional Makeup Duo Chromatic Illuminating Powder
Another long lasting, pigmented holo powder certainly has to be the Duo Chromatic Illuminating Powder by NYX. This holo powder comes in a myriad of shades as well to satisfy both cool and warm toned contenders.
Colourpop Over The Moon Supershock Highlighter
The underdog of the bunch, Colourpop Over The Moon is one of our favorites due to its hidden holographic powers. At first glance, this white-ish pink powder doesn't appear as much, but once blended out on the cheekbones and down the nose, it transforms into this gorgeous unicorn-toned purple blue chroma.
Urban Decay Disco Queen Powder
Last but certainly not least, Urban Decay Disco Queen is a multidimensional purple powder that looks glowing on every skin tone and shade. This looks beautiful layered on top of Disco Stick, but has enough power pigment on its own to reach the *stars.*
Read more
Back to top