Must-Have Makeup Sticks for the Gal on the Go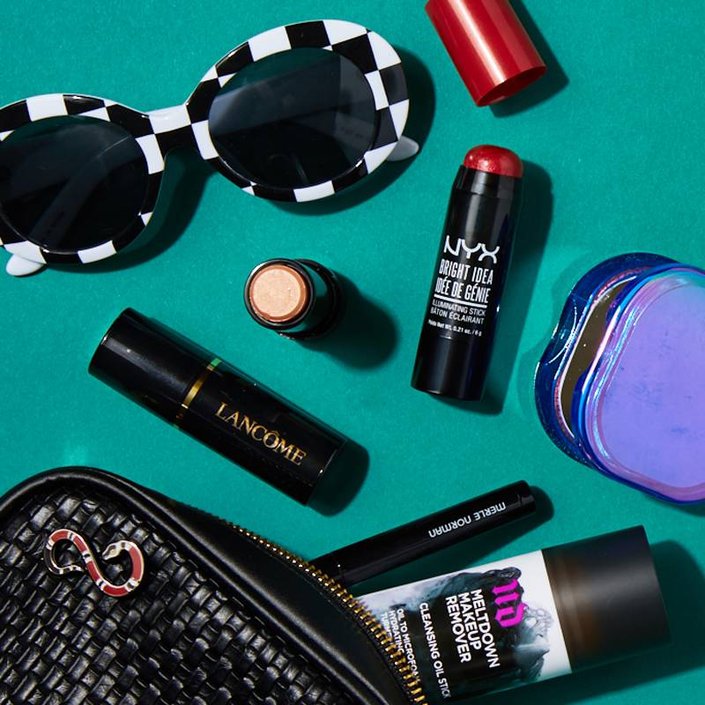 Don't get us wrong: We love makeup products of all colors, shapes and sizes, but right now we're especially obsessed with makeup sticks for all of our everyday must-haves like foundation, blush and highlighter. Makeup products in stick form are game-changers for many reasons: like you won't destroy your makeup bag or end up with foundation all over your hands and white towels. If you're one to carry your makeup with you at all times or maybe just concealer or a BB cream for a quick touch ups, sticks are compact enough to stash in most places without fear of destruction.
So whether your goal is to make your makeup bag more organized or ready for travel (they are also TSA friendly!), makeup sticks have got your back. Ahead, click through to check out all of the stick products you need to create a full face of makeup (and even one that will easily take it all off, too).
Foundation
Yup, foundation in stick form is a non-messy thing you might just fall in love with. Lancôme Teint Idole Ultra Longwear Foundation Stick comes in 30 shades and can also be used for touch-ups, as a spot concealer or to contour. Apply the foundation using a brush, makeup sponge, your fingers, or even apply the stick directly onto your skin.
Highlighter
Use the Maybelline FaceStudio Master Strobing Stickto highlight the tops of your cheekbones, to spotlight the center of your face or to add some glow to your brow bone and inner corner. This highlighter comes in an iridescent shade and a neutral one.
Blush
NYX Professional Makeup Illuminating Sticks come in a range of radiating hues, including highlighters, bronzer and blush. We love using it as a cream blush in the shade Rose Petal Pop for its easy application and blendability.
Bronzer
Finish perfecting your complexion with the W3LL People Bronzer Stick. Apply below your cheekbones and round up to your temples in a "C" shape. Finish by lighting applying some product to your forehead, nose and chin.
Eyeshadow
Merle Norman Cream Eyeshadow Sticks come in 10 different shade options, including five shimmery options and five matte options. Apply the eyeshadow directly from the bullet onto a clean lid or after you apply eyeshadow primer.
Makeup Remover
If you're a loyal waterproof eye makeup-wearer, you need to find a makeup remover that understands your habits. The Urban Decay Meltdown Makeup Remover Cleansing Oil Stick will dissolve your makeup and leave your skin feeling soft and clean.
SPF
If you're looking for a product lighter in texture than your normal foundation, try opting for a BB Cream like Physicians Formula Super BB All-in-1 Beauty Balm Stick with SPF 30. It will provide you enough coverage to function as foundation, concealer or a touch-up tool.
Hero Image: Chaunte Vaughn
Read more
Back to top