5 Foundations That Have Matching Concealers — and Why You Should Use Them Together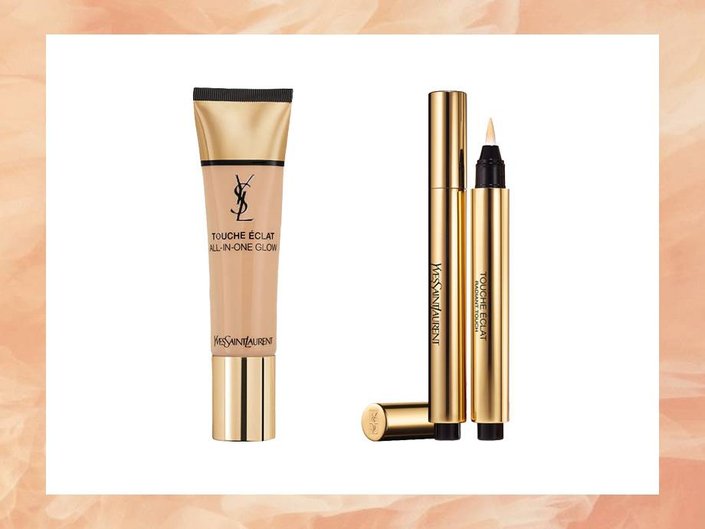 Not all makeup seamlessly works well together, which is why you have to be careful when choosing products that will sit on top of each other throughout the day. A lot of this comes down to ingredients and how similar formulas mesh well while vastly different ones do not. This is why many of your favorite makeup brands create products built to work together — and our favorite category of these duos is foundations and concealers. Ahead, we rounded up five of our favorite foundations and their matching concealer counterparts to help make your routine a little more seamless.
The User-Friendly Pair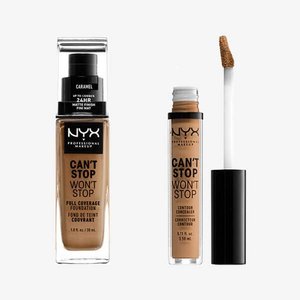 1 / 7
The User-Friendly Pair
NYX Professional Makeup Can't Stop Won't Stop Foundation + Concealer
We've been obsessed with Can't Stop Won't Stop since it first came out last year, so when we learned that NYX was coming out with a CSWS concealer as well, we couldn't wait to try it. This formula is just as full coverage, pigmented and lightweight as its foundation counterpart, and this duo is the most user friendly and buildable of the bunch.
The Daily Duo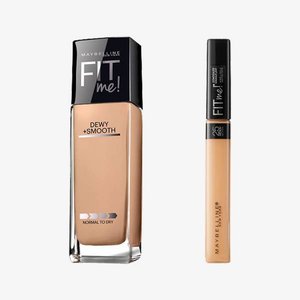 2 / 7
The Daily Duo
Maybelline Fit Me! Foundation + Concealer
If you're looking to swap out your current face products for something new, we think you'll reel over the Fit Me! Foundation and Concealer by Maybelline. This combination is built for dry or oily skin all while leaving you with a dewy glow.
The Drugstore Duo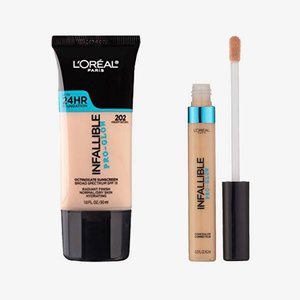 3 / 7
The Drugstore Duo
L'Oréal Paris Pro Glow Foundation + Concealer
For the best bang for your buck, the Pro Glow Foundation and Concealer is the pair you need to get your hands on. The foundation is a great base for a luminous-matte finish, while the concealer does an excellent job at covering up any blemishes and making your skin appear radiant in all the hard-to-cover places.
The Most Matchable Pair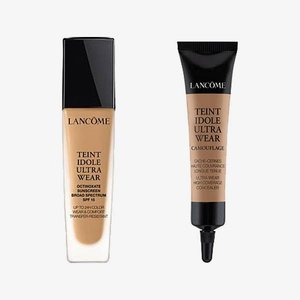 4 / 7
The Most Matchable Pair
Lancôme Teint Idole Ultra Wear Foundation + Concealer
By far one of the most extensive shade ranges of the bunch, Teint Idole Foundation and Concealer is perfect if you're looking for a more elevated finish. This formula is extremely pigmented and full coverage in its foundation and concealer, so there will be no dry spots or creasing left behind.
The Luxe Duo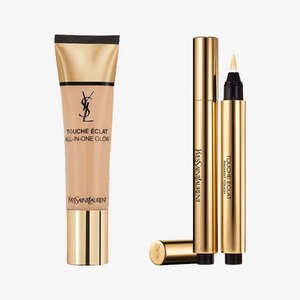 5 / 7
The Luxe Duo
YSL Touche Eclat All In One Glow Foundation + Radiant Touch Concealer
Finally, the most classic and luxe duo on the market certainly has to be the YSL Touche Eclat combination for a glowy, glassy finish. We love that this stuff instantly brightens the skin after foundation application, and you can go in with the radiant touch pen to highlight any areas that need a little extra TLC. 6 / 7 7 / 7
Read more
Back to top