How to Master the Dewy, Glowy Look in 5 Steps Or Less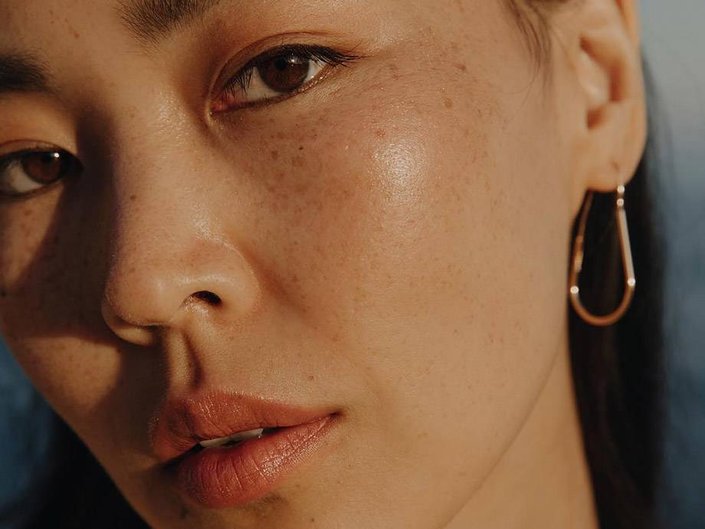 In a world where looking like you "woke up like this" is becoming increasingly trendy, subtle glow and skin-perfecting products have taken center stage. This glow is the makeup look your favorite influencer rocks in her "no-makeup makeup" selfie and the results our favorite glass skin serums promise. It's perfect for anyone who loves dewy, glowy skin (minus the glitter) and wants a subtle yet polished finish. It goes by many names: dew-strobing, no-makeup makeup, natural makeup — the list goes on. Whatever you call it, it's a look that can work for anyone — get the look by following the tutorial below.

STEP 1: Start by applying a lightweight foundation or BB cream over your entire face, and using a small brush, layer on a dab of concealer underneath each eye, extending outwards towards your cheekbones. Brush a thin layer of concealer to the areas you would normally apply highlighter — forehead, down the bridge of your nose, Cupid's now and chin. This will allow the concealer to act as a "glue" and give the product more staying-power.
STEP 2: For even more glow, apply a few drops of face oil to your makeup sponge and blend the concealer outwards until the application is seamless. We recommend Trilogy Rosehip Oil.


STEP 3: Using a matte bronzer or your go-to contouring product, lightly contour your cheekbones, nose and hairline. Remember, less is more to keep it natural looking!

STEP 4: Apply a sheer, pigmented highlighter to the high points of your face and brush away any excess powder. For this step we like Maybelline Masterchrome Highlighter applied with a damp brush or beauty blending sponge to slightly sheer out the pigment.


STEP 5: Take your glow to the next level with gloss. Using either face gloss or a clear lip gloss, use your fingers and tap a thin layer over your highlight, blending just slightly. Add more depending on your desired intensity — but while we're calling the shots, we say go glossy or go home.

STEP 6: Complete the look with your favorite shade of lipstick. We love Maybelline Superstay Matte Ink in Romantic. Finally, practice taking the ultimate effortlessly flawless selfie.
Read more
Back to top