Model Iesha Hodges Told Us Her Beauty Secrets — And We're Still Recovering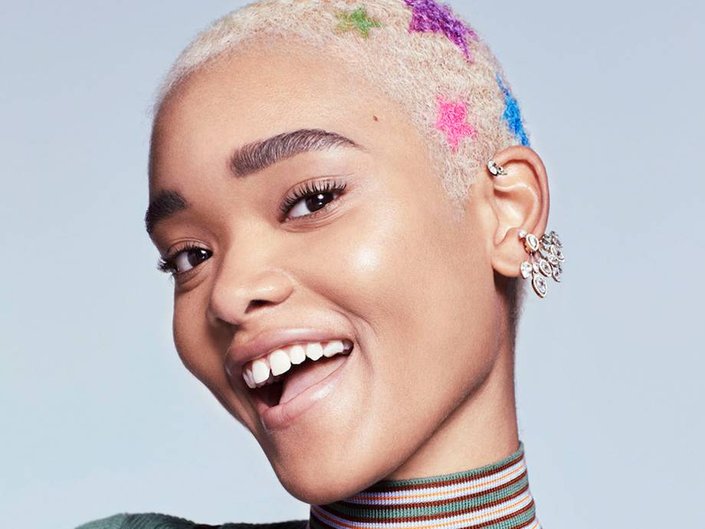 Iesha Hodges does it all: She blogs, she vlogs, and she's casually a Victoria's Secret model. Her Instagram game is straight fire, and her signature buzzcut looks so good we're tempted to take a pair of clippers to our hair. Ahead, Iesha gives us insight on what it's like to be a Victoria's Secret model, dishes on her daily makeup routine and shares what beauty means to her.
How did you get into modeling? I began modeling at the age of 17 after winning a modeling contest. The rest is history.
What does a typical day look like for you? Is there such thing? Every new day is a gift and a new adventure. I'm so thankful to be able to work with incredible teams and people all across the world. You just never know sometimes! I may get a phone call one night, and the next day, I'm jetting off to a whole different country!
What's something a lot of people don't know about you? One thing most people don't know about me is that I'm a technology geek! I'm really into editing videos and collecting old film cameras and footage. There's something so thrilling about capturing moments that I'm absolutely in love with.
What does your daily makeup and skin care routine look like? My skincare routine is really simple. Less is more. I use a good exfoliating face wash along with a gentle moisturizer and that's about it for me. As for my makeup routine, that's where the fun comes in. Most days, I love a natural glam makeup look — so definitely brows, mascara and just a little pink blush to be extra cheeky. When it gets colder, I love experimenting with darker lips as my wardrobe gets a lot more seasonal. Plums, deep reds and even an occasional burgundy lip are always my top choices.
What do you do for fun? Vlogging! That's the most fun thing I can think of right now, just capturing moments with the people I love and being able to share those moments with others. It's so nice to be able to look back at memories and relive them.
What's the best piece of advice you've ever received? The best piece of advice is no advice! Life is what you make it, and I've learned to do everything that makes me feel happy and alive. You have to live by your own rules and your own philosophy. What are some of your favorite makeup, skin and hair products? My favorite beauty product of all time would have to be Olaplex because it keeps my hair from breaking with all of the chemical processing I do to it. For makeup, I love, love, love the Fenty Beauty line! I cannot get enough of the highlighter palettes and Match Stix. What's the best part about being a Victoria's Secret Model? The best part about being a Victoria's Secret model is being a role model for the younger women of my generation. Besides being a part of an incredible brand, family and legacy, it's truly amazing to be someone who can inspire confidence in other women and show them that dreams can become a reality. What does beauty mean to you? True beauty is within. It's charisma. It's strength. It's character. It's compassion. It's love. It's confidence. It's just how you radiate all of these inner qualities from the inside out.
Read More:
We're Obsessed With Celebrity Hairstylist Justine Marjan and You Should Be Too
#WCW: Why We Love Model Camille Rong
Why We're Crushing On Caroline Vazanna — Former Fashion Editor and Kickass Fashion Influencer
Read more
Back to top