The Ultimate No-Makeup Makeup Routine for Men
Although the "boy beat" made the rounds last year thanks to a certain celebrity makeup artist (OK fine, we'll tell you, it's Sir John), it didn't necessarily shift the conversation to boy beauty or men wearing makeup. The trend was more so focused on emulating that casual flawless look Instagram girls seem to effortlessly own rather than highlighting how men can use makeup in their everyday looks, too. The no-makeup makeup look is a perma-classic, and an accessible way to get into wearing makeup regularly, even if you're a beginner.
According to celebrity makeup artist Billie Gene, the biggest secret to the no-makeup makeup look is making sure the makeup is invisible to the eye. One of the major keys to getting this look is making sure your base products not only match your skin color but also your skin's texture. This will help it blend seamlessly like a second skin. It's almost important not to cover the entire face, says Gene, and opt for spot-concealing instead. NYC-based makeup artist Anne Kohlhagen (who created the look below) agrees and says she tends to spot conceal under the eyes and under the nose — or wherever else needs coverage. Gene also cautions against formulas with an ultra-matte or dewy finish, which can take away from the no-makeup look you're going for.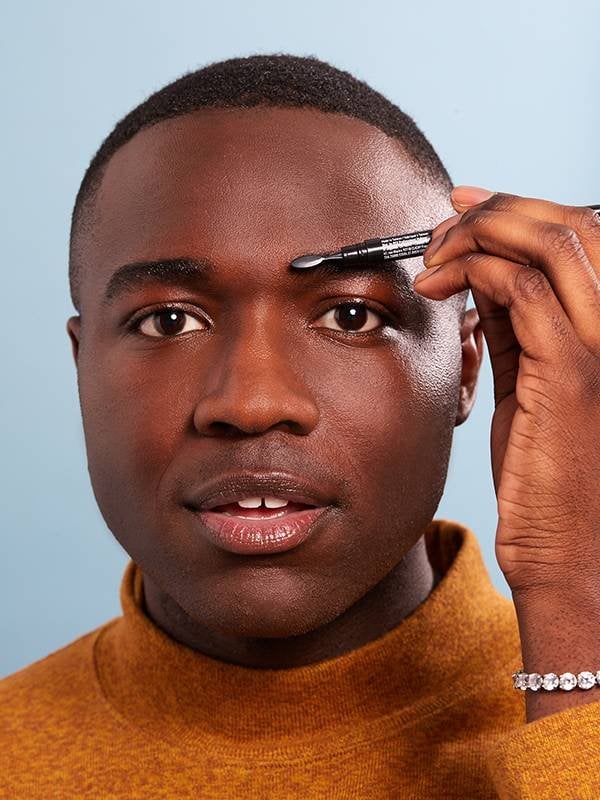 With that in mind, we've created a tutorial to help guys you get the look, ahead.
STEP 1: Start by hydrating the skin, which can instantly improve its appearance.
STEP 2: Spot treat any dark spots or blemishes with a skin-toned concealer, and place concealer under the eye. Don't apply the product all the way to the bottom lash line, says Gene. A little dark shadow creates a more natural look. Gene recommends using your finger to blend rather than a brush for an ultra seamless look.
STEP 3: Groom brows using a clear brow gel like NYX Professional Makeup Control Freak Brow Gel. You don't want to create too much of an arch or a shape, so if you want to use a brow pencil, stick to filling in any sparse areas rather than manipulating your shape.
STEP 4: Apply a lip balm to moisturize lips.
STEP 5: Lock it in with a setting spray or translucent powder to set the look.
Read More:
7 Beauty Gurus You Should've Been Following, Like Yesterday
The Secret to Faking Thick Brows Is … a Bar of Soap?
MCM: Meet Beauty YouTuber Victor Ramos
Read more
Back to top