Here Are the Best Blushes for Your Skin Tone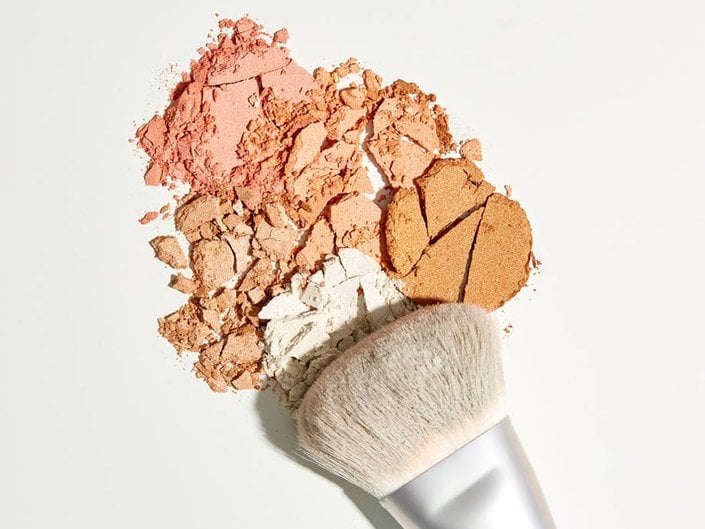 A little rouge goes a long way – at least that's what our grandmother tells us and we haven't been able to prove her wrong yet. When we brush a dreamy pink hue across the apples of our cheeks, our confidence rises.
The trick to pulling off blush the right way? Finding the right blush color and product texture for your skin tone. When you apply the wrong blush your makeup instantly enters the clown zone. But the right color to accent your skin tone will make your makeup, and just about everything else in life, that much better. That's why we've enlisted seasoned makeup artist Ashleigh Ciucci to reveal the definitive guide to blush shades, textures and techniques for each skin tone. 
Blushing Guidelines
Before you hit the "buy" button on that practically made-for-you blush, consider the texture, Ciucci urges. "Think cream for normal to dry skin, and powder for normal to oily types." Here's why: Like a moisturizer, velvety formulas will absorb into the skin better and add much-needed hydration. Powder varieties can help mop up excess oil and sweat sitting on the skin. So you're getting the most out of the makeup — while also doing right by your complexion! Now, find your ideal shades of blush, according to your skin tone.
Five Transformative Blush Tricks
What pro makeup artists know — and are about to spill — is that a little strategically placed makeup can completely transform your face. It's the reason you hear celebs regularly credit their makeup squads for enhanced cheekbones, a luminous glow and incognito psoriasis patches. When used correctly, blush can guarantee the lifted cheekbones you've craved (sans filler), make for a flawless photo finish or hide discoloration through their makeup illusions. 
For Sculpted Cheeks
Make a fish face and apply a cool matte shade into the hollows of the cheeks with an angled blush brush. To achieve, start at the top of the ear and drag the brush down to right before the underside of the apple. Boom, definition.
For a Youthful Glow
To match the shade you'd naturally flush, take a selfie post-workout and try to find a similar blush shade. Apply that color starting at the apple of your cheek and blending down towards your jaw line, using your fingers to blend it in if it's a cream blush. Or, use a larger, fuller blush brush if the texture is powder.   
For an HD-Ready Look
Choose a more matte shade in a jet-milled formula (translation: it's been finely ground using machines that work at warped speed). Unforgiving high-definition video and photography picks up every bit of texture and frost, so this formula will look the most natural.
For Rosacea-Prone
Pick a cooler shade like pale pink, plum or mauve because it will give some life to the skin without turning red. Apply foundation first, then gently buff it out using a soft kabuki brush. You both want to cover the inflamed areas AND have a bit of warmth peek through your foundation. Next sweep on your blush with a damp beauty sponge for an instant lit-from-within flush. 
For a Candlelit Glow
Choose a pink, peach or gold-infused shimmery blush (not glittery!) and apply to the top of the apple of your cheeks. You'll have a nice natural flush with the light hitting the shimmer texture on your cheekbone, giving you that ethereal effect. To amp up the radiance after you've applied your blush, dab a pink or gold cream highlighter on top of your cheekbones, down the bridge of your nose, on your brow bones and in your Cupid's bow. The candlelight effect will hit your features in all the right places.
The Best Blush for Fair Skin Tones
Fair-skinned beauties, don't get carried away with too vibrant shades; a soft pink, peach or light coral will enhance your porcelain skin in just the right way. Consider a creamy blush texture that yields a natural finish without being overpowering. "Cream blushes mimic the skin's finish and settle into the skin in the most realistic way," says Ciucci. 
When applying, the key is a light application. "Tap the color onto your cheeks with your fingers or buff it in with a duo-fiber brush," Ciucci adds. Too much product, or the use of saturated hues, will create a harsh finish. If you prefer that type of look, go for it. Otherwise, work to select the right intensity of blush for a natural, flushed-cheek finish.
Some of our favorite blushes for fair skin tones include the NYX Professional Makeup Bare With Me Hydrating Cheek Tint in Creative Cleanse and the Glossier Cloud Paint in Dawn.
The Best Blush for Medium Skin Tones
Pinks and glowy peaches are the colors you can take a step further by applying a deeper shade of each, or layering until you reach your desired vibrancy. A rich pink, and even certain shades of mauve, will leave you with a dramatic edge — especially when you apply blush on all the right spots. To find the right landing space for your chosen hue, smile and see where your cheekbones naturally pop. Apply a bit of blush up and down that half-moon space and even into the corner of the eye area for perfectly placed warmth.  
Bonus tip: If you're more olive, avoid cooler tones like plum as they can make olive-toned babes look sallow, Ciucci explains.
For a glowy look, try the Hourglass Ambient Lighting Blush Collection in Dim Infusion or the Lancôme Le Monochromatique in Soiree.
The Best Blush for Deep Skin Tones
Deep shades of red, orange and brown are the ideal blush colors for dark skin. "The trick is to choose a shade that looks crazy bright in the packaging," Ciucci says. These colors, unlike light powder pinks, will leave you looking radiant instead of washed out. Try a fuchsia (think dark radiant orchid) if your skin tone tends to be warmer or a bold tangerine if it is cooler.
Sweep blush onto your skin in a circular motion at the apples and then continue it outwards towards the tops of the ears for a gorgeous pop of color. By targeting the apples of your cheeks with a vivid swipe of one of these shades you'll be left with a beautiful cast of color.
We recommend the Maybelline New York Facestudio Master Blush Color & Highlight, or Lime Crime Softwear Blush in Dark Web.
Read More:
The Best Orange Blush for Your Skin Tone
The Best Blush Palette for Your Skin Tone
Read more
Back to top