This Mirror Gave My Vanity and My Makeup Skills a Major Upgrade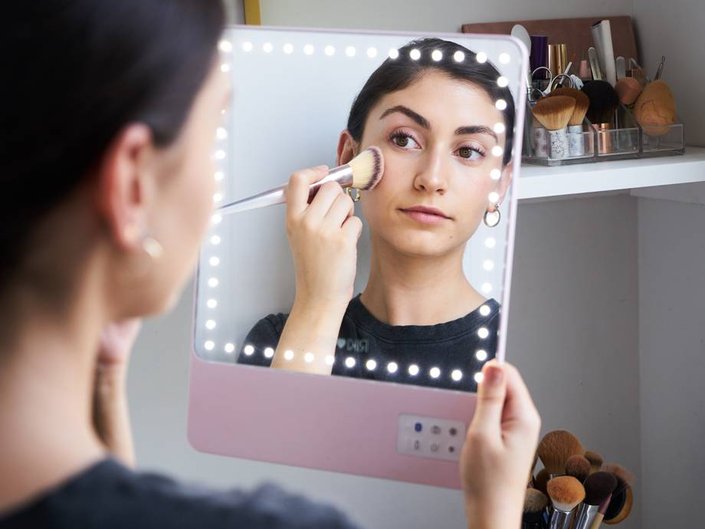 Just as some people enjoy movies or collecting old records, makeup and skin-care is my passion. With that said, I have a deep, deep love for my vanity. Considering I spend the better half of my morning and evening sitting in front of it, I like to think that's a good thing. While I've always had a vanity, I must say that my makeup area was not complete until I owned a Riki Loves Riki Mirror. Dramatic? I think not — let me tell you how this mirror completely changed my beauty routine for the better.
When I recently moved into my new apartment, I commandeered the area outside of my closet as my beauty corner. I bought a small three-drawer dresser to hold my products, carefully stacked my acrylic makeup cases on one side and plugged in my skin-care fridge on the other. The lavish setup was nearly complete except for the fact that I was missing a mirror to match. Around that same time I was introduced to Riki Mirrors by Glamcor and was instantly intrigued by the brand's ultra-slim and simplistic — yet totally chic — makeup mirrors.
I'm pretty sure it took me all of two minutes to fall in love with my Riki Skinny — about the same amount of time it took for me to get it out of the packaging and turn it on. The ultra lightweight mirror is best described as a ring light for everyday use. The difference? It's far easier to transport, weighs less than 1.5 pounds and is about 1 centimeter thick. It features customized HD daylight lighting and five stages of dimming, as well as an internal battery (meaning you're not hindered by a cord and plug) and a detachable magnified mirror.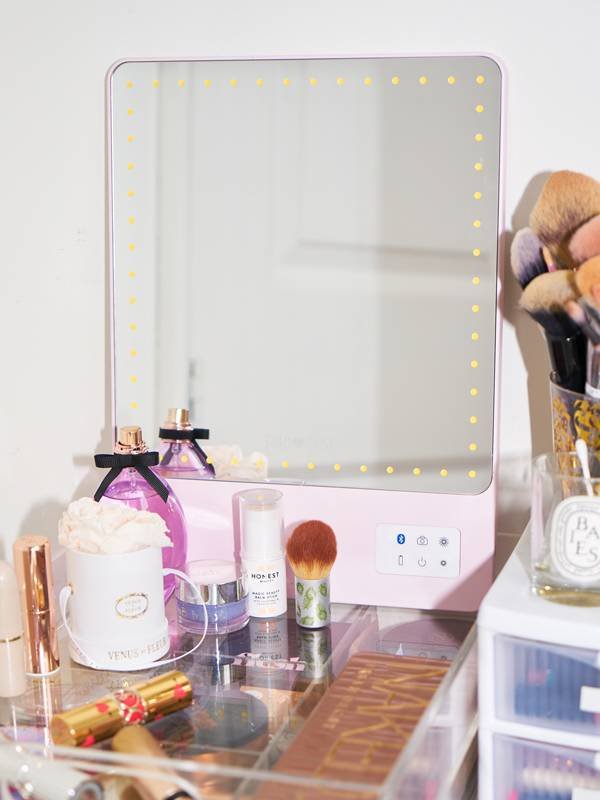 While it may seem simple, it truly was a game-changer for my morning beauty routine. I'm not lying when I tell you that I can now do my makeup without turning on an overhead light and still walk away with a perfect face beat. For those days when my makeup is looking extra good, the Riki Skinny comes with a magnetic phone mount and a Bluetooth selfie function that allows you to take amazing makeup photos, which I use more than I'd like to admit.
The brand has plenty of other Riki Mirrors to add to your collection, such as Riki Graceful Magnification Mirror, a standing circle edition, Riki Cutie, a portable handheld mirror no bigger than your phone, and the queen of all makeup mirrors, Riki Tall, a 28-inch tall mirror that retails for $495 is on every beauty addict's wishlist — including mine.
Read More:
We Put 5 Eye-Makeup-Remover Hacks to the Test in the Name of Research
How to Master Dewy Makeup in 6 Steps
7 Matte Foundations for a Shine-Free Beat
Read more
Back to top