5 *Important* Summer Makeup Swaps to Make
So you're taking a trip to Ulta Beauty to revamp your makeup bag for the summer, but you're torn: should you pick up your favorite long-lasting setting spray, or should you switch to something more hydrating, like a dewy mist? And do you really need another bottle of matte foundation to wear poolside? Ahead, check out our makeup-artist-approved recommendations for makeup product swaps you should make before summer officially arrives.
Swap Your Foundation for a Tinted Moisturizer With SPF
It's time to shelve your foundation and add a more lightweight formula into your routine. "Swap your foundation for a tinted moisturizer with SPF," NYC-based makeup artist Kasey Spickard explains. "My go-to for myself and my clients is the Lancôme Skin Feels Good Skin Tint with SPF 23. This melts into the skin and literally looks like a second skin. I throw on a little concealer and bronzer and I'm out the door. Even if I do get sweaty and oily, I still look even and smooth!" For a formula with higher SPF, we recommend IT Cosmetics CC+ Cream with SPF 50. Keep in mind, you need a generous amount of SPF to ensure UV protection, so prep your tinted moisturizer application with a dedicated  sunscreen for maximum skin safety.
Opt for Lip Oil Instead of Matte Lipstick
Kudos to you if you're passionate about wearing matte lipstick in the summer, but here at makeup.com, we're wearing a lighter formula that's glossy with a hint of color. If you're looking for something different from a lip gloss or lip balm, Kiehl's Love Oil for Lips is a must-have in our summer makeup kit. It gives your lips hydration and a touch of color (or not, if you prefer an untinted formula), all while giving your lips a natural-looking, glossy finish. Oh, and did we mention it's actually comfortable?
Choose Multipurpose Products
For a super-easy, monochromatic look that'll reign in all the compliments, look for a product that can be used on your eyes, face and body. One formula we can't get enough of at the moment is Nudestix Magnetic Glimmers, a glimmering metallic gel that melts onto skin to work as a highlighter, to brighten your eyes, mix in with your foundation or skin care and so much more. It's waterproof, which makes it the perfect addition to your beach bag and can easily elevate your no-makeup-makeup look. To see it in action, check out Nudestix co-founder Taylor Frankel's Instagram feed.
Pick Up a New Lash-Defining Mascara
While we totally support your decision to use a lash-thickening mascara in the middle of summer if that's your style, L'Oréal Paris Makeup Unlimited Mascara is a must-have if you want a defining, volumizing and clump-free finish. It even comes in a waterproof formula, too, in the case that you choose to wear it to the pool or beach (likely).
Scope Out a Stick Formula
Make your life (or at least your daily makeup routine) a little easier this summer with a mess-free stick formula. We love 'em for fast blush, highlight and contour application. Three options we like are the Maybelline x Puma Color + Gloss Duo Face Stick, NYX Professional Makeup Wonder Stick and Ulta Lip + Cheek Color Stick.
Reach for Face Mist Instead of Setting Spray
"Setting sprays in the summer months can mix with your sweat and make you feel sticky and gross," says Spickard. "A face mist will simply enhance that natural glow. I love the Beautyblender Set & Refresh Face Mist. It hydrates the makeup and gives you the dewy, glazed look!"
Photo: Chaunte Vaughn, Props Styling: Katrina Rozeville
Read More:
Waterproof Mascara: Here's Everything You Ever Wanted to Know
Redditors Weigh In on How to Achieve "Second Skin" Foundation
Read more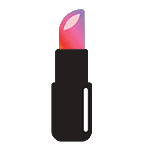 Back to top