Editors Reveal: 24 Beauty Products We're Buying This April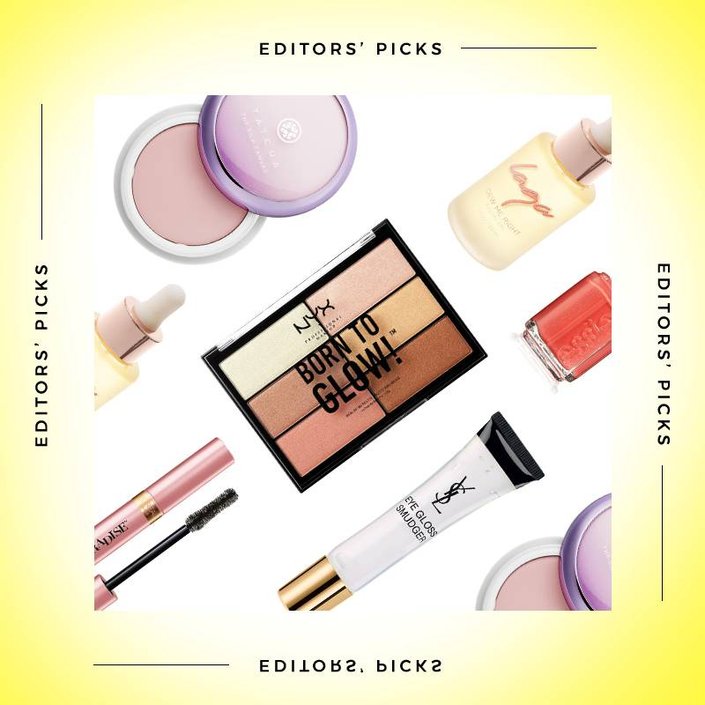 It's a brand new month, which means a new round of products is making their way onto store shelves and into our makeup bags. These are the products Makeup.com's editors can't live without this April.
Dawn, Editorial Director
This dense cream is like primer but so much better. You smooth a little over your face before makeup, and pores and lines disappear, your foundation looks perfect for hours (maybe days), and it protects your skin from pollution.  
Still on the pollution protection front, this antioxidant serum negates free radicals while also moisturizing with hyaluronic acid. And the glass bottle looks stunning in my medicine cabinet.
NYX Professional Makeup Mochi Palette in Sleek and Chic
I'm more of a Naked Basics girl, but this slightly bolder palette speaks to me. It has plenty of great neutrals plus some fun shimmers (I love the purple-black-shimmery shade), and the squishy mochi-inspired texture makes it lovely to use.
Sydney, Creative Producer
I only recently discovered the joy of rotating makeup products and now, for the first time, own multiple mascaras. This Laura Geller formula feels super light on the lashes, and the dual-sided brush (one side helps with length the other volume and curl) is a game changer if you're not on the clumpy lash bandwagon.
NYX Professional Makeup Glazed & Confused Eye Gloss In Bad Blood
I usually find wearing a lot of eye makeup more work than it's worth, but this eye gloss is so comfortable I could wear it every day. The texture is a mix of creamy and glossy, which makes application simple too.
NYX Professional Makeup Faux Marble Lipstick
I'm a sucker for this faux marble bullet, and the formula is super creamy and hydrating. Plus, those marble colors are fire!
Justine, Visual Designer
Red Earth Pen Pal Waterproof Liquid Eyeliner in Black
I love the design of all of Red Earth's packaging and have been getting a lot of use out of their liquid eyeliner pen. The tip really helps me achieve a precise wing and the formula is super pigmented.
Kiehl's Ultimate Strength Hand Salve
My hands have been especially dry this winter, and Kiehl's hand salve has been a life saver. It goes on super smooth, is completely non-greasy and is a great addition to any desk on the daily.
Butler Please is one of my favorite year-round Essie shades, but is especially fun for spring. I love how vibrant this blue is — it's the perfect primary shade.
Courtney, Growth Editor
This new discovery has been a total god send for my lips lately. I was trying it all — sugar scrubs, Vaseline, everything to keep my lips from flaking. The Laneige Lip Sleeping Mask came recommended to me from a trusted beauty bae so I knew it had to be the solution. This stuff is next level. I wake up with baby soft lips and zero flakeage.
Yves Saint Laurent Eye Gloss Smudger
The YSL Eye Gloss Smudger is the best thing to happen to the glossy eye trend. I am pretty low key with my makeup, so trying new trends is always something I approach cautiously. I really love the glossy eye look and have tried a few different products now. This YSL high gloss finish is ideal for achieving shine without the sticky texture of other products.
It Cosmetics Bye Bye Under Eye Concealing Pot
I have a lot to thank It Cosmetics Bye Bye Under Eye Concealing Pot for this month. With the time change, my sleep patterns have been all over the map. My eyes tell lies with this stuff — it's like you would never know I only got four hours of sleep last night. The texture is creamier than your average concealer so Bye Bye Under Eye means business without being too obvious.
Marisa, Assistant Editor
Laqa & Co Dew Me Right Facial Oil
This is (no exaggeration) the best-smelling face oil I've ever tried. I truly look forward to putting this soothing oil on in the evenings and mornings after cleansing and before moisturizing for an instant glow.
Urban Decay High-Fi Shine Lip Gloss
This lip gloss has been my go-to since it launched. I'm particularly obsessed with the shade Backtalk, which probably sounds and looks familiar if you've had your eye on the new Urban Decay Backtalk Palette. I'm loving this gloss for its comfortable, hydrating formula, its subtle, pretty pigment and for the fact that it smells like Thin Mints.
Catrice Cosmetics Light Correcting Serum Primer
What I love about this primer is that you can wear it on its own to give you a healthy-looking glow for days when you opt for a no-makeup makeup look. There aren't many primers that feel this versatile to me, and I foresee this being a staple in my makeup collection through spring and summer.
Alanna, Assistant Editor
NYX Professional Makeup Born To Glow Palette
If there was any product in my makeup collection that is the definition of love at first sight, it would be this Born To Glow palette by NYX. As an avid highlighter collector, the six shades of this highlighting palette lit up my eyes at first glance because of how unique its shades are, as it includes everything from a pistachio sparkle, to rosey and gold hues, chocolates and everything in between. I love how versatile every pan in this palette is, how excellently pigmented each highlighter is and its mix-and-match spirit.
Maison Margiela REPLICA At The Barber's
Confession: I love wearing scents for men (hell, they should be for whomever wants to wear 'em!). One of my favorites is At The Barber's — a crisp barber shop scent that's slowly but surely becoming my new favorite fragrance for spring. I keep this baby on my desk at all times and always spritz myself with a few pumps of it whenever I'm heading out of the office. Obsessed.
Smith and Cult Demon Dazed Matte Lip Stain
In a world of so many matte liquid lipstick formulas, I feel like I've finally uncovered the most comfortable formula: Smith + Cult's new Demon Dazed is not only a super sultry terracotta red, it also seamlessly glides on and has the most incredible soft finish. My new go-to red lip is calling, and I refuse to hang up. 
Tembe, Assistant Editor
These landed on my desk by the grace of my lovely editor Dawn, and I'm officially obsessed. They're purposefully shorter than traditional strip lashes (which is perfect for my small eyes), and they're so natural everyone just thinks my lashes are bomb. I'm in love!
I love to wake up looking like I had nine full hours of beauty sleep (even if I've only had five), and this mask makes sure I do just that. It's super soft, thick and feels super luxe. I can't sleep without it, and it has become a staple in my nightly beauty routine.
This one has been making the rounds at the office — we're pretty much all converted at this point. I was late to the Lash Paradise party, but luckily they're always accepting new converts. This mascara is no joke. It makes my lashes separated and long without looking clumpy and wet. Pro tip: Wipe off the brush after every use. This ensures that you're not getting too much product on your lashes and the product is distributed evenly from root to tip.
Sophie, Social Media Editor
Lune + Aster PowerLips QuickStick in Long Walk
I ventured out of my usual same-color-as-my-lips shade and went for something deeper (still nude, but deeper). I was pleasantly surprised by how quickly I fell in love with the color, but what really won me over was the creamy, moisturizing formula. It's easy to reapply (I drink a lot of coffee), and it's become my go-to lippie this month.
Maybelline Total Temptation Brow Definer
I was looking for a drugstore dupe for one of my favorite brow products and came across the Maybelline Total Temptation Brow Definer. Not only was my wallet happy, but no one seems to able to tell the difference — amaze.
Adding this pop of color to my beauty routine is my way of personally welcoming the spring season. Even when it's freezing, this color warms me up.
Read more
Back to top