Upgrade Your Beauty Basics for Spring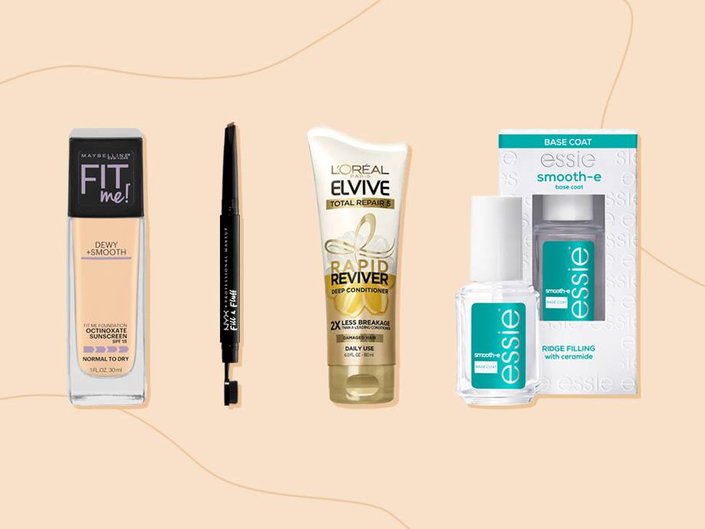 We're firm believers that spring is the perfect time for a refresh in every area of life. From donating unworn clothes in the back of your closet and refolding all of the items in your dresser Marie Kondo-style to finally organizing your kitchen cabinets, spring cleaning can be supremely therapeutic. Unsurprisingly, one of our favorite tasks is spring cleaning our beauty stash(which we will admit can get a little out of hand at times). Whenever we do this, we tend to give a lot of consideration to trend-based products like lipsticks and eyeshadow palettes, but we rarely give our beauty basics (think: conditioner and foundation) the same kind of love. This year, we're resolving to change that. Want to join us? Toss any essentials that don't spark joy, and try replacing them with some of our favorite beauty picks for spring, ahead:
L'Oréal Paris Elvive Total Repair 5 Power Rapid Reviver Deep Conditioner
If winter has left your hair anything like ours — super dry and damaged — it may be time to upgrade your shampoo and conditioner. If you've been using the same shower staples for well, ever, we recommend trying the L'Oréal Paris Elvive Total Repair 5 Shampoo and Power Rapid Reviver Deep Conditioner. The deeper conditioner provides two times less breakage than traditional formulas and contains almond and protein to repair existing hair damage and smooth breakage (good-bye, split ends!) — with no leave-in time.  
NYX Professional Makeup Fill & Fluff Eyebrow Pomade Pencil
Makeup lovers may have already sworn allegiance to their brow grooming products, but there's a new pencil in town that's so good it may convince even the most loyal enthusiasts to make a switch. This dual-ended eyebrow pencil from NYX Professional Makeup features a retractable pomade end for shading and a unique micro-paddle brush for blending out the color. It comes in eight matte colors with a smooth, pigmented finish to give you naturally sculpted and fluffy brows.
When was the last time you looked at your nail polish base coat? Do you know what brand it is? Do you remember when you got it? Do you even own one? "Um, I have no idea," is how we'd answer all of the above. You too? Give your nails some much-needed TLC by treating them to this new Smooth-E Base Coat from Essie. It fills in ridges for an instantly smooth and even canvas on which you can paint your favorite spring nail polish shade.
Maybelline New York Fit Me Dewy + Smooth Foundation
Dewy skin is a spring beauty must. To achieve a radiant glow and an even makeup base, ditch the matte foundation you've been using and pick up the Maybelline Fit Me Foundation in Dewy + Smooth. It's formulated with SPF 18 and designed to hydrate the skin to look more healthy and luminous for that your-skin-but-better effect.
Read More:
Your New Spring Fragrance, Found!
5 Spring Break Makeup Tutorials to Watch Before You Pack
Read more
Back to top