The Right Way to Wear Sunscreen Under Foundation – According To An Expert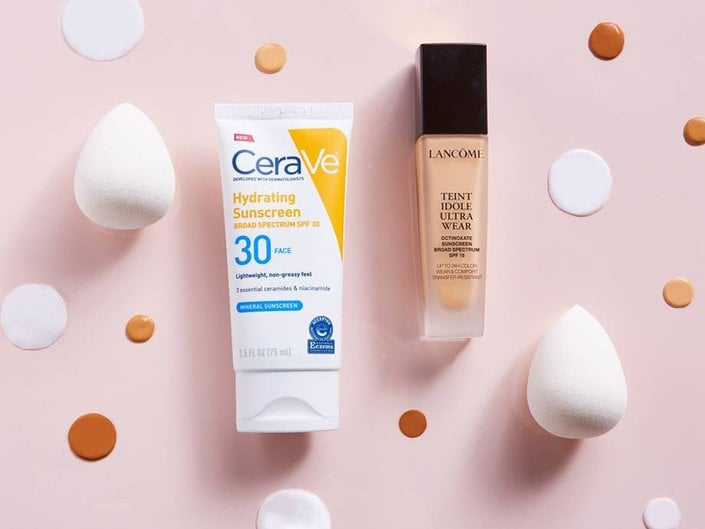 We all know the rule of thumb when it comes to sunscreen: Wear it all day, every day. However, that being said, the topic of wearing sunscreen with makeup — especially wearing sunscreen with foundation — is not so cut and dry, as it brings up a series of questions and concerns. What level of protection do you really need? Should you reapply? Is SPF in your foundation enough? Should you apply your sunscreen under your makeup? We could go on and on. Here to help us practice safe-sun (and settle our burning curiosity!) is New York City-based dermatologist Bruce Katz of Juva Skin.
What SPF Should You Be Wearing?
Simple: "SPF 30," says Dr. Katz. "I tell my patients to apply it evenly all over until it vanishes. And for both UVA and UVB protection, it's important to look for these three ingredients: zinc oxide, titanium dioxide and avobenzone," he says.
Zinc oxide and titanium dioxide are physical sunscreens rather than chemical sunscreens. If you have sensitive skin, you should look for sunscreen that uses those ingredients as they are unlikely to irritate your skin. They provide a physical barrier to protect you from the sun's harmful rays; it's like wearing a mask. Plus, you can apply this sunscreen under your foundation — it even acts as a primer. Don't forget to apply some to your neck and ears!
Product Recommendations: 
La Roche-Posay Anthelios Cooling Water Sunscreen SPF 30
SkinCeuticals Ultimate UV Defense SPF 30 
CeraVe Hydrating Sunscreen Face Lotion SPF 30
But My Makeup Already Has SPF in It 
Hey! Your makeup already has SPF in it, so that should have you covered, right? Wrong. "Don't rely on makeup for the best source of SPF as it's notoriously unreliable in terms of the level of protection," says Dr. Katz. "Plus, makeup isn't always applied evenly and comes off easily — thus, decreasing optimal coverage. You want to wear sunscreen underneath your foundation and it actually provides a better base for your makeup application." 
He also recommends waiting a few minutes before applying your foundation so as to allow your sun protection to set and really penetrate the skin.
So your updated morning routine should include applying sunscreen under your makeup. Don't skimp on application either. Make sure you get a generous even layer of sunscreen on your face before applying any other cosmetic products. Choose a foundation you love regardless of SPF, and think of makeup with added sun protection as a bonus.
Product Recommendations: 
Lancôme Teint Idole Ultra 24hr Long Wear Foundation 
L'Oréal True Match Super Blendable Makeup
Maybelline New York Fit Me Matte + Poreless Foundation
How Do I Reapply Throughout the Day? 
That depends. "If you're sweating or swimming, I recommend that you reapply sunscreen every two to three hours, but if you're not getting wet, it can last four to six hours," says Dr. Katz. Now an answer to the question we have been waiting for — how do you reapply SPF when you're already wearing makeup?
"For maximum protection, sunscreen should be applied directly onto skin, underneath any makeup, other moisturizers or skin-care products. You can put sunscreen on over your foundation, but ideally you would wash it all off and reapply — although we know most women won't really do that," says Dr. Katz. Not unless we get to bring our whole beauty arsenal with us!
An alternative? Loose powder or a mineral veil with added sun protection like Lancôme Ageless Minérale With White Sapphire Complex or Giorgio Armani Lasting Silk UV Compact. Just don't forget to wear physical sunscreen underneath your makeup and avoid staying near windows for long periods of time in the office.
To sum it up, if you are going to spend a prolonged period of time in the sun, be sure to reapply every few hours. Even if you prefer using a liquid sunscreen, don't let that deter you from reapplying it over your makeup — pat some on, and use it as an opportunity to retouch. Protecting your skin from cancer is more important than flawless foundation.
Product Recommendations:
IT Cosmetics CC + Airbrush Perfecting Powder Illumination
Supergoop Invincible Setting Powder 
Read More:
Beauty Q&A: Is the SPF in My Makeup Enough to Protect My Skin?
6 Lip Balms With SPF for Perfect-for-Summer Lips
7 Best Makeup Primers With SPF for Summer and Beyond
Read more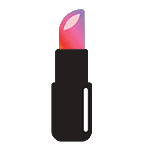 Back to top