How to Choose From Different Types of Concealer Texture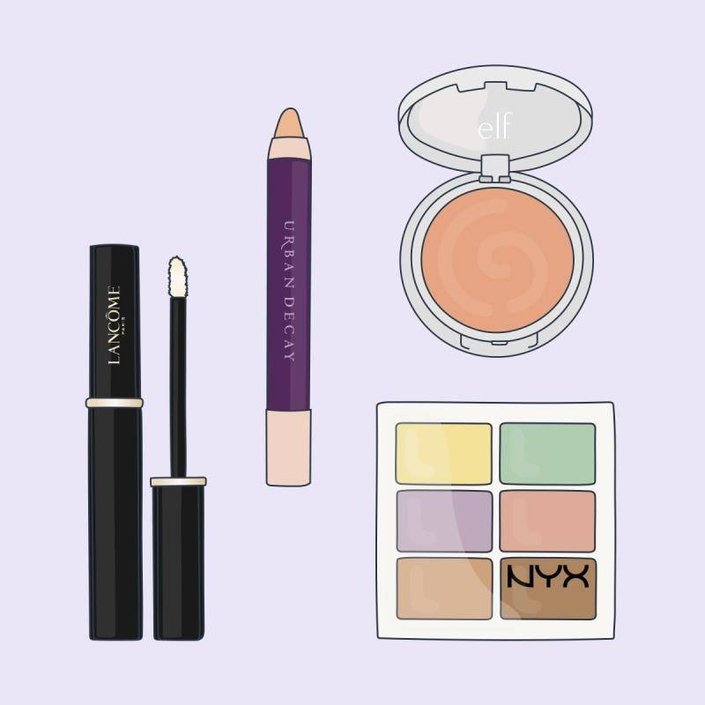 Concealer is a must-have makeup product – but how do you decide which type of concealer texture is right for you? Fortunately, we're here to help you decode the mystery.
When I first encountered concealer, it was in the form of a liquid. It came in a rectangular tube with a wand applicator that I dabbed under my eyes (without applying foundation before, mind you), rubbed in with my fingertips, and voilà – I was ready to take on the day. Or so I thought. But over time, I thankfully learned that there are, in fact, different types of concealers as well as different textures that are meant to work with your specific skin type. Concealer can be pure magic – when you use the right one.
Types of Concealer Texture
Let's start by answering the critical question about different types of concealer: What kind of concealer textures are out there? Well, the four most popular concealer textures are liquid, balm, cream and stick consistencies. So whether your skin is acne-prone, dry, oily, or completely normal, and whether you're covering breakouts or dark circles, there's a specific texture of concealer that's going to be the right match for you. Ahead, discover our guide for determining which texture of concealer will give your skin the coverage and boost it needs to look its best.
Liquid Concealer: Less Coverage for Oily to Normal Skin
It's only right that the younger version of myself encountered concealer in a light liquid form for the first time. This popular type of coverage is great for covering minimal undereye circles and redness for all skin types. Keep in mind that it's not always ideal for people with very dry skin – especially when it's a matte finish. The concealer will ultimately end up emphasizing your dryness even more. But if you're determined to use a liquid concealer anyway, apply a moisturizer before you conceal. If you have acne-prone skin, look for a liquid formula that's non-comedogenic and oil-free. For a liquid concealer that will work well on all skin types, trying the Lancôme Maquicomplet Radiant Concealer for natural-looking coverage.
Balm Concealer: More Coverage for Oily to Normal Skin
Balm concealers are thicker and will stay put all day – even on oily skin types. And many balm concealers are color correctors, which means they are meant to be used under your foundation to neutralize different colors. The NYX Color Correcting Concealer Palette resembles an artist's paint palette, and the concealers have a balm-like texture. But it's much easier to understand when you take a moment to learn which colors effectively cover your blemishes. Green, for example, is ideal for covering any blemishes or redness on your face because it neutralizes the color red. Whereas orange concealers are ideal for darker skin tones to cover dark circles or discoloration. This type of concealer is often intimidating when you don't know which colors to use, but a life-saver once you do. And the heavier texture is ideal for layering. Pat it on lightly with a brush for less coverage, but keep applying if you need more.
Cream Concealer: Less Coverage for Normal to Dry Skin
Cream concealer – as the texture name hints – is known for its thicker texture. The Elf Cosmetics Cream Concealer is an affordable option that's perfect for under your eyes to cover dark circles and to help you look bright and refreshed. This texture of concealer often comes in a pot and is the best for hydrating normal to dry skin. If you have breakout-prone or sensitive skin, be sure to look for a cream concealer that's oil-free, non-comedogenic and alcohol free.  
Stick Concealer: More Coverage for Normal to Dry Skin
Concealer sticks have a semi-solid texture, which makes them perfect for covering up little blemishes and dark spots. They're super compact for touching up your skin when you're on-the-go, but not so easy to spread out. This 24/7 Concealer pencil from Urban Decay will let you get really precise when covering imperfections. However, sticks can be heavy, and if you have oily or combination skin, you may want to consider a different texture of concealer – especially in warmer months when this type of concealer will slip all over your face instead of staying locked on a breakout.
Read more
Back to top