How To Get Glowy Skin In 5 Easy Steps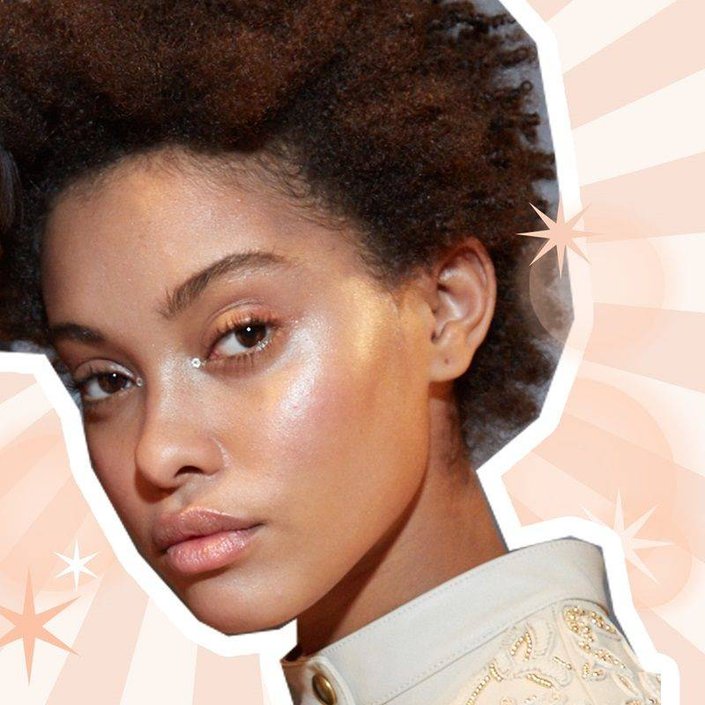 Glowing skin can turn heads on any red carpet or in any room. This flawless look is meant to appear natural, but chances are it's the result of a cosmetics slight-of-hand. We tapped makeup artist Scott Barnes, who put Jennifer Lopez's enviable radiant complexion on the map, for his five steps to luminous beauty. Even if your skin doesn't glow on its own, there's a lot you can do with makeup to achieve glowing skin.
What You Need
A highlighter is only one product to turn to when creating this makeup effect. Your full kit should include the following:
Cream concealer

Blush

Highlighter

Translucent powder

High-quality, natural-bristle makeup brushes, including a tapered contouring, small concealer, foundation, blush and large powder brush
Step 1: Create Dimension
To create a lit-from-within, glowing complexion, Barnes stresses perfecting the art of contouring. "You want to bring light to the center of your face to make you glow," he says. Start to create dimension by applying a cream concealer in one shade lighter than your skin tone. 
Try: Laura Mercier Secret Concealer
Using short strokes and a concealer brush, like Giorgio Armani Concealer Brush, place concealer in the middle of your forehead, down the center of your nose, along your brow bones, under your eyes and at the center of your chin. Next, use contouring makeup where you want to subtract light and create depth. 
Using light strokes and a tapered contouring brush, create an arc rather than a straight line under your cheekbones.
Other areas that Barnes routinely contours include the sides of the nose and along the jawline and hairline. When choosing contouring makeup, go for a bronzer, powder or liquid foundation that is "one shade darker than your natural skin tone," Barnes says. "If you go any deeper than one or two shades, you'll begin to look muddy." 
Try: L'Oréal Paris True Match Powder, which comes in a wide array of colors.
Step 2: Layer and Blend
After enhancing the dimension on your face, layer on foundation. "I like using lighter foundations (think liquids or creams without a thick consistency) with a lot of luminosity to add a glow to the skin," Barnes says. 
Try: YSL Le Teint Touche Éclat Illuminating Foundation.
To apply the foundation, move a foundation brush, like Giorgio Armani Blender Brush, in small circles. "You want to make sure your makeup isn't sitting on top of your skin," he says. "It should blend in with the natural fluids in your skin."
Step 3: Pop Your Cheeks
Don't make the mistake of trying to create a contour with blush. "Leave that business to your contouring makeup," Barnes says. Instead, select a blush that is close to your natural flush and apply it on the apples of your cheeks (instead of below your cheekbones), blending it into the apples and upward toward your temples. A bit of flush will help make your skin glow.
Try: Maybelline Fit Me Blush.
Step 4: Add a Hint of Shimmer (But Just a Hint!)
"Shimmer highlighter creates light and bone structure," Barnes says. But knowing when enough is enough is important. "Whether you're using a cream or powder highlighter, in either case less is more," he explains. 
Try: Urban Decay Naked Skin Highlighting Fluid
Apply it to the high planes of your face, which includes the middle of your forehead, down the center of your nose and along the tops of your cheekbones.
Step 5: Set Your Glow
After all of your layering, the final touch — translucent powder — is the most important one, according to Barnes. Using a large fluffy powder brush, like Bobbi Brown Face Brush, swirl translucent powder over your face to set the look.
Try: Lancôme Translucence Mattifying Silky Pressed Powder.
Now that you know how to make your skin glow, which of these tips will you try? Sound off in the comments below. 
Read more
Back to top