Why Wearing Lip Liner Under Your Lip Gloss Will Become Your New Favorite Beauty Hack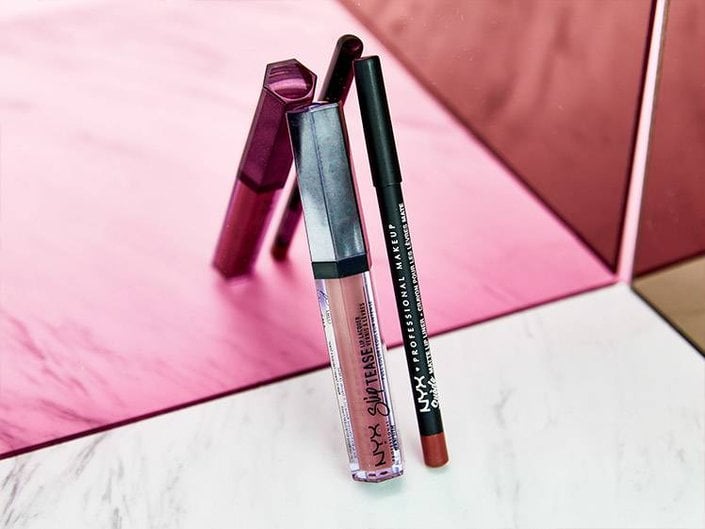 If you're a makeup maximalist, you probably feel like wearing one product just isn't enough. Especially when it comes to lippies on the lighter side (like sheers, glosses or balms), it's difficult to really get long-lasting pigment without compromising lightweight texture. That's why our favorite new lip hack is to apply some color underneath your gloss — and it'll forever change the way you wear your lip products. Here's a step by step on how to nail the look:
After exfoliating your pout, start by lining your lips with a creamy, pigmented pencil, like the NYX Suede Matte Lip Liner in Prune. Next, fill them in to get a nice base color on your lips, getting them ready for gloss. Overtop, add your slicked gloss — one of our favs as of late is the NYX Slip Tease Full Color Lip Lacquer in Pleasure Seeker. Instead of a more sheer appearance, the berry-wine shade of the liner will make the color of the gloss pop a whole lot more, adding a little more personality to your pout.
For a more full look to make your lips appear bigger, check out this tutorial below:
STEP 1: Start by lining your lips with a dark brown lip pencil (or other deep color of your choice).
STEP 2: Next, go ahead and overline the center parts of your lips to make them appear fuller.
STEP 3: Mix a brown and pink lipstick from the NYX Pro Lip Cream Palette in The Nudes and blend it into the liner for an ombre effect.
STEP 4: Finally, add a thick peachy nude gloss overtop to complete the look.
Read more
Back to top