6 Black Beauty Editors Share the Colored Lip Glosses They Can't Live Without
In case you missed it, gloss is in — and by in I mean that everyone's wearing lip gloss, even beauty enthusiasts who swore off it after getting their hair stuck to their mouths a few too many times. Thankfully, brands have come back to gloss with new formulas and an endless amount of options. You can now purchase lip gloss in nearly every color, finish, opacity and level of sparkle depending on your preference — meaning literally anyone can find a gloss that works for them. With that said, finding a gloss that's #blackgirlfriendly can still be difficult. And because recommendations is how many girls like me have found their perfect fit (hair, makeup, jobs, you name it), we've tapped some of our favorite beauty editors to share the colored lip glosses they can't live without.
Peep their (and my) picks, ahead: 1 / 12 2 / 12 3 / 12 4 / 12 5 / 12 6 / 12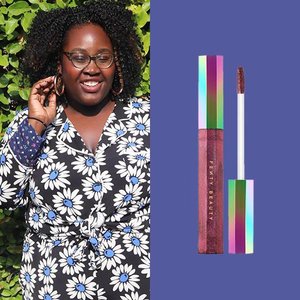 7 / 12
Khalea Underwood, Beauty Editor at the Zoe Report
I have the benefit of trying out many products by trade, but there are a few that I always come back to, no matter what. Fenty Beauty Cosmic Gloss Lip Glitter in Astro-Naughty is one of them. In theory, a deep purple glittery gloss shouldn't work with everything... and to the meek, it looks slightly intimidating in its packaging. But it goes on pretty and sheer, and gives me just enough hue when I feel like deviating from my everyday nude gloss. God bless you, Rihanna.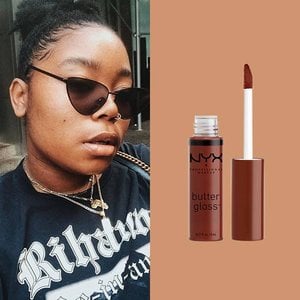 8 / 12
Tembe Denton-Hurst, Assistant Beauty Editor at Makeup.com
It goes without saying that I'm obsessed with gloss — even more so with affordable ones that I can come back to time and time again. My favorite right now is NYX Professional Makeup Butter Gloss in Raspberry Pavlova, a reddish brown shade that is pretty much my perfect nude. It smells amazing (sometimes I reapply just to catch a whiff), has great staying power and gives a hint of color without hiding my natural lip hue. In other words, it's perfect.
9 / 12
Aimee Simeon, Beauty Writer at Refinery29
Trust Pat McGrath to make a collection of lip glosses that look like royalty on brown girls. I've been hooked on the shade Aphrodisiac, which is a creamy nude that's perfect for everyday wear. It isn't ashy and it doesn't make me look washed out. I also love that the range also comes with vibrant shades (like reds) and glitters that aren't too overwhelming.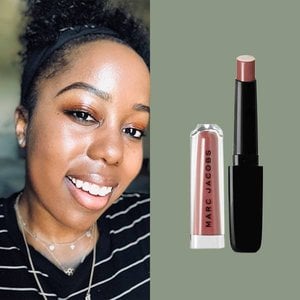 10 / 12
Jacqueline Laurean Yates, Contributing Beauty Writer + Content Creator 
My favorite #blackgirlfriendly lip gloss right now is Marc Jacobs Enamored Hydrating Lip Gloss Stick. If your favorite cream lipstick and moisturizing gloss had a baby, this would be it. I fell in love with this gloss at first swatch because it glides right on with being too clumpy or streaky. I'm obsessed with the Mocha Choco-lata! shade, and wear it all the time. It's like the perfect pinky nude that balances out my two-toned lips (my upper is a deeper brown, and the bottom is pink). I also would like to point out how non-sticky it is — which can be hard to find with glosses. In fact, this gloss is loaded up with kahai oil which leaves my lips soft, supple, and smooch-ready.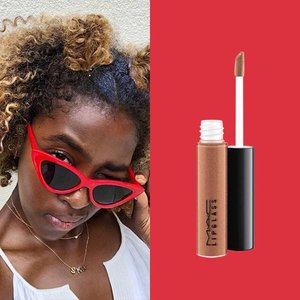 11 / 12
Siraad Dirshe, Social at Flamingo
My favorite gloss is for sure an oldie — MAC Lipglass in Oh, Baby. I swore by this lip gloss in high school because it would legit last the entire day and it was one of the first expensive beauty purchases I made (I remember going to the actual counter to get it). While I haven't used it much since high school, I recently rediscovered it and was instantly reminded why I had loved it so much. It's so sticky, tacky and super shiny which are all of the things I love in a good lip gloss. It's now my go-to and I love it!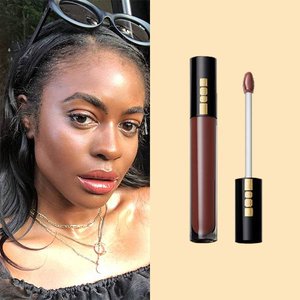 12 / 12
Maya Allen, Assistant Beauty Editor at Byrdie Beauty
I owe it to the "Mother of Makeup" AKA Pat McGrath for getting me back into glosses again. For so long, colored glosses felt so played out to me, and rarely could I find a nude shade that complemented my complexion. Imagine a delectable chocolate drop in gloss form—that's this. Pat McGrath Flesh 4, a beautiful brown hue,  gives my lips the most lustrous shine that never feels sticky or tacky. One swipe feels like a silky veil hugging my lips. My favorite thing to do is glide MAC's Chestnut Liner all over my lips and top that off with this gloss.
Read more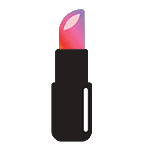 Back to top