How to Choose the Best Red Lipstick for Your Skintone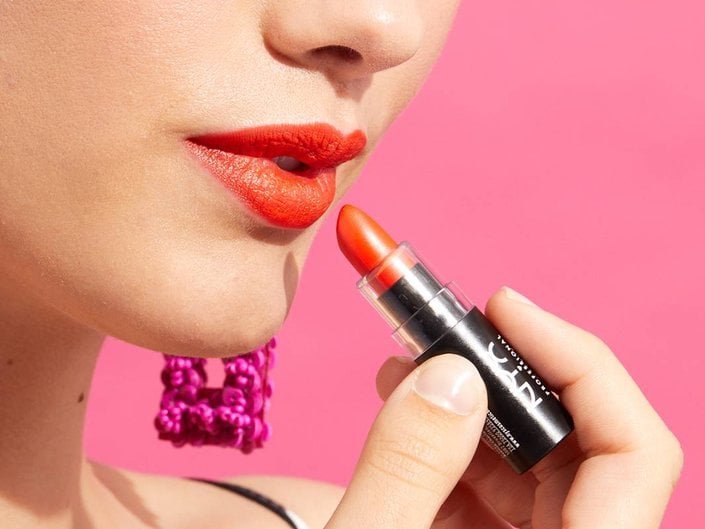 Ah — red lipstick. It's classic, coveted and so iconic that it's revered everywhere from the classic silver screen to a catchy T.Swift song. Finding the right red lipstick for your skin tone, however, is a lot less glam sometimes, especially when you're unsure what kind of red suits you best. In order to get to the bottom of the red lipstick riddle, we chatted with Giorgio Armani Celebrity Makeup Artist Tim Quinn for his take on how to determine the right red shade for you, and if anything, it's a lot more personal than you might suspect.
Undertones Are Key
Finding the right red lipstick shade begins with the skin's undertones, Quinn reveals. "Even though the rules have blurred with advances in makeup technology, I feel like blue undertones in red lipstick work best on light-cool skin, and an orangey-red looks best on warmer medium-to-tan skin tones," he says. Quinn notes that for deeper and neutral-undertoned complexions, gorgeous berries and red-browns work effortlessly.
This means that red lipsticks work most often when it accentuates the individual wearing it — we love a blue toned red like the Sephora Cream Lip Stain in Always Red on cool undertones, the Giorgio Armani Lip Magnet Liquid Lipstick Lip Vibes Collection in Scarlet with warmer undertones and the Urban Decay Liquid Lipstick in Crimson for deeper complexions.
Universal Red is Real
With all that being said, Quinn notes that there are red lipsticks out there that suit absolutely everyone. "It's a personal point of view," he says, "but I think the Rouge D'Armani 400 Lipstickdefinitely fits the bill here, it looks well on virtually everyone." This almost pinky-red is highly pigmented and super bright, with the ability to compliment you whether you are cool, warm, neutral undertoned or anything between.
Texture Plays a Part, Too
Choosing a red lipstick with a great texture is also vital in finding that perfect red for you. A satin lipstick will help keep your lips more hydrated and appear more silky, while a matte lip cream will appear more stark and contrasted. Quinn's favorite red of all time is the Rouge D'Armani 401. "It's a fabulous fire red that can go from blue jeans to the red carpet," he says. If there's anything we can take away from identifying the right shade for you, it's that the best red is the one that makes you feel most confident. Now, excuse us while we go swipe on our favorite red lippie.
Hero Makeup Credit: Justine Sweetman
Read more
Back to top