8 Lipstick Hacks You Still Haven't Tried
Here at Makeup.com, we are lucky enough to have a panel of experts sound off on those topics that leave the everyday girl scratching her head. Today, for example, we asked makeup artist, Emily Oliver to share her pro tricks for long-lasting lipstick application.
Love lipstick but hate having to reapply it every few minutes? So do we! Which is why tapped Emily Oliver here for some tips on how to apply lipstick the right way, and have it stay in place all day.
Hack #1. Exfoliate & Moisturize Lips
The worst-case scenario I come across for photoshoots is a dehydrated and "flaky" lip. To help with this I recommend my clients exfoliate their lips the night before a big event. Either use a lip scrub or a toothbrush with coconut oil and gently massage lips. Not only does this increase blood flow to the lips, causing them to look bigger, but it also gets rid of dead, rough skin.
Next step is to moisturize with vitamin E or a nourishing lip balm (try Kiehl's Lip Balm #1) overnight for best results. End result: plump, moisturized lips that will hold the color longer!
Hack #2. Use Invisible Lip Liner
Line lips with an invisible wax lip liner before lipstick application, like Urban Decay 24/7 Glide-On Lip Pencil in Ozone, as it will grab onto color to help it last. Not only does it hold lipstick in place and prevent feathering, but it also keeps lipstick looking sharp and perfectly drawn!
Product Tip: For ultra long wear, first line the outside of lips with Ozone to fill in any fine lines and prevent feathering. Next, fill in lips completely with lip liner in a shade that matches the lipstick shade you'll be using. This will define lips, intensify color and provide even longer wear. Follow with your favorite lip product.
Hack #3. Blot & Set Lipstick with Translucent Powder
This is for those who tend to "eat" their lipstick. Make sure you exfoliate and moisturize the night before (step one) and overdraw the lips with a wax lip liner (step two).
On bare lips, outline and draw inside the lips with a lip liner that mimics the color of the desired lip product. Then, apply one coat of lipstick with a brush for quicker and deeper pigmentation. Blot with a tissue. Apply another coat. Blot again. Apply a final coat with a lip brush, and gently set a tissue against the lips. With a fluffy, powder brush apply translucent powder onto the lips through the tissue. This is a foolproof way to ensure long lasting color.
Hack #4. Layer Lipstick with Lip Stain
For those extra lonnng days when I need my lip color to work harder, I partner a lip stain on top of my favorite lipstick. Try to get a close match to your favorite lip product, and apply on top for more dimension and longer wear.
I love the YSL Volupté Sheer Candy Lipsticks, which have the finish and texture of a lip balm. I'll take #7 in Sweet Fig, and apply onto the lips to condition and give that gorgeous pigment, but then I'll add a touch of lip stain on top for a super-long hold!
Hack #5.  Pat & Smudge Lipstick
For those who want just a hint of color, my favorite lip hack for natural beauties, or those just beginning to explore makeup is the "pat-smudge" technique.  Use your ring finger to gently pat on your favorite lip color and smudge just slightly. The ring finger applies lightly and delicately, creating a light tint of color. There is more control with this method, and you're able to create a long-wearing, natural stain that looks like you "just woke up like this!".
Hack #6. Prime Lips with Concealer
Concealer or foundation makes a great base. One of the top requests I get is, "I want the color of the lipstick to show up the same way on my lips." People are born with pigmentation on their lips, which can change the way a lipstick looks when blended with one's natural color.  A way to neutralize this is with foundation or concealer. 
Use a wet makeup sponge to apply the concealer or foundation to the lips. Take a lip brush and apply your favorite lip product on top.  Simply swiping the lipstick on top of the concealer or foundation will make the color appear dull or muted. To ensure full pigment payoff, apply with a lip brush, and make sure to apply a couple coats for longevity! 
Hack #7. Apply Lipstick Like a Pro
As an FYI, whenever I am working a photoshoot or red carpet client the steps I use for lipstick application go as such:
Step 1. Prime lips with concealer or foundation.
Step 2. Overdraw or outline lips with a clear, wax lip liner.
Step 3. Line and fill in lips with a lip liner that matches your desired lipstick.
Step 4. Apply Lipstick with a lip brush.
Step 5. Blot lips with a tissue. Using a lip brush, apply another coat of lipstick, then blot again.
Step 6. Apply final coat of lipstick with a lip brush.
If a glossy finish is desired, apply gloss. If a matte finish is desired, hold a tissue up to lips and blot with translucent powder directly over the tissue.
Hack #8. Drink from a Straw
People always forget this one, but when drinking your morning or afternoon cup of coffee, juice or water, be sure to drink through a straw! Doing so will keep lipstick in place much longer.
** Do you have any lipstick hacks of your own to share? Let us know in the comments below!
Read more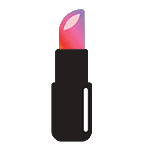 Back to top