6 Creative Ways to Keep Track of Your Lipstick Collection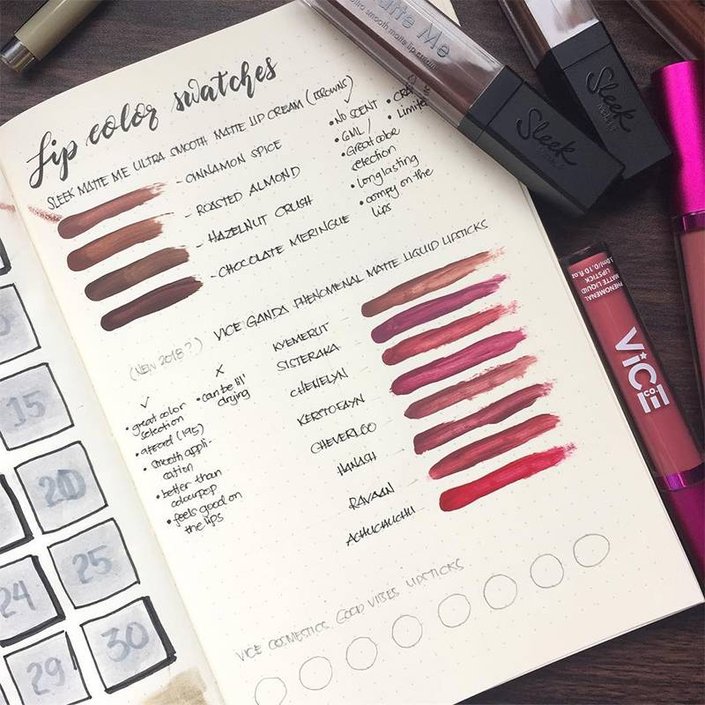 Lipstick hoarding: some consider it a vice, others (like us) consider it a talent. No matter your views on the subject, we doubt you can argue that makeup can be too organized. In the world that is Reddit's Makeup Addiction — aka the spot for makeup inspo, ideas and news — organizing your makeup hoard is yet another way to fall in love with beauty, or in this specific case, your lipstick collection.
Ahead, check out five ways to keep track of your lippie collection through documentation. Whether you're here to turn your swatches into makeup #bujo that doubles as a work of art, or are perfectly content seeing your swatches on a piece of notebook paper, we've got the perfect option for you, ahead.
Swatch on a totally normal sheet of notebook paper...
Keep things simple by swatching your lipstick collection on notebook paper. To keep color from transferring to another page, Redditor wearyriver explains," I just waited until they were all dried down! With the more transfer-prone ones, I applied it lighter / rubbed it a bit with my thumb so it would blot. I've had a tiny bit of transfer but I expected it so I left the previous page blank. They haven't smudged though!"
page 1 of my lipstick swatches! from r/MakeupAddiction
If you have hardcore devotion to your lippie collection (and patience)...
In a comment, Redditor and page designer
waffle555
writes, "I swatched and labeled my lipsticks on watercolor paper and taped them over on both sides. Then, I cut them up and taped them into a notebook with double sided tape." The point in taping them on both sides is that they're removable in case you want to take one out to see how it would pair with the rest of your look. If taping is too much a commitment for you, consider laminating them for the most official swatch book out there.
Finally made a swatch book for all the lipsticks I own. from r/MakeupAddiction
If you own nearly every color lipstick in the rainbow…
For all you color obsessed makeup wearers out there,
forebary
has the perfect way to archive your lipstick collection. The Redditor organizes their lipstick collection by color (i.e. reds, pinks, coral/oranges and nudes) to "see colors at a glance when putting together a look."
Lipstick Collection idea that's been working for me (great to see all colours at a glance when putting together a look)
Use your lipsticks to "color inside the lines..."
Here, Redditor
losvestidosrojos
shows off the NYX lipstick page of her journal, or as she calls them, "swatch cards." To recreate, we recommend searching for an outline of lips online and copying and pasting your findings into a word document.
So, I decided to make swatch cards for my lipstick collection and i'm having way too much fun with it. This is the NYX page. from r/MakeupAddiction
If you're not here to play around...
All you #bujo lovers, prepare to fall in love with this beautiful work by Shen of shensaddiction on Instagram. Not only does Shen include shades and names, but she also includes her initial thoughts on the product, organized by brand. Personalize your lipstick bullet journal in the way that helps you keep track of your collection best.
Read More:
5 Lip Balms You Can Use as Dewy Makeup
7 Lip and Cheek Stains You Need for Your Summer Makeup Routine
7 Face Sunscreens We Love — That Don't Leave Skin Looking Ashy
Hero Image Courtesy @shensaddiction
Read more
Back to top