Up Your Lipstick Game With This DIY Metallic Lip Tutorial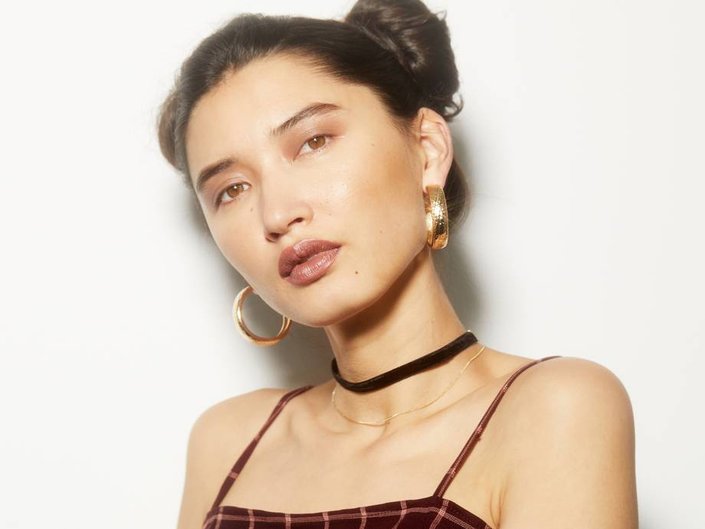 If you're searching for a new way to up your lipstick game (and who isn't?), look no further than the Met Gala 2019 and all of its campy beauty inspiration. Now we know what you're thinking — red carpet makeup isn't exactly applicable in real life — but that isn't always the case. While we wouldn't usually characterize Met Gala beauty trends as "wearable," every now and again a beauty look emerges that has potential. I give you, metallic lips. As seen most notably on Priyanka Chopra, this fierce lipstick trend is for anyone looking to make a statement.  
Metallic lips, unlikeglitter lips, don't involve the very daunting task of applying loose glitter to your pout. Instead, this eye-catching beauty trend will leave your lips shining with a metallic lip top coat — a far less messy option.
To recreate this statement-making look on yourself, follow our step-by-step tutorial, ahead.
Step #1: Gather Your Supplies
To start, you'll need a lip product designed to give your pout a metallic finish. We like Maybelline New York Lip Studio Python Metallic Lip Kits or, to DIY the look, Urban Decay Vice Special Effects Long-Lasting Water-Resistant Lip Topcoat andUrban Decay Vice Lipstick in Amulet, a metallic version of the cult-favorite lipstick.
Step #2: Exfoliate Your Pout
The last thing you want is to go to the trouble of creating a stunning metallic lip on an uneven base. Using a lip exfoliator like NYX Professionals #ThisIsEverything Lip Scrub, give your lips a little TLC.
Step #3: Apply Your Base
If you're using a kit like the Maybelline New York Lip Studio Python Metallic Lip Kits, apply the colored lip base to your upper and lower lip using your fingers or a lipstick brush. If you're working sans kit, use a metallic lipstick like Urban Decay Vice Lipstick in Amulet to start off.
Step #4: Apply the Metallic Hue
Using your finger, apply step two of the Maybelline lip kit — the lip shadow. Dab on the metallic shadow until you've reached your desired look. Or, using a metallic lip gloss or top coat such as Urban Decay Vice Special Effects Long-Lasting Water-Resistant Lip Topcoat, apply the product starting at the center of your lips and work your way out. No matter what product you're using, it's important that you don't rub your lips together as it will smudge the metallic finish and create a tacky mess.
Read More:
Beauty Q&A: What's the Difference Between a Setting Powder and a Finishing Powder?
5 Eyeshadow Pots to Try — Apply 'Em With Your Fingers!
See What Maybelline Mauve for Me Lipstick Looks Like on 6 Different Skin Tones
Read more
Back to top