How to Cover Up Sunburn With Makeup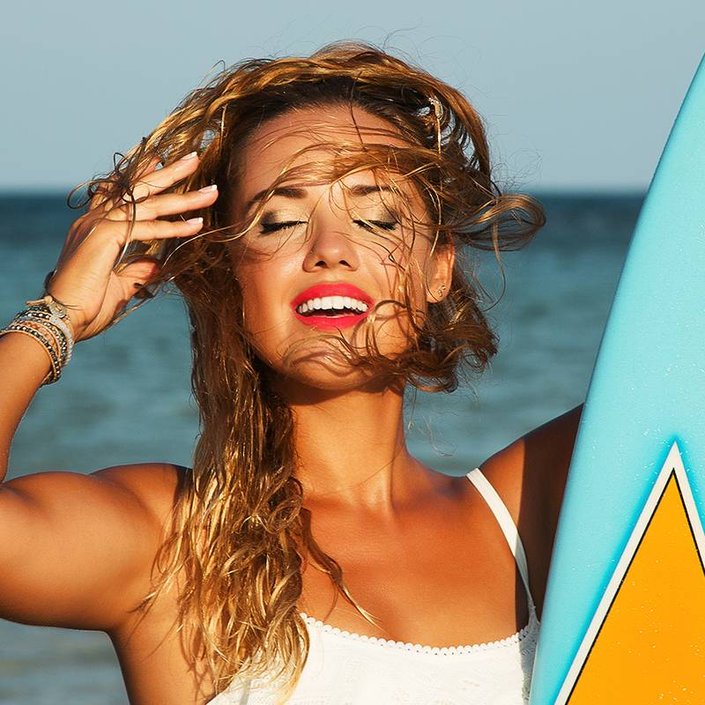 The end of summer vacation come with a lot of feelings — and we don't just mean the dread of going back to school or work full time. We also mean dealing with majorly sunburned skin and fried hair. Even if you piled on the SPF, chances are you got some color — so it's important to know how to cover sunburn safely once you're able to. We chatted with Lancôme makeup artist Alex Sanchez and Misti Schindele of the Dermablend Power Panelto learn the best sunburn-covering practices and products to use on your delicate skin.
Step One: Choose Gentle and Minimal Makeup
You'll want to avoid anything that will irritate your skin even further. "Avoid very active anti-aging products, exfoliating products/tools, acne products and alcohol-based astringent products until sunburned skin is healed," Sanchez notes. Schindele also suggests to go for a minimal routine: "Stick to using products that have moisturizing properties to help keep your skin hydrated and products that have SPF to help prevent any further damage," she notes. A light CC cream is a great go-to for this, like the It Cosmetics 'Your Skin But Better' CC+.  
Step Two: Reach for a Color Corrector  
This is where a color correcting concealer will come in handy. (See, there's actually a real purpose for those pastel colored formulas!) "A good color correcting concealer is key along with a matte lightweight foundation," says Schindele. And Sanchez says that a little green corrector mixed with rose oil will be your saving grace here. "Rose oil is known for its calming properties, and the green corrector cancels out the redness," he says. Sanchez recommends Lancôme Absolue Precious Oil and Teint Idole Ultra Camouflage Corrector for this step. "Mix in the palm of your hand, and press it gently on the skin," he notes. Schindele also suggests opting for a green powder like the Dermablend Quick Fix Color Correcting Pigment.
Step Three: Pat on Your Foundation With a Sponge or Blender
Once your color corrector is in place, you want to make sure you don't move it around by smearing foundation all over your face with your hands. "Try to avoid using harsh application methods like stippling brushes; instead use a damp sponge to apply any face products to prevent irritation," says Schindele. You've already balanced out the redness with the green corrector, but this step ties it all together and will completely hide your sunburn.
Step Four: Lock it in Place With Setting Powder
As with any meticulous makeup routine, setting powder is key to keeping it in place all day. Gently dust loose powder all over your face with a big fluffy brush — the Dermablend Powder-Sette is Schindele's favorite — and you've successfully covered your sunburn with makeup.
Follow these steps to cover up your sunburn with makeup!
1. Choose a gentle foundation, BB or CC cream
2. Reach for a green color corrector
3. Dab it in with a sponge
4. Lock it in place with a loose powder
Read more
Back to top