Here's How Much You Should Be Spending On A Quality Wig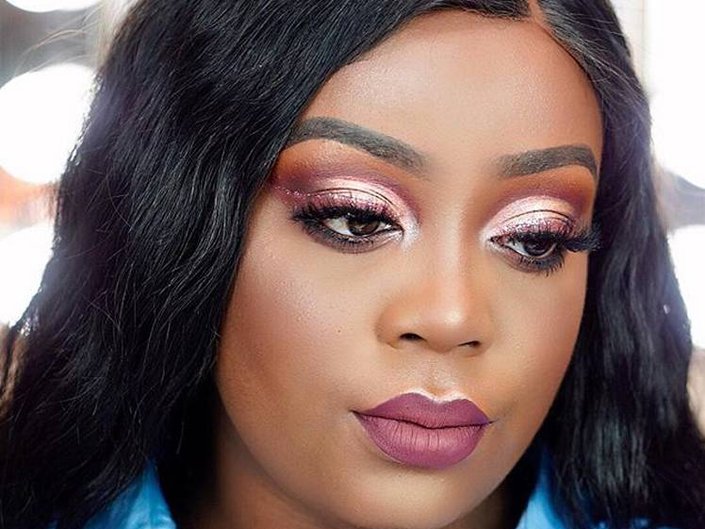 Whether you're wearing it as a daily protective style or switching up your hairstyle for the day, a wig is a great way to take any look to the next level. When making a wig purchase (especially if you're planning to invest in a quality unit), it's important to do your research, read reviews on the company you plan to purchase from, and decide what kind of wig you're looking to invest in. An everyday wig calls for something sturdy and easy to style like a lacefront — while a wig you're using just for the night can be something you grab at the beauty supply store a few hours before your event.
A great place to start on your wig purchasing journey is Youtube, where beauty bloggers far and wide have reviewed their units both pricy and affordable. Watching reviews can help you get a feel of what you're looking for and also provide help with how to style and apply a unit once you receive it.
Ahead, we chatted with OGX ambassador KahhSpence, the celebrity hairstylist and wigmaker responsible for some of your favorite celebs most iconic slays.
What's the difference between a cheap wig and a pricy one?
According to Kahh, the hair used for wigs at the beauty supply store are "either synthetic blend, animal fiber or a human hair mix; it's rare you find top-quality wigs at your local beauty supply store." This hair knots easily, doesn't last long and won't necessarily provide you with the most natural finish. Cheap hair tends to be shiny and doesn't look and feel the way as human hair extensions. This is fine if you only need it for a one day style — and can be styled to look more natural.
Which type will offer me the most natural finish?
According to Kahh, it's all about the install. "It varies based on the stylist's ability to work with anything. I've been in situations where I've had to make a 100% synthetic wig look as natural as possible [on] camera and I made it happen. I used my favorite OGX products (Molding Paste, HairSpray Wax & Coconut Oil) and made a miracle." If you're not a certified stylist, let Youtube videos be your guide. There's endless videos on how to make a cheap wig look flawless.
So how much should you be paying for a quality wig?
It depends. Pricy wigs worn by your favorite celebs can run upwards of thousands of dollars while a cheap wig you can buy at the store run you anywhere from $30 to a few hundred dollars. Mid range wigs — like the ones you would buy directly from a hair company often start at $200 and go upwards from there. "If you're looking a natural looking wig to switch up your style that could cost between $500-2k MAX, depending on length, color , cut and how each strand is placed on the lace." The wig, however, is nothing without proper installation, which Kahh says is "the key to any wig looking flawless!" For a standard, quality wig (think lace front or full lace wig), Kahh recommends spending anywhere from $400 - $600 but there's wiggle room depending on which company you choose to purchase from.
I'm broke. Can I do it myself?
If you've spent any time digging through Youtube, it's likely that you've come across DIY tutorials on how to make your own unit at home. Kahh, the master wigmaker himself, sees no issue with going the DIY route."If you're unable to afford a pre-made unit, I suggest purchasing affordable/quality extensions and doing research on YouTube to learn how to make a wig (I have a few tutorials). I'm all for the DIY method if it's able to save the person money and if they're able to learn through a video."
I'm not that skilled/don't have time. Where can I buy an affordable wig?
Kahh recently launched a line of affordable wigs with RPGShow, where he created three exclusive units inspired by some of his biggest clients. You can also purchase units from popular wig sites like WOWAfrican where you can find quality units for under $200.
Ready to buy your own? Watch a few reviews and get to shopping!
Read more
Back to top