4 Steps to Create the Perfect Low Bun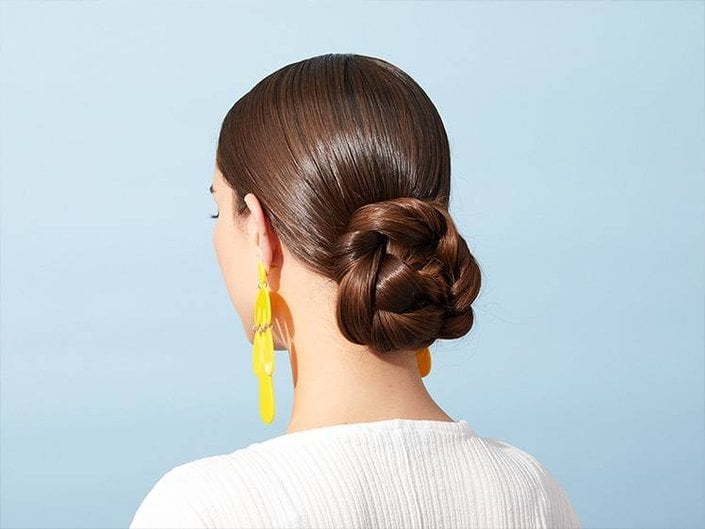 Just because we're beauty editors doesn't mean we spend a gazillion hours doing our hair in the morning. In fact, we're almost always looking for ways to make it look liked we tried, but actually spent less than 20 minutes putting the look together. The same applies for a low bun, the look that's elegant to wear, but seemingly tricky to give it a chic upgrade. Thanks to the help of one of our fave hairstylists, we discovered the perfect, sophisticated low bun hairstyle that you'll want to recreate over and over again.
"This look is super easy and can be worn day and night, casual or fancy," explains Jill Engelsen, senior stylist and educator a Butterfly Studio Salon in NYC. "I see this on someone with a Spanish inspired frilly dress, in a suit for work or a work event, or even at a black-tie event. It's so versatile and easy!"
STEP 1: Create a Clean, Center Part
Start by brushing your hair and apply a little L'Oréal Professional Mythic Oil through the ends of your hair to give it shine and nourishment. From there, crete a clean center part using a comb.
STEP 2: Secure Your Hair Into a Low Pony
Brush through your hair with a mixed bristle brush like a Mason Pearson. "I like this because it has both nylon bristles and natural boar bristles," explains Engelsen. "The nylon bristles help to organize the hair and get bumps out while the boar bristles help to smooth the surface of your hair for a shinier finish by bringing the natural oils from your scalp down through the mid-ends of your hair." Using the brush, bring your hair into a low ponytail at the nape of your neck and then secure it with a hair tie.
STEP 3: Braid Your Hair
Clean up any remaining flyaways with L'Oréal Professionnel Infinium 4 Hairspray by spraying in the direction of your hair and gently patting them down into place. "Make sure you don't forget those ears!," she says. "Either tuck both sides behind your ears or make sure both are covered if you don't want your ears to show." After that, braid your ponytail using a classic three-strand braid and then secure with a small elastic band. To create an even bigger bun, pull your braid out a little to make it the size you want.
STEP 4: Wrap Your Braid Into a Low Bun
Wrap the braid around the base of your ponytail and then bobby pin it to secure it onto your head. Using a hand-held mirror (or a real one), look into it to check for balance. If it's unbalanced, make adjustments where needed by pulling at your braid gently. "Add a little hairspray and shine spray like L'Oréal Professional Shower Shine — and voila! You have a chic bun in just minutes," Engelsen finishes. 
Engelsen's Pro Tips:
Invest in a Good Hair Tie
"My personal favorite is a L. Erickson braided hair tie as it holds any amount of hair without breaking your hair off."
Hide Your Flyaways
"If you have extra flyaways, spray a working spray like L'Oréal Professionnel Infinium 3 onto your hairbrush, and then brush them flat with the grain of your hair to hide them."
Read More:
The Perfect Messy Bun in Three Steps
Why Your Hair Needs Fragrance, Too — And the Ones You're Going To Want To Buy
We Wish We Could Bathe in This Miracle Beauty Oil From Jamaica
Hair: Jill Engelsen
Makeup: Justine Sweetman
Read more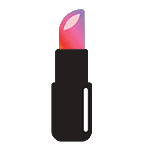 Back to top