4 Sweat-Proof Hairstyle Tutorials That'll You Wish You Saw Years Ago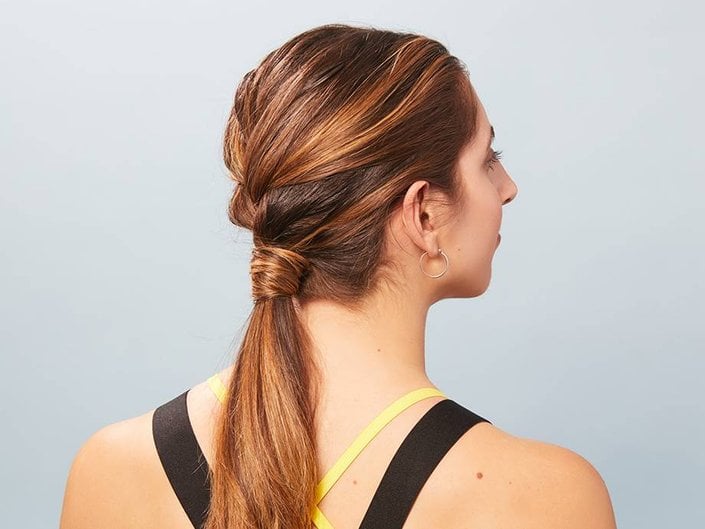 Sweating in the summer makes locking down our makeup and doing our hair that much harder. If you're looking for ways to summer-proof your makeup, we got you. As far as hairstyles go, though, there actually are tailor-made tutorials out there to help us all learn how to keep our hair sweat-free. We rounded up four of our favorites, ahead.
Headbands FTW
Sona Gasparian masters sweat-proof hair with a little help from a headband in this tutorial. She starts by blow-drying her hair, applying a dry oil finishing spray, and then curling her hair in small sections. Her trick here is to keep the curls small, so if they loosen throughout the day, they won't lose their shape entirely. Finally, to keep her bangs back and out of her face, she finishes the look off with a headband.
 Braid It Back
In this triple threat braid video, Stella Cini shows us her take on three different types of plaits. The first is a regular set of French braids, beginning at the very tip of the hair line, the second is a high ponytail fishtail braid, and the third is a crown braid. All three styles work to keep your hair out of your face and off your neck.
Effortless Top Knot
Kalei Lagunero makes the top knot look completely effortless in this tutorial. She starts by tilting her head down to create a super high ponytail and twists the ends around the base a few times. She secures it with a bobby pin to finish the look.
Buh-bye Bang Sweat
If you've ever had bangs in summer, you're no stranger to an unfortunately sweaty hairline. This is where Caitlin Pawlowski's tutorial comes in to save the day, seriously. One of her first hacks is genius: When blow-drying your bangs, tease the layer closest to your forehead to keep it away from body heat and sweat. Another tip from Pawlowski is to make sure your bangs are cut in a choppy, wisp-like fashion to keep them from sticking to your forehead.
Read More
We Tried the NYX Professional Fill + Fluff Pomade Pencil, and Here's What Happened
5 Makeup Swaps to Make This Summer
Read more
Back to top