This Celebrity Hairstylist is Changing the Way We Think About About Our Scalp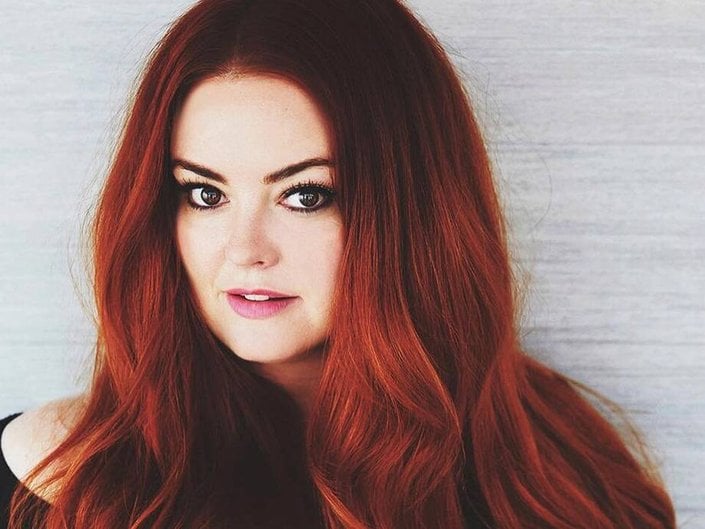 It's likely you already know or follow Kristin Ess, the celebrity hairstylist with a cool 500k followers on the 'gram. She's the powerhouse behind the aesthetically pleasing Kristin Ess Hair, a full service line with everything from chic styling tools to conditioners and nearly everything in between — except standalone hair accessories, but she's working on that. She's also the go-to stylist for more than a few of your favorite celebs and is likely responsible for at least a third of your Pinterest hair saves. Her approach is accessible but chic styling and making products that resonate on some level for everyone — no matter your hair type or need. I recently caught up with the stylist who shared the biggest hair trend coming for 2019, the inspiration behind her new line and the most exciting moments of her career.
Here's what she had to say:
OK, tell me all about your current skincare/makeup/hair routine.
My skincare routine is semi-minimal, but my makeup routine is not quite as minimal. I put way more effort into one than the other.
Skin Care: I use three things. I take my makeup off with Dior Hydra Life Micellar water. Then I use shampoo to clean my face. I find that it cleanses but never dries out my face. It was a random thing I did one time and it felt really nice. I use it with Korean face towels — they're kind of like a little sheet — I exfoliate with that, and that's it. When I get out I use Kiehl's Creme D'Elegance Repairateur, a super rich cream that I slather on. I also get facials regularly, about every other week. I feel like they do all of the things a lot of skincare would do so that's why [my routine] is really minimal.
Makeup:  I use Bobbi Brown BB Cream, which has SPF 35, and I've been using that for years. For my bronzer/blush, I use Tom Ford Bronzing Powder in Terra. I have lash extensions so I fill them in with the IT Cosmetics Tightline where there's a missing one, but only at the base so it doesn't mess with my extensions. I [also] use the NYX Powder Puff Lippie — I'm obsessed and if they ever discontinue them I'm going to lose it. It's the most amazing natural lip color, and looks like when you bite your lips but it's sort of matte. I'm not very picky about eyeshadow; I have a few palettes that I love but I kind of mess around with those. I also use the Charlotte Tilbury Contour Wand — obsessed. That's for my day to day. I throw a hardcore red lipstick on sometimes, my favorite is Milk Makeup Lip Color in Name Drop and it's a killer red. It looks good on literally everyone. I only wear [red lipstick] when I'm trying to be serious and I put my hair in a low pony — like earrings and a red lip – and I'm like a chic assassin or I'm going big and bold with my hair and going for a vintage vibe. But for the most part I go for the natural look.
Hair: My daily routine shifts around because normally I'm trying shampoos that were tested but my favorite is the Extra Gentle Shampoo. That for me is the best for my scalp and hair. I use the The One Signature Conditioner or I do a mask. Then I spray leave-in conditioner and I blowdry my hair. Typically, I shift between a 1-inch and a 1¼-inch curling iron. I finish with Working Texture Spray on the top and Soft Shine Beach Wave Spray middle to end. That's my signature look.
What was the biggest "pinch me" moment of your career thus far?
Launching the line at Target. For me, Target was just my place. It was the place I would go at 11PM on a Thursday night and get anything and everything. It's a relatable, attainable destination for me and it always has been. The possibility that I would ever see my products on the shelf there was unbelievable. I sometimes can't even go down the aisle, it's a lot to think about. I never thought that would really happen for me. After working in the salon for 20 years, at some point you think, "Well I'm not going to do a line". And then it just came along. It's wild. The pinch me moment was seeing my products at Target, but the most exciting moment was launching tools.
What's your favorite hair look you've created?
I love doing hair on my friends and the girls that work in the office. I do more hairstyles in the studio than I do for red carpet and some of those are my favorite because we don't have anything to work around, we're just creating. There's no outfit to work around or accessory to incorporate. We can do whatever we want and that's really fun. For example, we did a scarf look last year that was simple, so chic, and really easy to do. Seeing people be able to emulate it and do it on themselves was really exciting, so that's the kind of thing I get most excited about.
What's a day in your life like?
I wake up and first thing is dog time. I'm a huge dog lover so I spend a good hour in the morning doing all of our things. Then we go to the office and — if we're in the office —  we're creating content, reviewing products, talking about what's next, we're on the phone with labs … it's just constant insanity. We don't have one single day that's like another. On the bottom floor of our office I have a salon, and it's where I do hair for my private clients. Sometimes I have to disappear for half a day to do extensions, color or whatever else and sometimes I have to do a job. Then I come back [to the office] and everyone's still working and I jump in. It's like double dutch.
What's your best advice for aspiring stylists?
Keep your head down and stay focused, because there's so much to distract you. I always say to stylists, "If the internet disappeared tomorrow, would you still be valid?". Make sure that you are. Make sure that you have a craft and can do it without leaning on digital. It's an amazing tool, but it shouldn't be your only form of validation. If the internet disappeared I would still have a job, I would still have clients. You have to have a solid foundation to stand on.
Who would you consider your muse?
I don't have one. I don't have a plan, I don't have a muse, I don't have goals. I truly live my life day to day and stay open to the creative process. For me, I'm inspired by so much that there's no way I could choose a muse. There's so many people that inspire me but I try not to look at inspiration from a direct point — it's more like a collection of things in a big melting pot.
What music do you listen to while you do hair?
Aretha Franklin, Alabama Shakes and Whitney Houston. That's all that's ever on.
What hair trend are you most excited about for 2019?
Scalp is on the horizon big time. There's definitely products for your scalp, but a lot of good ones come from the dermatologist or something you have to concoct in your kitchen at home. I want to make scalp care fun and enjoyable. Masks for your face are really fun and I think it should be the same for your scalp. The message is that you need to save all the oils, and then we go to extremes and have buildup. But you shouldn't switch everything to scalp care, because then you're going to be over-cleansing your scalp. This is an added bonus to your routine, the ticket is finding a happy medium and doing everything in moderation.
Why did you decide to launch scalp/shampoo?
In the past few years we've been treating our face like royalty, and scalp doesn't get that same treatment. I'm very inspired by the K Beauty movement for skin, and the reason I love it so much is because it's fun. It's a process I enjoy with my friends. We'll put on Netflix and masks and have a good time with it. I've never had a product where I was like, "I'm having a great time with scalp". I really wanted to make it a joyful process so I [focused on] texture and the application process. I really appreciate ease of use. Three of the five products have a pointed tip so you can really get into the scalp easier. Why don't we have pointed tips on all shampoos? It's just silly not to have them.
What was the inspiration behind the bold, marine blue packaging?
I think people thought I was going to do purple. I would ask my friends what they thought the next move is and they said purple, so I said, perfect — I'm not doing that. There's an artist that I follow that uses this palette. It's something I stumbled on after we developed the whole collection, it was pink and grey, and white and then there was this marine color. That truly sparked it for me. I also have a entire board on Pinterest dedicated to the colors blush and marine together. It's all interior stuff.
What hair types is this collection best for?
It works for all hair types, but differently. I work with a cosmetic chemist named Nikia Wilson who is black and has natural textured hair. I sat with her and said, "We have to create things that work for both of us, possibly in different ways, but will work for one reason or another." One person is not necessarily going to use all five of these. You're probably going to pick three that you love and maybe the other two aren't for you. Maybe they are. For example, the Daily Scalp & Hair Mask is light enough that you could use it daily if you have fine hair, but it has butters and oils in it and also has a clay base. This type of clay is cleansing and if you use it and have fine hair it won't get oily, but if you have natural textured hair it's going to moisturize without being oily because perhaps you want to put a leave-in cream or oil on top of that. It's layerable in that way. We can't pretend that it's going to have the same effect on everyone and I feel very lucky that I've been able to test this on my friends and clients who have different textures. I really am trying to make routines for everyone, not necessarily one product for everyone.
What's your favorite product in the collection?
I'm going to say scalp scrub. I'm so visual and it's really fun and exciting. The scalp scrub has mica in it so it has a glitter effect but it's not going to stay glittery in your hair. It truly washes out. It looks like the inside of a geode. It's sugar based for moisture instead of salt and I put two different sizes of sugar in it so you can exfoliate on a larger level and a micro level. There's so many oils packed in there it's like oil cleansing and a pre-shampoo scrub. That's the one that everyone can benefit from because it's more moisturizing than drying.
Read more
Back to top