How To Take Down a Protective Style Without Damaging Your Hair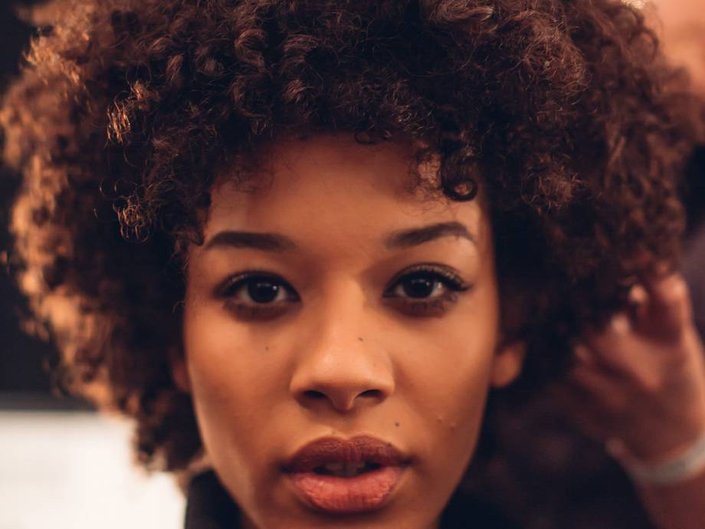 Protective styling is as integral to having natural hair as co-washing or sleeping with a bonnet — and one of the best ways to give your natural hair the opportunity to rest while switching up your style. Whether you opt for wigs, weaves, braids or something in between, it's important you take care of the hair underneath. Maintaining a good sense of moisture balance throughout your hair and scalp is key, says Carol's Daughter stylist and owner of Turning Head Hair Salon, Ticia Cruz. Your hair should always be properly conditioned before putting it into a protective style, especially because you won't be moisturizing normally for a few weeks or more. That's what makes a protective style effective and ensures you're giving your hair a break rather than neglecting it. Once you're ready to remove the style, it's important to do so correctly — which is why we've broken down how to take your hair down like a pro, ahead.
Taking out your hair incorrectly could result in breakage or tangles, says Cruz — which is the exact opposite of what you want. The key to an expert take down is moisture, and it should be incorporated into every step of your routine. If you're taking out braids or twists, Cruz recommends misting braids with an oil-based mixture like coconut oil and water to help with detangling. Whatever you do, don't try to comb out dry hair or unravel braids from the top down which can result in excessive breakage. Instead, take them out slowly, wet your hair if you need to and start at the bottom, slowly making your way toward your scalp.
Once you've completely removed the style, start by spraying your hair with a detangler like Carol's Daughter Monoi Repairing Leave-In Conditioner or water, so it's easier to detangle. To avoid breakage during this step, use a wide-tooth comb or your fingers to section hair and loosen any knots or tangles. If your hair is really dry, Cruz recommends using a conditioner like Carol's Daughter Green Supreme Vitalizing Conditioner and applying from end to root. Not only does this step aid in detangling, says Cruz, but it also starts the conditioning process. After your hair is thoroughly detangled, rinse out the conditioner and apply a moisturizing shampoo like Carol's Daughter Green Supreme Sulfate-Free Shampoo, which nourishes hair while also leaving it shiny and soft. Follow up the conditioner with a hair mask or conditioning treatment to restore moisture and let it sit for 20 minutes. This step is essential for maintaining and preserving healthy hair says Cruz, who recommends sitting under a warmer dryer or using a plastic shower cap to help the conditioner penetrate deeper and maximize results. After you've rinsed out your mask, remove excess water with a towel or old T-shirt and apply a leave-in spray or conditioner like Carol's Daughter Black Vanilla Moisture & Shine Leave-In Conditioner or Carol's Daughter Green Supreme Leave-In Tonic. Now that your hair is properly moisturized, detangle your hair in small sections using a wide-tooth comb or brush (we recommend the Tangle Teezer The Ultimate Detangler Brush). Do this step slowly to avoid additional breakage (although you can go a little faster than your initial detangling session), and style hair as normal.
Read More
5 Best Fishtail Braids for Natural Hair
This Combo Helps Me Detangle My 4A Hair in 15 Minutes or Less
I Swear By These 3 Edge Control Products for My Natural Hair — Here's Why
Read more
Back to top