This Rainbow, Psychedelic Eye Makeup Look Is a Major Vibe
July 28, 2020
It's pretty clear that 2020 isn't our year, which is why our team decided to turn back the makeup clock to the '60s. That's right, we're talking about

bright colors

and

squiggly lines

, like the psychedelic eyeshadow look we first saw on

Rowi Singh's

Instagram feed. It's super trippy, funky and will definitely bring all the

good vibes

into the end of summer. To figure out how to get this cool-girl look at home, we asked Makeup.com Creative Director

Melissa San-Vicente Landestoy

for some help. Ahead, she's showing us how to recreate this look, step-by-step.
STEP 1: Grab Your Eyeliner

After you've completed your foundation and concealer, grab your eyeliners. Here, San-Vicente Landestoy used the NYX Professional Makeup Pride Edition Vivid Bright Eyeliner in shades Snatched (a red shimmer), She Bang (an orange shimmer), Hot Dang (a chartreuse), Weho (a teal shimmer) and Love (a sky blue). "You can mix up the colors as you see fit, but I liked a rainbow theme," she says. "It helps because if one color bleeds into the other, it still follows the rainbow effect and creates a gradient."




STEP 2: Draw a Double Cat Eye

Using the shade Snatched, draw a double cat eye that eventually meets at a point. One wing goes on the top and one wing comes off the lower lash line."The shape that you draw doesn't have to be perfect," says San-Vicente Landestoy. "Don't focus on how it'll look at the end, just focus on creating an initial point."
STEP 3: Trace in Rainbow Colors

Once you have your initial outline in red, continue to build lines on top of one another. "I traced on the outside of the initial liner," says San-Vicente Landestoy. "Make sure to stay on the side and not directly on top of the previous line." After layering shades She Bang, Hot Dang and Weho, she finished off her rainbow with the shade Love. "Make sure to build up the final layer so the upper line and lower line meet at your inner corner." She adds that because the eyeliners have a bit of shimmer to them, you may want to trace your original lines over until it looks completely opaque.




STEP 4: Add Eyeshadow

Now that your psychedelic eyeliner is complete, it's time to add a little sparkle with eyeshadow. "Pop a bit of the Urban Decay Moondust Eyeshadow in the shade Spector (a holographic pink) into the inner corner of your eye," says San-Vicente Landestoy. "Then drag it onto the inner lid and your upper brow bone to get an opal effect."



Art Direction and Makeup: Melissa San Vicente-Landestoy, Photography: Luis Omar Landestoy, Design: Hannah Packer
Read more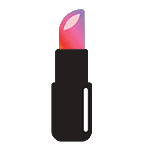 Back to top