5 Influencers Weigh in on How to Wear a Glossy Eye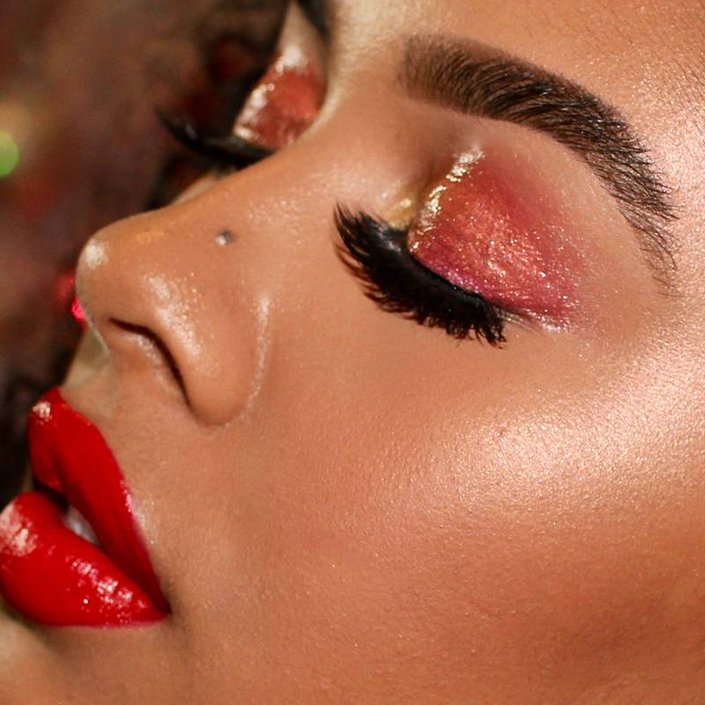 We'll be the first to admit it — the glossy eye isn't a makeup trend for the faint hearted. It certainly takes a lot of precision and patience to apply and maintain the look. To make the glossy eye a little more attainable, we chatted with five of our killer M Crowd influencers about their best tips on achieving the look. Here's what they had to say.
Less is More
"Using gloss can be tricky," says the M Crowd's Madison Murrell. "And using too much gloss can make the lids feel heavy and make the shadow crease and sometimes run." This is where deciding on where you put your gloss matters. "I like to apply gloss on the lid and into and above the crease," she suggests. "That way you can see the gloss when the eye is open. A light layer of gloss over the shadows is the best way to go."
A Good Base is Important
M Crowd's Ashley Hall thinks setting your base might just be the most important step in making a glossy eye last. "Also, I'd only apply enough gloss to get the effect," she notes, "rather than making my lids goopy with product. I feel that too much gloss can make the product move around and make things messy."
Build it Up
"Glossy eyes are super hard to make last especially if you're using an eye gloss that is super sticky and/or oily," says M Crowd Influencer Julia Salvia. That's why she thinks it's best to start off small and build up the look. "I would begin with a very very tiny bit of the gloss," she says. "And as the night goes on, reapply. It's a similar texture to lip gloss and we know how hard it is to keep lip gloss on."
Watch Out for Transfer
Just like lip gloss, eye gloss isn't made to last a long time, the M Crowd's Miranda Mendelson notes. "However, applying primer and a base eyeshadow before your gloss can help avoid any natural oils on your lids from making the gloss even more transferrable," she says.
When in Doubt, Use Balm
If you're in search for a little bit of sheen without glossy overload, M Crowd Influencer Heidi Guttenberg suggests applying a lip balm on your lids instead. "Followed by the Urban Decay Chill Setting Spray," she adds, to maintain your shine.
Read more
Back to top