Say "Eau Yes!" to These Compatible His and Hers Scents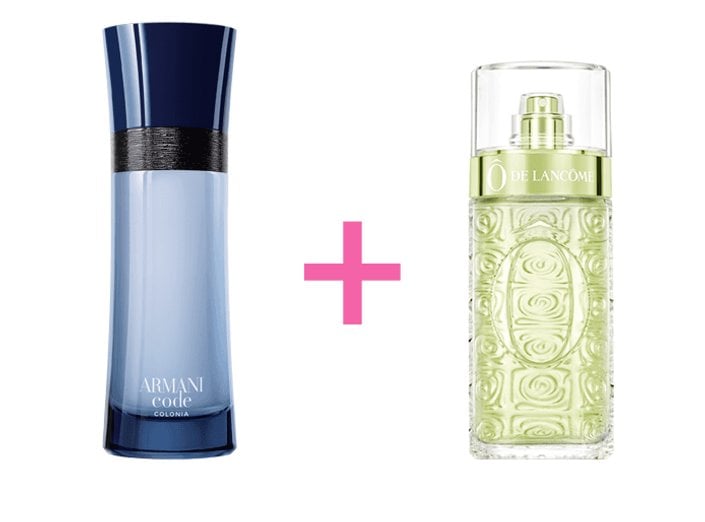 The chemistry between you and your man is so ridiculous, it's like you're on the verge of merging — we're talking scents. While you can't keep your hands off each other, consider this: Few things are a bigger turnoff than perfumes disagreeing. Because, let's face it, we experience each other through our scents first, and you want your coupled selves to make a very, very good impression (on each other, first and foremost). Good news: Finding compatible notes in your fragrances is way, way easier than finding a compatible mate. Here's the equation for living happily ever after together (at least as far as your nose knows).
Compatible Scents
His: Giorgio Armani Armani Code Colonia + Your: Ô De Lancome
His fresh citrusy bergamot and mandarin are the same notes that are at the heart of your sparkling fragrance. Plus, his woodsy base is the perfect companion to your sweet jasmine and honeysuckle. This is the fragrance version of taking a spontaneous, crisp walk in the woods together (holding hands, of course).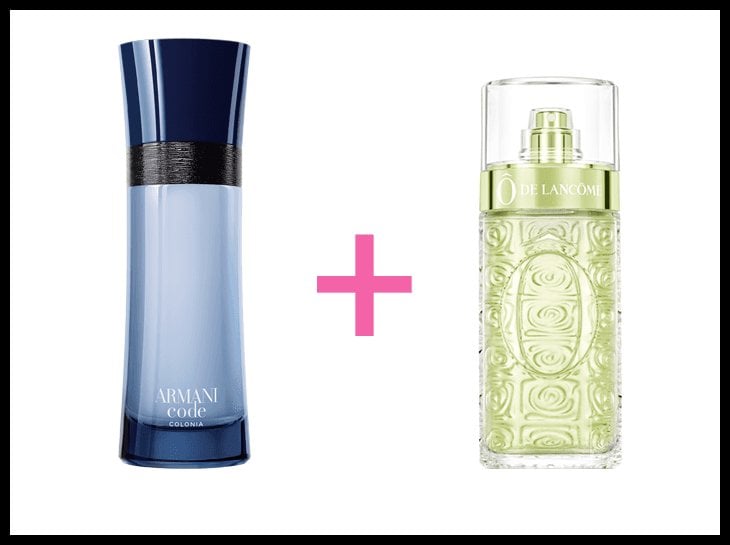 His: Ralph Lauren Polo Red Extreme + Your: YSL Black Opium Floral Shock
His red ginger, woodsy, and hint of roasted coffee are taken up a notch with your slightly vanilla/coffee blend and sandalwood. Add in the bergamot, freesia and gardenia from your perfume and you've got the makings of quite the morning after. Intense and bold, this is most definitely not a coming together of wallflowers (but you already knew that).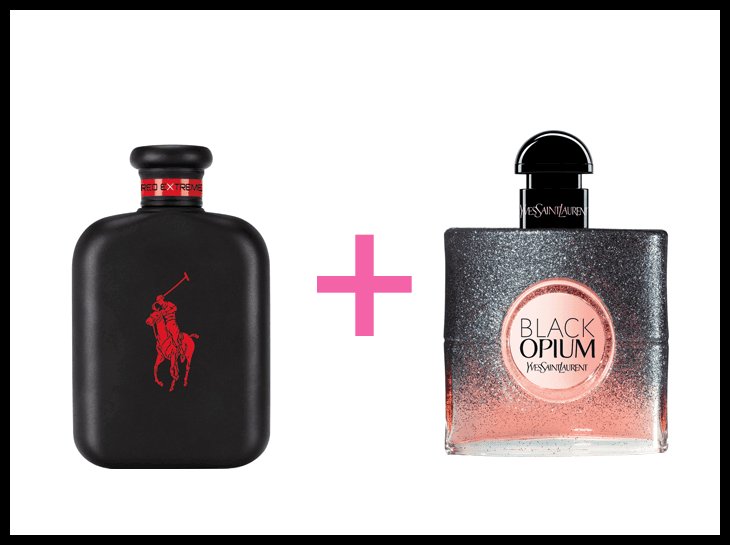 His: Maison Margiela Replica Across Sands + Your: Ralph Lauren Collection Amber = Feeling like you're on an exotic desert vacation each time you're together.
His fragrance is all about warm earthy notes of dates, cinnamon and other far-east spices, mixed with deep incense and patchouli. Yours has almond-like sweetness (benzoin), incense notes of bourbon vanilla, and spicy labdanum resin. Together, these mix to evoke a hot, dark, warm journey in a faraway land. Like a weekend at Coachella or Burning Man.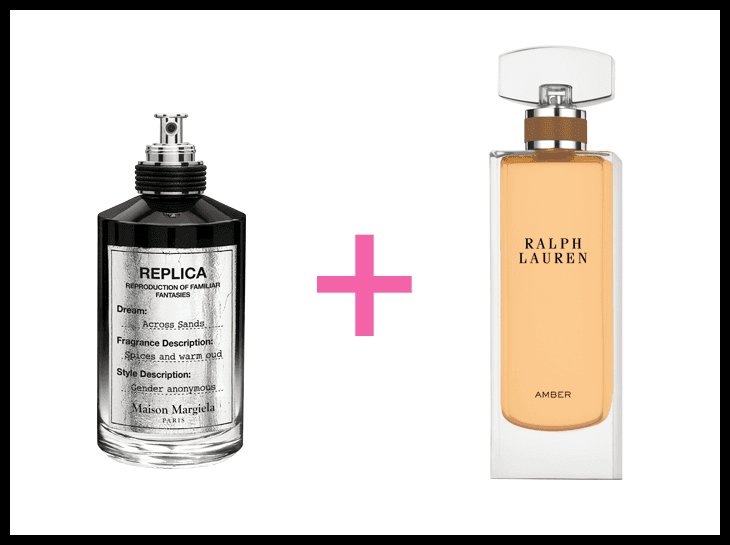 His: YSL La Nuit de L'Homme + Your: Giorgio Armani Code for Women
The woodsy, oriental notes in his cologne (black pepper, labdanum and vetiver) are the yang to your yin, which includes ultra-feminine notes of orange flower, ginger and honey-sandalwood. It's almost as if these two fragrances were meant to fit together perfectly, just like you lovebirds.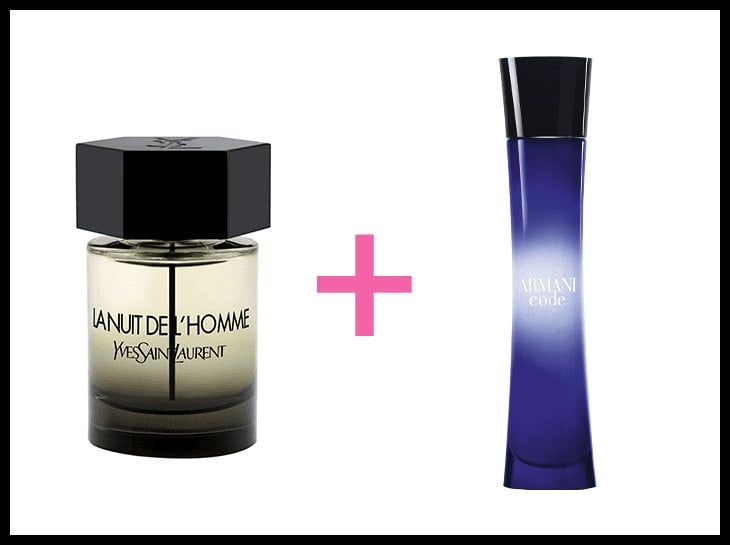 His: Diesel Only The Brave High Diesel+ Your: Viktor & Rolf Flowerbomb Bloom
The woody aromatic notes, plus the ginger and mint in his cologne, mix well with your fresh flowers, cool mountain air and patchouli. Neither are overpowering and both give off the earthy, nature-loving spirit that you both adore. We already envision you making epic memories on extreme outdoor adventures.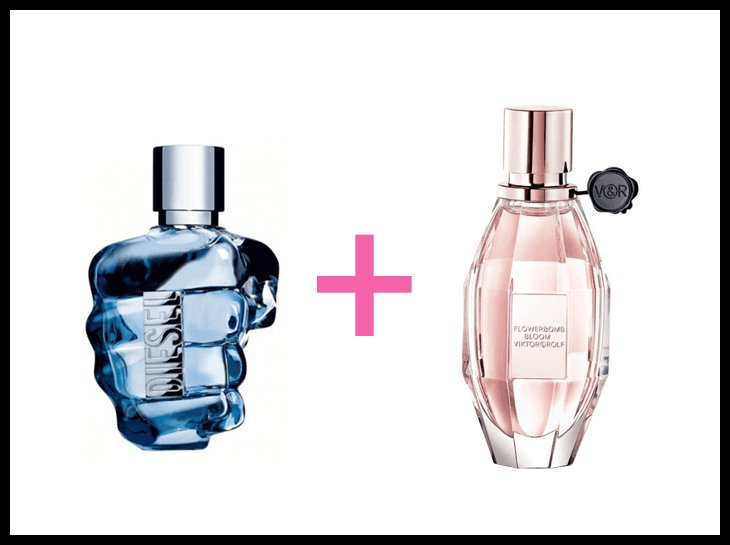 How to Add Fragrance Layers
A few fragrances here sound good to you? Don't feel like you only have to wear one at a time--layering is the perfect way to customize your scent to be exactly what you want. Try a fresher, cleaner scent behind your ears, and a sexier perfume with more sensual notes spritzed on your lower back. Or layer them one on top of the other. When layering, stick to two scents at a time, the notes release in different potencies depending on how you move. A few blends to try:
TIP #1: A scent with vanilla notes blends nicely with one containing rich woody notes, citrus or white flowers.
TIP #2: If your scent contains white florals, layer with an oriental one with spices like incense, cardamom or clove,
TIP #3: With a musk fragrance, go for a layer with soft green florals or strong citrus notes.
TIP #4: A fluid marine based fragrance plays nicely with one containing soft florals like lily of the valley or honeysuckle.
Make Your Fragrance Last
Once you've layered on your perfect pairings, keep them smelling vibrant all day--or night--by spraying on a fragrance finishing spray like FragranceLock. Applied after your fragrance has completely dried, it works by creating a breathable mesh on your skin (think of it like netting), trapping the scent on you so it doesn't evaporate as quickly. Just hold it 10-12 inches away and spray!
Read more
Back to top