10 Self-Tanning Hacks for a Perfect Sunless Tan Every Time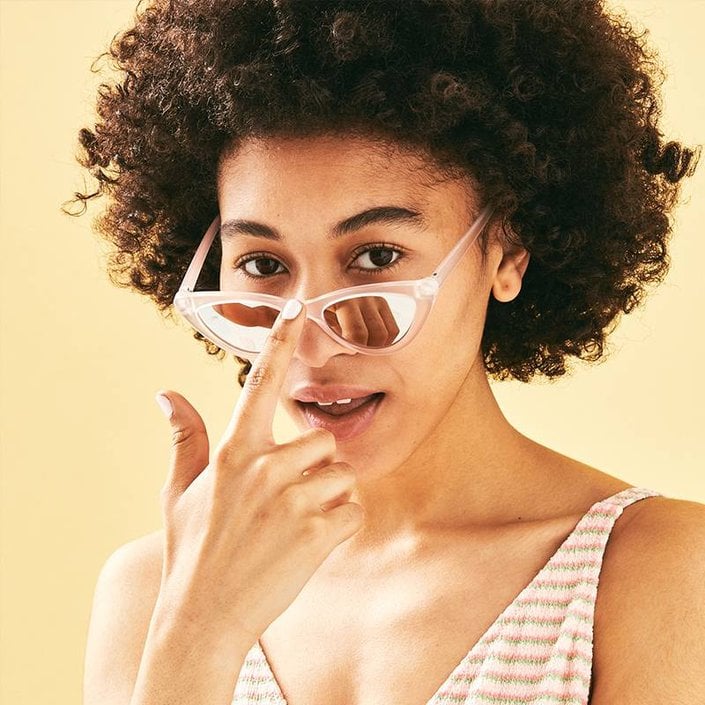 Let's be real for a minute: Getting a faux tan to look real is sometimes a challenge. Just when you thought you perfected the application technique, you notice streaks on your legs, buildup on your knees or patches on your fingertips. You *may* have missed a spot (or 10). You may not  look like a glowing goddess just yet, so ahead, follow these tips and tricks for getting your self-tan down to a science. Soon, you'll be able to execute a perfect self tan every time.
Tricks for a Perfect Self Tan:
1. Find the Right Tanning Formula
Not all tanning products are created equal. Unfortunately, the only way to really find "the one" is by research, reviews, and trial and error. Do a little online digging and see what others think — keeping color payoff, scent and price in mind. Once you find one that doesn't stink (ugh, the dreaded tan smell!) or come out orange, you're in luck! One of our favorites is the St. Tropez Extra Dark Tanning Mousse.
RELATED: Our Top 5 Favorite Sunless Tanners
2. Prep With a Water-Based Moisturizer
Have you ever noticed how certain areas get darker than others? Self-tanner saturates dry areas like knees and elbows — which is why you need to moisturize your body beforehand for a consistent tan. It's important that you stick to a water-based or aloe vera–based moisturizer ONLY, since creams with oils will act as a barrier to your skin and cause the self-tanner to streak. Make sure you let the moisturizer completely absorb into your skin before applying any tanning agents!
RELATED: Best Sunscreens For Oily Skin
3. Exfoliate and Shave
To ensure an even tan, shower, exfoliate and shave before you tan. This rule goes for professional spray tans also! Exfoliating and shaving will both remove dry, dead skin cells that can cause your tan to come out patchy. Doing this afterwards will only break down your tan and leave your skin lookin' like a streaky mess. Try the Frank Body Coffee Scrub for some major prep.
RELATED: How To Find A Sunless Tanner For Your Skin Tone
4. Remove Deodorant, Makeup and Perfume
Again, these products act as a barrier to your faux-tan and can even cause mild irritation, so be sure to remove them before you get your glow on.
5. Apply the Product in a Cool, Dry Place
You just got out of the shower and you're in the bathroom naked anyway, so you think now would be the perfect time to apply your tanning solution. Wrong. The heat and steam in the room will prevent your skin from adequately drying, which is a big no-no when applying self-tanner. Head into another room to do so!
6. Tan Before Bed
Because you can just apply it, let it dry within a few minutes and hit the hay. There's no worrying about any factors or rules, plus it takes about eight hours for the tan to fully develop, so you can just wake up and head out with your glowing self. Try theKiehl's Sun Free Self Tanning Formula if you're looking for a more natural glow up.
RELATED: 5 Ways To Remove Self Tanner Gone Wrong
7. Use a Tanning Mitt or Gloves
Two words — orange palms. That is all.
8. Start at Your Ankles and Work Your Way Up
Start just above your feet and work your way up your legs to avoid missing any spots. Starting from top to bottom could cause patchiness and streaks when you bend over to apply product to your legs.
9. Use Smooth Up and Down Movements (Don't Rub!)
Long, even strokes — that's the key to a natural-looking tan. Aggressively rubbing the product into your skin won't make it work better, but it will leave you with an uneven tan.
RELATED: What You Need To Know About Spray Tans
10. Don't Forget the Tops of Your Hands and Feet
For a natural look, wipe whatever is left from your application mitt or glove on the tops of your hands and feet (not in between fingers and toes). Orange fingers and toes won't fool anyone.
Makeup Hero Credit: Justine Sweetman
Read more
Back to top