IT Cosmetics Created a Drybar-Inspired Mascara (And it Looks Like a Round Brush!)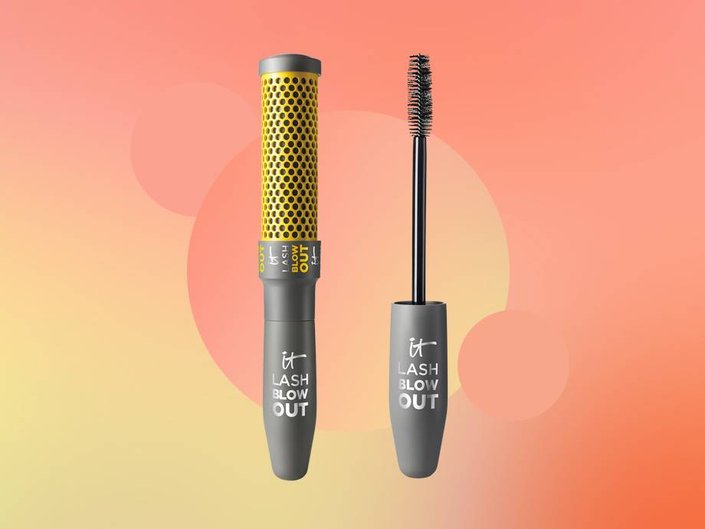 At first glance, a collaboration between IT Cosmetics and blow-dry bar Drybar seems sort of, well, random. But when you hear why the two brands teamed up to create the new Lash Blowout Salon Volume Lift Mascara, it makes perfect sense. According to IT Cosmetics Co-Found and CEO, Jamie Kern Lima, the thing her customers want most out of a mascara is volume, and the same holds true for hair at Drybar. "The number-one request at Drybar is for volume," says Founder Alli Webb. "It's all about volume, volume, volume."
Kern Lima had the idea to team up when she was getting her hair done at a Drybar salon. "For a few years, every time I'd use a Drybar product or a get a blowout, I loved the volume I got," she says. In December 2017, she sent Webb a text message (the two had met years ago backstage at QVC) asking her to collaborate. The partnership is a first for both brands. "I'm so apprehensive about doing anything other than hair because we focus on one thing at Drybar and we're really good at it," says Webb. "But then I thought, well lashes are hair. You don't think about it, but they are. And besides being obsessed with my hair, I'm obsessed with lashes. I used to wear lash extensions, and then I got a lash lift, and I've tried every mascara under the sun, and one of Jamie's other previous mascaras was already my favorite, and so within minutes I was sold."
And we guarantee that the minute you lay eyes on the Lash Blowout mascara, you'll be sold, too. For one thing, it is easily the cutest mascara ever created. It's designed to look like a mini version of the Drybar Half Pint round brush, down to the gray and yellow packaging. The inspiration goes much deeper than what's on the outside, though. Both the formula and wand borrow technology from Drybar intended to boost volume.
"The more volume you normally put into a masara, the more clumpiness you'll get," Kern Lima explains. To combat that problem, IT placed little balls on the tip of every bristle on the mascara wand a la the Drybar brush to help separate the hairs. The cosmetics company also infused the formula itself with good-for-hair ingredients like biotin, vitamin E, collagen, jojoba oil and palm oil.
Creating the product "wasn't all roses and sunshine," says Webb. The team went through upwards of 20 iterations to get it just right, but in the end they created a mascara that gives you 19 times the amount of volume of your natural lashes! Seriously, that's not a made-up number. IT did clinical studies to test it. Crazy, right?
Webb thinks of it this way: "If Lash Blowout were a Drybar style, it would be the Southern Comfort, which like big hair. One-hundred percent."
Lash Blowout Salon Volume Lift Mascara will be available in August at Ulta Beauty, Macy's, Sephora Drybar, QVC and on itcosmetics.ca.
Read More:
The Case for Wearing a Bold Set of Falsies in Summer
Should You Use a Skinny Mascara Wand?
Everything You Need to Know About Waterproof Mascara
Read more
Back to top