6 Earth Day Beauty Initiatives That Make Loving the Planet Fun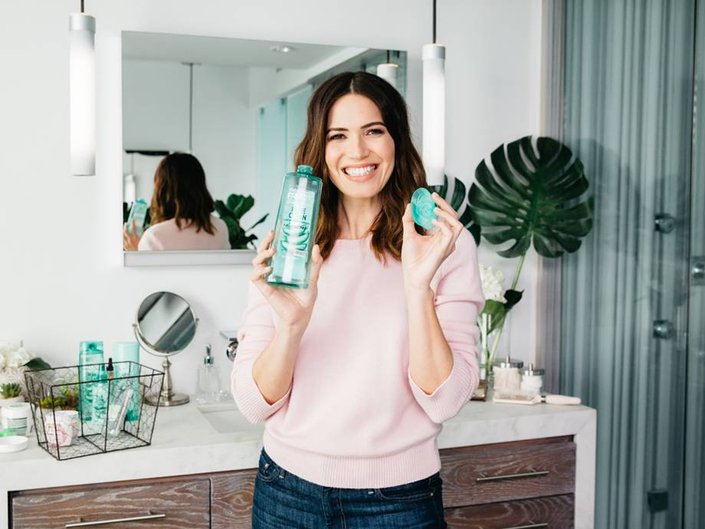 Earth Day is the perfect day to pause and reflect on how you can have a greater role in protecting the planet. As intimidating as that may sound, we're here to assure you that you can start small and get as involved as you want to be. There are plenty of organizations to get involved in, as well as simple beauty swaps and choices you can make to lead a more eco-conscious lifestyle. Ahead, learn how some of our favorite beauty brands are encouraging you to get involved this Earth Day, including Garnier's ongoing beauty empties recycling program and a face mask from Kiehl's supporting Earth Day Cleanup 2019.
Upcycle Your Beauty Empties with Garnier
Since 2011, Garnier and Terracycle have diverted over 11.7 million beauty empties from landfills through their partnership. Together, they upcycle useful materials into garden beds, park benches, lumbar playgrounds and more. To get involved in the program, simply sign up online to print a free shipping label and keep track of your personal impact.
Give Back by Purchasing a Kiehl's Face Mask
Kiehl's Made Better™ is a platform focused on Kiehl's ongoing efforts in sustainability. This year, the brand partnered with John Legend to design a limited-edition version of the Rare Earth Deep Pore Cleansing Mask. In the United States, 100% of the net profits (up to $25,000) will benefit the Earth Day Network in support of the Earth Day Cleanup 2019. Learn more about the cleanup, including how you can get involved online.
Add the Myro Do Good Sh*t Set to Your Cart and Give Back
Refillable, plant-powered (and chic) deodorant brand Myro teamed up with 1% for the Planet, a global network of businesses, nonprofits and individuals working together for a healthier planet. Together, they created the Do Good Sh*t Kit, a limited-edition set that includes Myro's Moss Green Reusable Case, Cabin No. 5 Refill Pod and a canvas travel pouch. When you purchase a set, Myro will donate 100% of the proceeds to 1% for the Planet.
Pick Up a Some Recyclable Makeup Brushes With Moda
Upgrade your makeup brush routine with Moda Renew, a new five-piece brush kit featuring handles made from biodegradable cellulose material. To go along with its eco-friendly brush kit, Moda is partnering with Terracycle to encourage customers to send in their brushes to be recycled. When you recycle through the program, Moda will send a 30% off coupon code to use for your next purchase.
Plant Trees with Moonbox
Moonbox, a beauty subscription box based on the lunar cycle, has a partnership with Trees for the Future — a nonprofit that helps communities around the world plant trees. For every box sold on the site, Trees for the Future plants a tree. According to the brand, they've already donated over 18, 200 trees.
Protect the Planet with Youth to the People
If you tend to stick to the clean section of Sephora, then you've probably come across Youth to the People and its bestselling cleanser. For Earth Day, the brand is launching a jumbo-size version of the gel cleanser that's 16 ounces (8 ounces larger than the traditional size). It's housed in the brand's signature recyclable glass bottle and $1 from every purchase will be donated to organizations working to protect the planet.
Read More:
Nordstrom Wants to Give You a Free Beauty Consultation
How to Donate Beauty Products to Women's Shelters
Editors Share Their Refreshed 2019 Makeup Bags
Read more
Back to top