Better Together: IT Cosmetics CC Cream and Bye By Breakout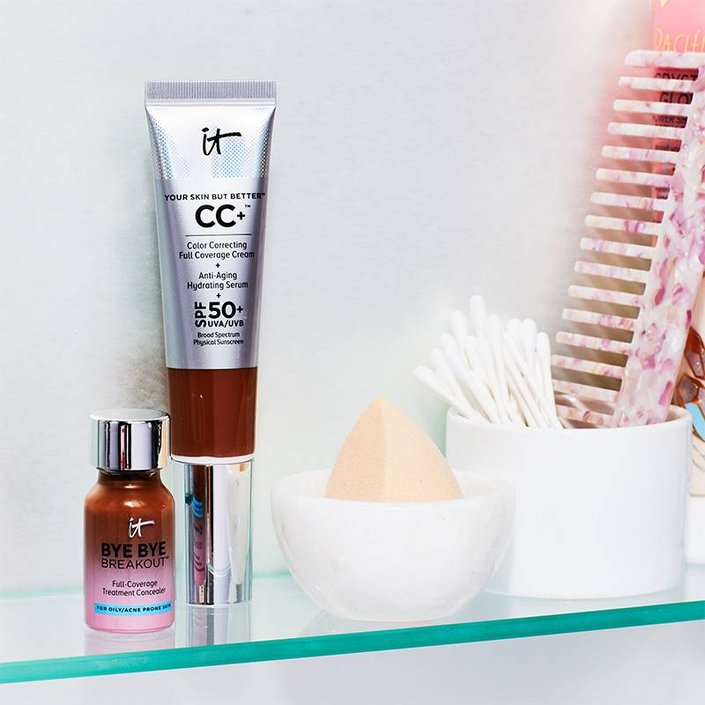 Our "Better Together" series highlights surprising ways two products become — you guessed it — even better when you use them together.
IT Cosmetics is renowned for its innovative products like complexion-perfecting CC+ Cream, lash transforming Superhero mascara and Bye Bye Breakout, the brand's first-ever treatment concealer. The latter is an example of one of IT Cosmetics' uniquely formulated products. If the description as both a treatment and a concealer leaves you with some questions, fear not: We reached out to Jessica Ross, IT Cosmetics Director of Education, for the answers.
How should you use these two products together for optimum results?
"Bye Bye Breakout is our first ever treatment concealer and should be used where there is an acne concern," explains Ross. "This product can be used under or over CC cream, but my preference for optimum results is to dot Bye Bye Breakout onto the skin where it is needed and then tap it out with either the Dual Ended #7 brush or the Heavenly Skin CC Brush before applying CC Cream. I love that in addition to the treatment and coverage, I am also getting that sun protection with physical SPF 50!"
Can you use Bye Bye Breakout as a replacement for your everyday concealer if your acne is under control?
"Bye Bye Breakout is a treatment concealer that is really targeted for someone with acne prone skin or someone with normal skin and the occasional breakout. I would not use it to replace, for example my Bye Bye Under Eye, as that is truly targeted for anti-aging with a hydrating finish! As someone with normal to dry skin, with the occasional breakout, I love to keep it for those days I need to conceal an unwanted pimple while treating it at the same time."
How much Bye Bye Breakout concealer should you use? And do you need to set it?
"You need a small amount of Bye Bye Breakout, when using this product. I recommend using three to four dots on or around the breakout and then tapping it out with your IT Brush. If using it to conceal a larger area of acne, you can use a few extra dots, but feel confident that a little will go a long way! It dries down to a powder finish and though it is full coverage, it is a treatment formula that is very smoothing and will never feel cakey. You can finish it with CC cream and set with Bye Bye Pores or wear it alone!"
How to Use Them Better Together
"Using a brush is key!" exclaims Ross. "It will do the work for you and truly give you the most flawless looking even complexion while addressing your acne concerns and over confidence in your skin! Such a great duo!"
Hero Image Courtesy Chaunte Vaughn
Read more
Back to top