6 Makeup Sponge Holders — Because Your Fave Beauty Tool Deserves a Home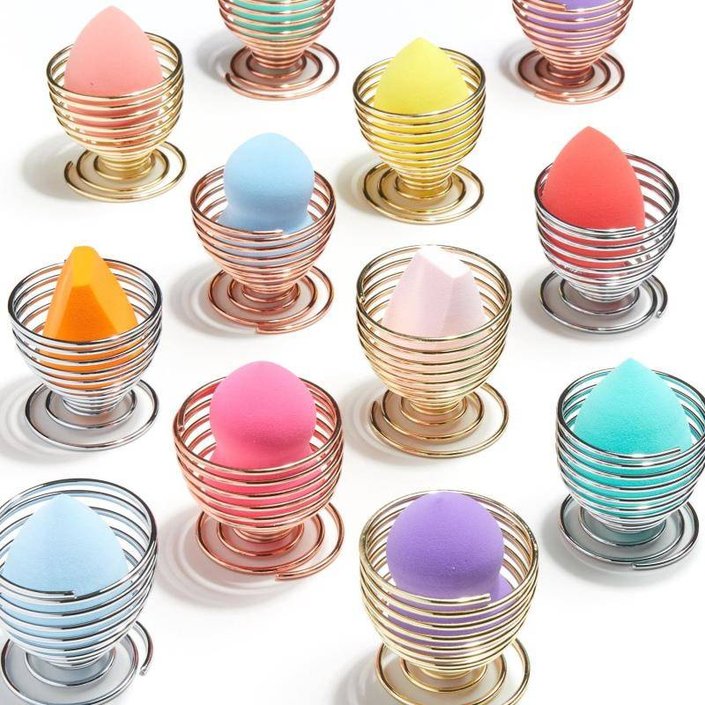 Fact: Your makeup sponge deserves tender love and care, and that starts with taking it out of your makeup bag and giving it a safe, germ-free home of its own. In the same way you protect your most cherished eyeshadow palettes or organize your lipsticks, your sponges need equal attention, if not more.
One of the major mistakes that many beauty enthusiasts make with their makeup sponge is they don't know that it's best used wet — to give you that streak-free, dewy, airbrushed finish you desire. To make sure your makeup sponge stays bacteria and mold free, you need to store your sponge in a dry, arid environment after you use it. To better understand your relationship with your makeup sponge, you should treat your makeup sponge in the same way you'd treat a dishwashing sponge. You definitely would wash that dishwashing sponge thoroughly (AF) before putting it anywhere near your face and after using it, you'd place it in a designated spot to dry.  If you weren't intimidated by your makeup sponge before, now you are.
Ahead, discover six of our favorite unique makeup sponge holders that double as a chic piece of decor for your vanity.
Bicycle Makeup Sponge Holder, $1.99
Not only does this bicycle makeup sponge holder cost less than your one-way subway fare, it will also serve as a chic addition to your vanity.
Ulta Super Blender Sponge with Stand, $6.99
If you're unsatisfied with your latest Ulta haul or just in dire need of a sponge and holder pairing, this new product is a must-have to add to your cart.
Rose Gold Makeup Sponge Holder with Feet, $7.99
This rose gold makeup sponge holder from FundayFunlifeShop on Etsy is designed to look like it has chicken feet. Purchase the holder on its own for $7.99 or with a pink sponge for $9.99.
Spiral Rose Gold Holder, $8.99
For just $8.99, this set of three rose gold spiral makeup sponge holders is ideal for the gal with more than one sponge. The spiral metal design will help your makeup sponges ventilate and dry after use.
Makeup Sponge Bag, $15
ThreadofRoses
on Etsy has an entire section of their store dedicated to beauty sponge bags. There are over 10 different colors and patterns to choose from based on your personality. Pictured here is the lavender bag that's perfect for traveling with your beloved makeup sponge.
Clean & Dirty Holders, $24.95
Perhaps you are an active hoarder of makeup sponges. If that's the case, these Dirty and Clean Holders from HighlandDesignCo on Etsy will help you stay organized and keep your sponges (and skin) in perfect condition.
Hero Image: 

Chaunte Vaughn
Read more
Back to top