The Ultimate Makeup Brush Guide for the Minimalist, Maximalist and Everyone In-Between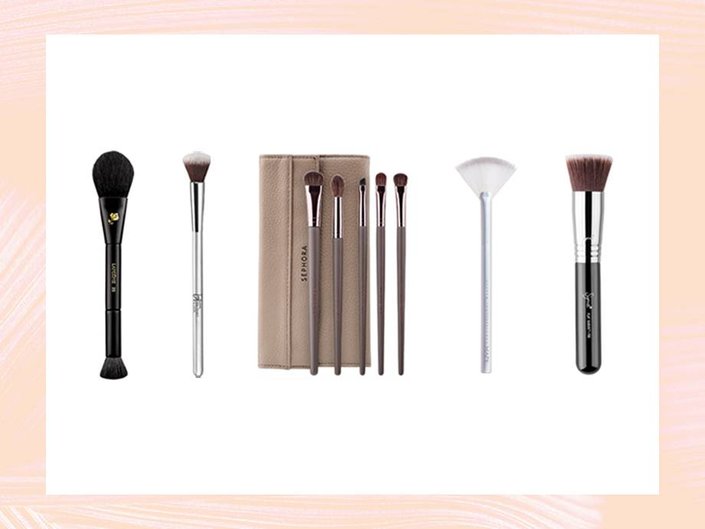 Whether you're an amateur in the world of makeup, consider yourself a pro, or fall somewhere in between, figuring out what brushes you need (and their uses) will forever be an exhausting and somewhat confusing process. With countless types, shapes and sizes — flat, fluffy, pointed, angled, fanned, natural, synthetic — a gal's gotta go through quite the amount of research and dozens of makeup aisles to get her kit together. To complicate things further, there's no one-size-fits-all brush collection, as our skills (and patience!) vary. That's why we've put together a brush guide tailored specifically to your daily needs — from the essentials for the makeup minimalist to top-rated options for the maximalist.
Makeup Brushes for the Minimalist
Let's be honest, you're not one to get crazy with the makeup. A little tinted moisturizer, some blush, maybe a swipe or tow of mascara, and you're out the door! That is A-OK if you ask us. But, why not perfect it with some staple tools? Instead of using your fingers to blend everything in, get yourself a solid foundation and blush brush for an airbrushed, flawless finish. Proper blending is the key to a natural, no-makeup makeup look, so trust us when we say these essentials will change everything. And to keep things easy for ya, an eyeshadow brush that can be used for powder, cream or liquid eye makeup is ideal for a multipurpose makeup routine.
Foundation: NYX Professional Makeup Pro Dual Fiber Foundation Brush
Blush: Real Techniques Blush Brush
Eyeshadow: IT Cosmetics Heavenly Luxe Superhero Brush
Makeup Brushes for the Not-Quite-Minimalist but Not-Quite-Maximalist
It's safe to say you know your stuff when it comes to makeup. You may not be an expert, but you put a bit more time into sculpting those cheekbones and perfecting your cat eye. Prepare your face for success by implementing the proper tools into your makeup routine. You don't need all the bells and whistles, but if you're going to get dolled up on the daily for work, these picks will help you get it right — from your perfectly applied foundation and contoured nose to your daytime smoky eye and flawless liner.
Your Makeup Brush Must-Haves:
Foundation: Sigma F80 Flat Kabuki Brush
Contour and Blush: Lancôme Dual-Ended Cheek & Contour Brush
Concealer: IT Cosmetics Airbrush Blurring Concealer Blush #103
Highlighter: NYX Professional Makeup Micro Highlighting Brush
Eyeshadow: Sephora Collection Eyes: Uncomplicated Brush Set
Makeup Brushes for the Maximalist
You may as well quit your full-time job and start charging your friends for all the makeup advice and tips you dole out. A beauty stash like yours can compete with the pros! This is probably because you run to the makeup counter every time a new product drops, not to mention you've got every trendy eyeshadow palette out there (Urban Decay | Gwen Stefani included) and a sea of worn-down lipsticks. A fanatic such as yourself should also have the proper brushes to achieve those makeup-artist approved looks you're going for. Think, foundation that's so perfect it looks like skin, supermodel-status cheekbones, on-point brows and perfectly precise lipstick.
Your Makeup Brush Must-Haves:
Foundation: YSL Touche Éclat Foundation Brush
Concealer: Urban Decay The Finger Brush
Contour and Blush: Lancôme Dual-Ended Cheek & Contour Brush
Highlighter: Lancôme Dual-Ended Highlighter Fan-Brush #31
Eyeshadow: Sigma Basic Eyes Brush Kit
Smudger Brush: IT Cosmetics Love Beauty Fully Eye Smudger Brush #221
Lip Brush: Sephora Collection Pro Angled Lip #84
Eyeliner: Sigma E05 Eyeliner Brush
Eyebrows: Urban Decay UD Pro Essential Eye Tool
Setting Powder: IT Brushes for Ulta Complexion Powder Brush #225 
Read More:
6 Perfect Skin Serums and Everything You Need to Know About Each One
10 Nail Tools You Need — According to a Celebrity Manicurist
How to Use a Makeup Sponge (Because You're Probably Doing It Wrong!)
Read more
Back to top